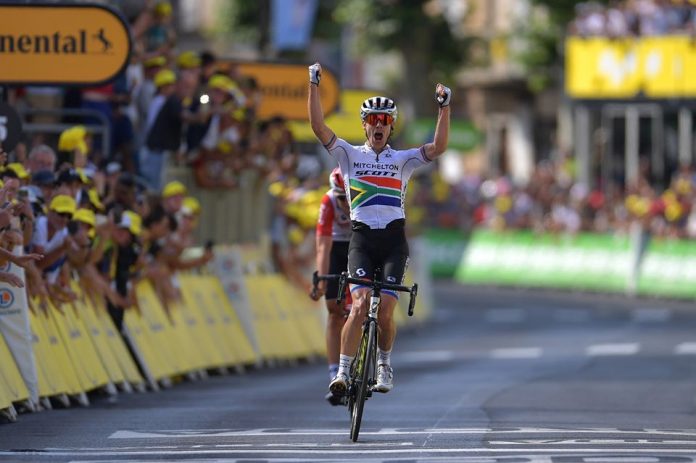 South Africa's Daryl Impey today won the 170.5-km Stage 9 of the famous Tour de France cycling race… and he did it in brilliant Proudly South African Style! Watch the video below as he triumphantly points to his chest with both hands, showing the South African flag, after passing the finishing line in a VERY tight finish!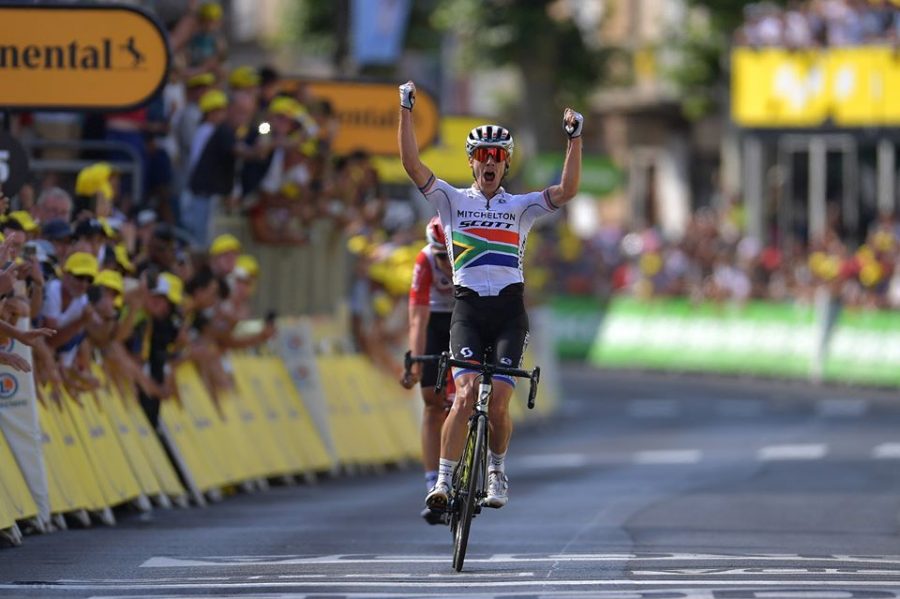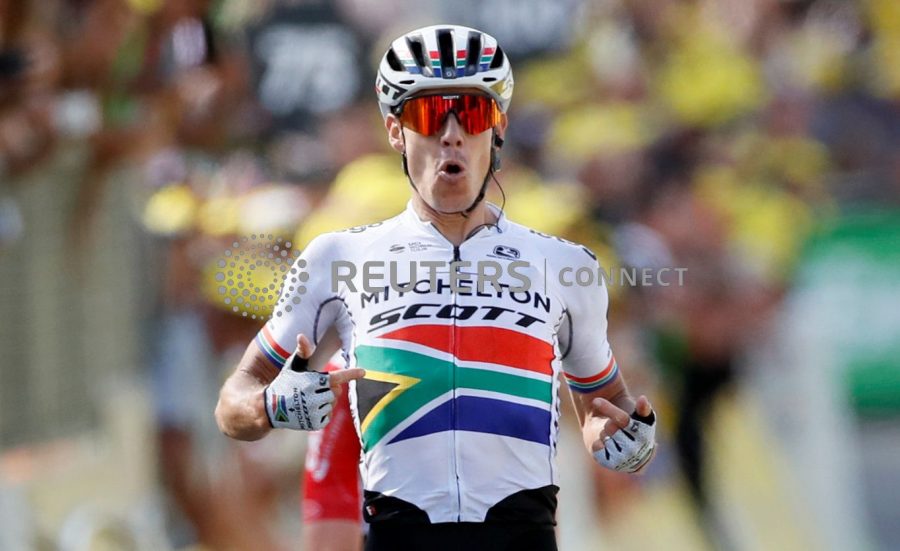 "It's a celebration for ALL of South Africa," the commentator can be heard saying.
The 170.5-km Stage was from Saint-Etienne to Brioude, with Impey taking his victory on France's Bastille Day (known in France simply as 14 Juillet/14 July).
Impey – who's actually racing for Australian team Mitchelton-SCOTT – raced neck and neck with Belgian Tiesj Benoot in what France24 called a "two-man sprint" after the two had broken away from the rest of the competitors.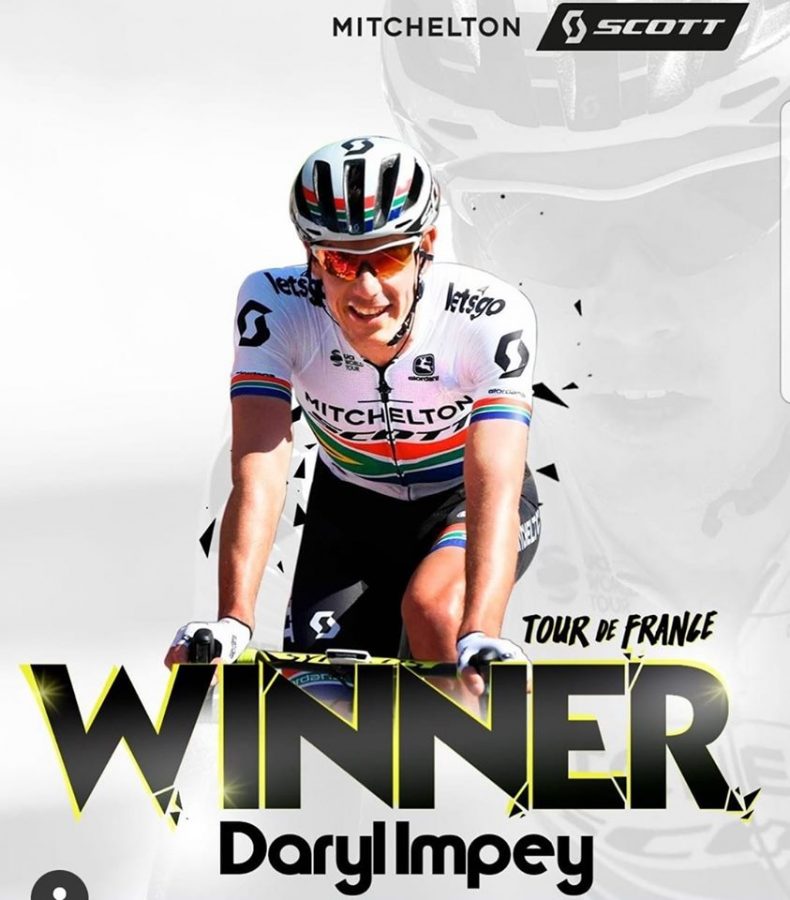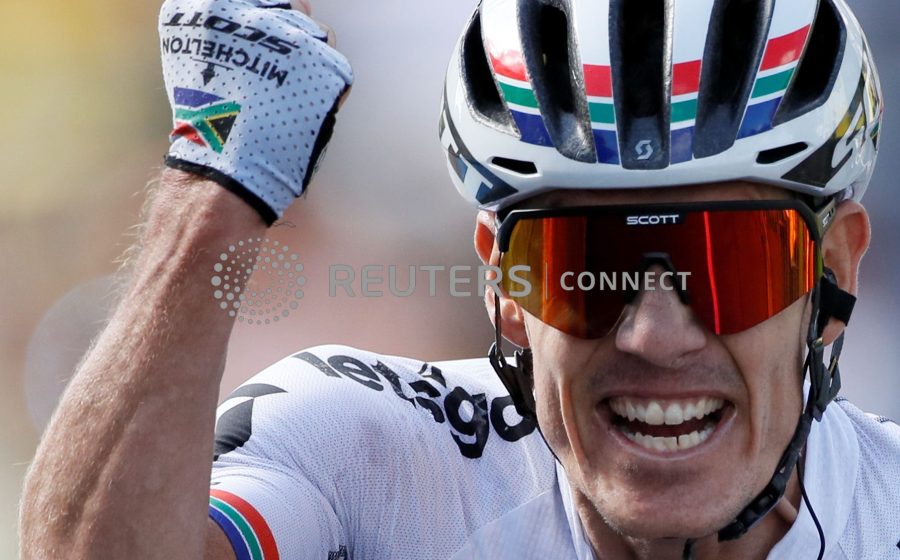 The South African told reporters afterwards that it was a dream come true:
"Pretty much, for me, from a Tour de France perspective, a stage win was something really missing. I made quite a few breakaways in the past few years and finally, today, I got the win on Bastille Day. It's fantastic.
"It's a dream come true. It's so difficult to win at this level. I kind of marked this stage. I was kind of lucky to find the right move. We worked all well together.
"I'm glad the legs were there at the end to beat Tiesj Benoot. I haven't been emotional like that for a long time." (Impey was in tears of joy and relief after the race, which you can see towards the end of the first video.)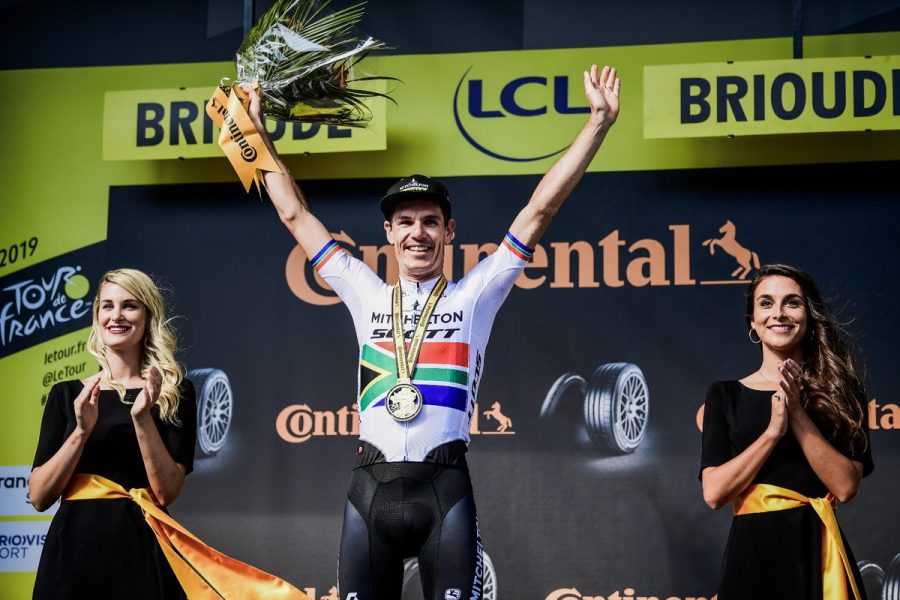 Mitchelton-SCOTT posted messages on social media, saying: "WHAT A RIDE! 🙌🇿🇦 Our road captain delivers!"
Mitchelton-SCOTT said this is Impey's seventh Tour de France and "HE'S DONE IT!!! 💪Daryl Impey WINS his first ever Tour stage!!! WHAT A RIDE!"
Impey not only won his first stage victory at Tour de France, but also as SA National Champion. He's the second South African to have won a Tour de France stage.
WATCH South Africa's Daryl Impey win Tour de France Stage 9
🎥 Relive the last kilometre in a fantastic duel won by @darylimpey.
🎥 Retrouvez le dernier kilomètre de cette étape et le duel remporté par Daryl Impey.#TDF2019 pic.twitter.com/g3dluQy98d

— Tour de France™ (@LeTour) July 14, 2019
Re-live Daryl Impey's incredible Le Tour de France victory from today's stage nine. 📽🎉🙌🏼 Velon CC

Posted by Mitchelton-SCOTT on Sunday, July 14, 2019
Mitchelton-SCOTT is the first men's and women's Australian cycling team to make the WorldTour and top level of racing. Last year Impey won the 2018 Tour Down Under (also riding for Team Mitchelton-Scott).
In 2014 he won the Tour of Alberta in the Canadian Rockies, and a few years before he also had a big win at the Tour of Turkey.
UPDATE: Impey has just tweeted: "This is how a Sunday should be spent. Lost for words. Days like this are rare. Soaking it all up. First stage win in @LeTour Thank you to everyone who has backed me and sent through so many amazing messages already."
This is how a Sunday should be spent. Lost for words. Days like this are rare. Soaking it all up. First stage win in @LeTour Thank you to everyone who has backed me and sent through so many amazing messages already @GettyImages @MitcheltonSCOTT @bikeonscott pic.twitter.com/h6W5NWdAYb

— Daryl Impey (@darylimpey) July 14, 2019
An emotional victory, a well earned victory, a well deserved victory! 🏆 #TDF2019

📸 @kristoframon pic.twitter.com/kuNLy4EyNR

— Mitchelton-SCOTT (@MitcheltonSCOTT) July 14, 2019
The second South African to win a Tour de France stage, @darylimpey heads up onto the podium. 🥇
Second sud-africain à gagner une étape sur le Tour de France, Daryl Impey monte sur le podium. 🥇#TDF2019 pic.twitter.com/yij1w9ubS5

— Tour de France™ (@LeTour) July 14, 2019
Emotions ran high for the team too:
#TDF2019 🎥 Raw emotion. A sneak preview of the in-car action before the full video later tonight. Stay tuned. 🎉 pic.twitter.com/B5ynO2KMkR

— Mitchelton-SCOTT (@MitcheltonSCOTT) July 14, 2019
Watch Video Tribute to Daryl Impey
Slipstream Cycling: "

A tribute to
Daryl Impey
our South African champion who won stage 9 of the
Le Tour de France
2019. A true legend and a massive inspiration to everyone in South Africa…"