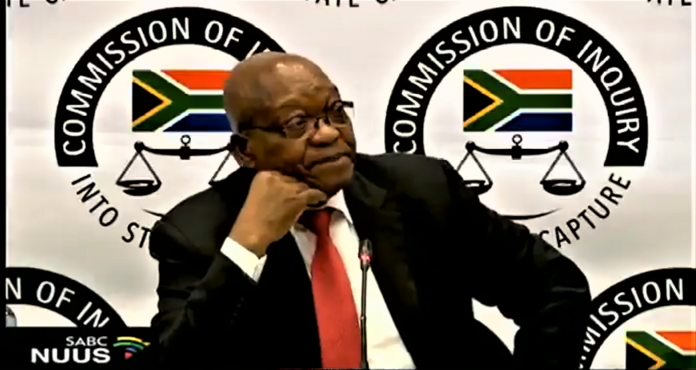 Jacob Zuma, former president of South Africa, appeared Monday before the Zondo Commission to respond to allegations made against him at the inquiry into state capture. Zuma began with a long, rambling statement, interrupted by a lot of throat clearing, in which he repeatedly referred to a "conspiracy" against him and a "plan" since at least 1990 by three intelligence agencies to get rid of him.
Deputy Chief Justice Raymond Zondo made a point of saying that Zuma had been invited to the inquiry, and he had not been compelled to attend. The testimony of numerous former witnesses – including current and past ministers Pravin Gordhan, Fikile Mbalula, Barbara Hogan, and Ngoako Ramatlhodi – is seen as having put Zuma at the centre of state capture.
Over several hours during the morning and afternoon, on the first of five days of testimony, Zuma made numerous allegations (often numerous times), including the following:
Three intelligence agencies, two foreign and one from the "apartheid regime," worked together to "character assassinate" him from as far back as 1990 and throughout his nine years as president
As intelligence chief of the ANC, he had acquired a lot of information that many people were scared he would use later against them, including info about spies that he says had been placed within the ANC by the above mentioned agencies, which is why they wanted him out
There were (and still are) operatives of these intelligence agencies inside the ANC
The Zondo Commission, started by former Public Protector Thuli Madonsela, was part of a conspiracy to get rid of him
Former minister of both mining and public service Ngoako Ramatlhodi, who earlier made serious allegations against Zuma at the inquiry, was a spy working against him
Ramatlhodi was recruited by spy agencies while he was a student in Lesotho
Radio journalist Redi Thlabi was part of a "narrative" that wanted to have him labelled a rapist. Zuma was accused (and later acquitted) of raping Fezekile Ntsujela Khuzwayo, known as Khwezi, in 2005 while he was still deputy president
He could not recall asking former Government Communication and Information System (GCIS) head Themba Maseko to help the Gupta family set up their New Age newspaper (which he admitted naming) and ANN TV network. Maseko testified in August last year that Zuma instructed him to redirect R600 million in advertising spend to the new Gupta newspaper
There were attempts to assassinate him on several occasions, once at a stadium in Durban. There were also attempts to poison him
His friendship with the Gupta's was normal and no one criticised Mandela or Thabo Mbeki for being friends with them
The term "state capture" was wrong because it should include all three parts of government, including the judiciary and parliament.