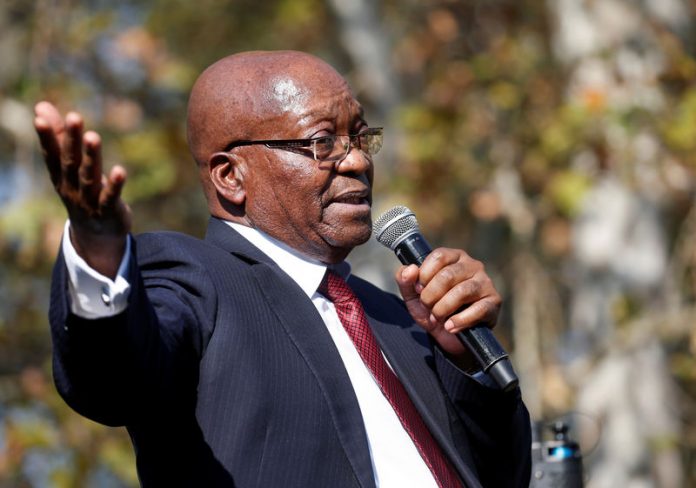 JOHANNESBURG – It's the day so many in South Africa have waited for – former South African president Jacob Zuma is finally answering questions in court at the Zondo State Capture Inquiry. Watch the live video stream below.
This morning's proceedings have already begun. Zuma (77) is currently "joining the dots" for everyone to understand, he says, that there has long been a "conspiracy against me". He says the conspiracy began soon after the ANC was unbanned in 1990 when he became Chief of Intelligence.
He says he held a lot of information and that there were spies deliberately placed within the ANC from three organisations (two outside SA, one inside) – with a campaign to make one of their insiders lead South Africa.
Some commenters on social media say that Zuma is talking about current President Cyril Ramaphosa.
Zuma says a campaign began back then to "assassinate the character of Zuma" because he could spoil their plan with his information. But they then had to delay their plan when they realised how much support he had, particularly from then Natal province.
Zuma says everyone says "Zuma must fall" and "Zuma is corrupt", but, he asks "what has he done? Nothing!"
Zuma says of accusations that he had auctioned the country: "Did I auction Table Mountain? Did I auction Johannesburg."
Zuma says "people forget that I have a family" and has detailed how difficult it was for his sons to get jobs.
Coming up after the tea break, Zuma will talk about his relationship with the Gupta's.
Watch below for more…
WATCH LIVE: Former President Jacob Zuma at State Capture Inquiry
Tthe State Capture inquiry is being held in Parktown, Johannesburg. Zuma is expected to appear and give evidence from Monday to Friday.
It was Zuma himself who established the commission as in January 2018 as per the recommendations of former Public Protector Thuli Mandonsela's State of Capture Report.
Several witnesses who have appeared before the commission have implicated Zuma in corruption, although he denies all allegations.