The South African Weather Service (SAWS) says it is keeping an eye on a "strong cold front" approaching the western parts of South Africa.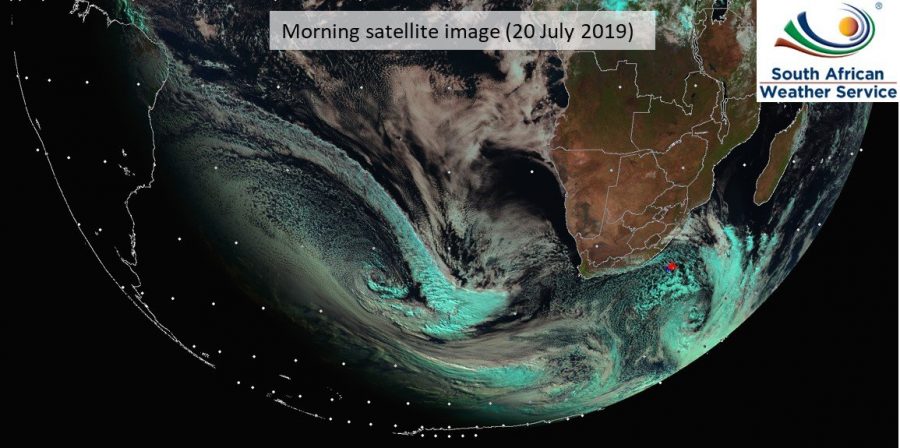 "This cold front is expected to make landfall during Tuesday (23 July 2019) with heavy rain, snow, and strong winds," SAWS announced at lunch time on Saturday.
The satellite image above shows the approaching cold front.
Late yesterday SAWS  issued severe weather alerts for today, with warnings of gale force south-westerly winds of 62 km/h expected between Port Alfred and Durban, spreading to Richards Bay.
KwaZulu-Natal south coast residents were already reporting strong winds this morning. There were concerns that when the winds pass Richards Bay they could cause flames to flare in iSimangiso Wetland Park where a wild fire took hold at the world heritage site last night.
High seas with wave heights from 6.0 to 7.0m are expected between Cape St Francis and Port Edward!
As predicted by SAWS, there have been light snowfalls over the Swartberg, as well as the Outeniqua mountains last night and today.
UPDATE Mon 22 July: Intense cold front still on track to make landfall in South Africa on Tuesday – snow, gale force winds, possible floods and high seas expected. 
SAWS said: "Very cold conditions are expected over the southern high-ground of the Namakwa region of the Northern Cape, the Central Karoo of the Western Cape and interior of the Eastern Cape (today)."