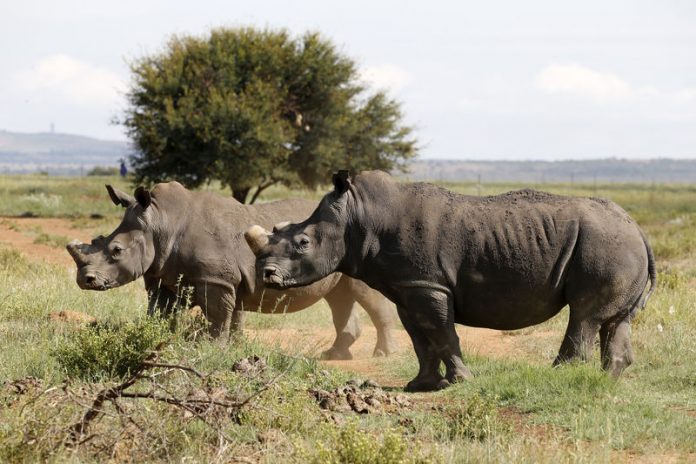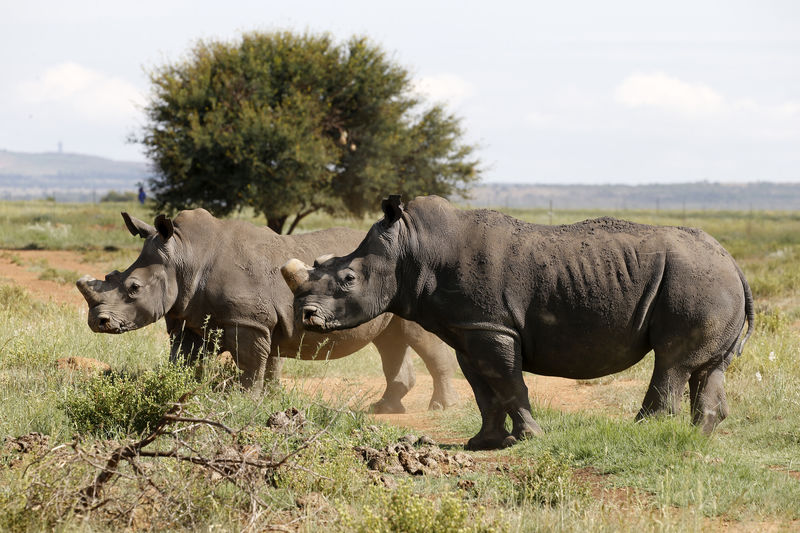 South Africa has lost yet another 16 endangered black rhino… but this time they fortunately weren't poached. They were dehorned, and moved for their own protection across SA's borders to eSwatini (formerly Swaziland) – to a habitat that is "ideal" – and safer, according to the eSwatini national wildlife authority.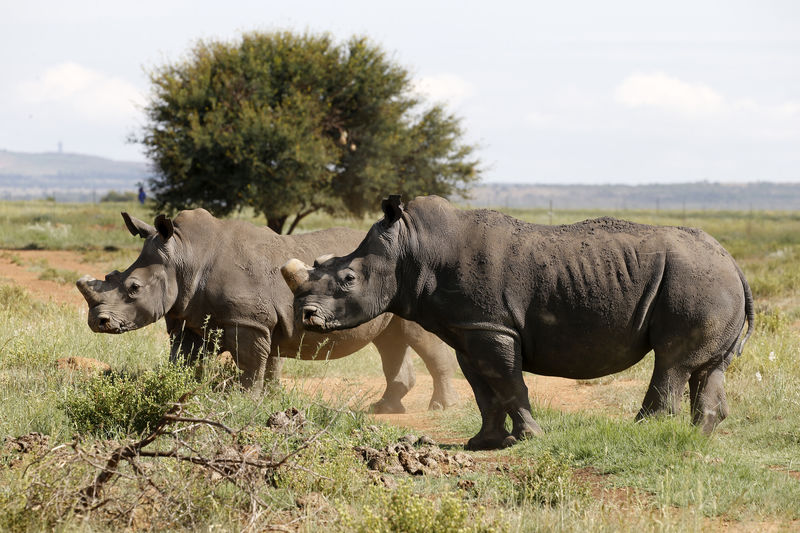 As South Africa has tragically become a poaching hotspot, an increasing number of the nation's rhino are being moved to other countries – Botswana, Tanzania, Zambia, Kenya, Malawi, Rwanda, Chad, Namibia, Mozambique and eSwatini. Soon Australia will be added to that list.
This latest group of black rhino – including adult breeding bulls and cows, young adults and calves – come from a private game reserve in South Africa, where the cost of protecting them from poachers was rapidly becoming unsustainable, the wildlife authority said on Thursday.
The rhino were dehorned before their release in eSwatini, earlier in July.
According to Ted Reilly, chief executive of Big Game Parks, eSwatini's national wildlife authority, there were "many delays" particularly with respect to the "bureaucratic nightmare of issuance and re-issuance of permits."
He said: "With all 16 rhinos safely captured in South Africa and transported over 700 km across an international border, dehorned and safely released into prime habitat, the second and most arduous phase of monitoring and security has begun."
How safe will the rhino be in eSwatini?
With eSwatini landlocked between South Africa and Mozambique, it provides a "much safer" future for the rhino. In the past 26 years, the country has lost only three rhino, according to the statement.
And – despite the apparent safety – anti-poaching measures have been increased since the black rhinos arrived, Big Game Parks said. The rhinos were being monitored closely to ensure any problems were quickly identified and the rhinos had found water and settled in to their new home. (Sadly, late last year a couple of endangered black rhino which were translocated to Chad died after apparently contracting a virus.)
Latest rhino statistics 2019
Latest rhino statistics show that only 5,000 black rhinos are left globally, Big Game Parks said. About 20,000 are left of all species. About 80% live in South Africa, but the country has lost over 8,000 rhinos to poaching since 2008, according to Big Game Parks.
Some say the tipping point for the African rhinoceros' population has been reached and experts predict rhinos could be extinct in the wild by 2024 if drastic measures are not taken, according to the Australian Rhino Project (ARP) which will soon be implementing its own drastic measures.
Rhino heading abroad
The ARP recently signed an agreement with Thaba Manzi Wildlife Sanctuary in South Africa to manage the selection and quarantining of rhinos for a project in which 10 rhino initially will be relocated to Australia for safekeeping.
Hans Kooy, founder and director of Thaba Manzi said: "As the situation in South Africa with regards to rhino poaching continues to worsen, we believe that creating insurance populations around the world are critical to ensure the survival of the species."
Save the rhino, save the planet
Monaco's Prince Albert II presented the Rhino Conservation Awards (RCA) 2019 this past weekend in Joburg, South Africa, to all those heroes who dedicate their lives in the fight to conserve Africa's iconic rhino.
Filmmaker Bonné de Bod, whose rhino poaching documentary STROOP received an award, told SAPeople: "I think the Prince got what rhinos mean to all of us in the room and that the rhinos don't just represent themselves but they carry all the species… so by fighting to save them, we're saving the planet."
(Reporting by Jenni Baxter/SAPeople and Lunga Masuku/Reuters)