Records have been broken across Europe as a heatwave grips the continent again… caused by a cauldron of hot air from Africa's Sahara desert being drawn northwards by high pressure. South Africans living abroad – who are used to the humidity in Durban and the hot, hot Karoo – shared their experiences with SAPeople today of heat in countries that are not accustomed to rising temperatures. With most homes not having air conditioning, some bought children's paddling pools, others lazed by their villa swimming pools and many stayed indoors with their curtains and shutters closed.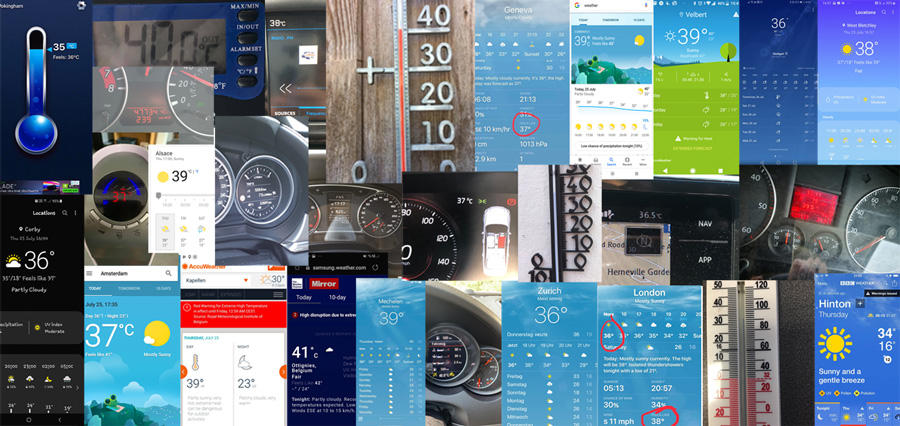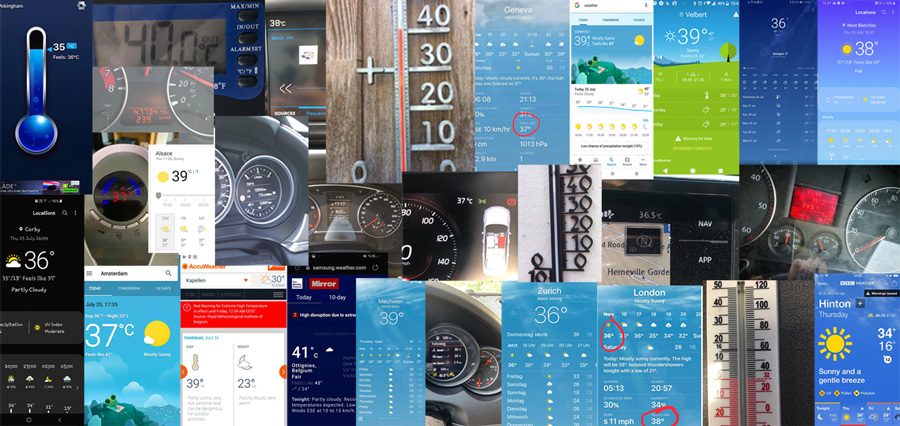 Climate specialists said such heatwaves are becoming more frequent as a result of global warming from greenhouse gas emissions, said Reuters. A University of Oxford environmental expert Dr Karsten haustein said: "This heatwave is exactly in line with climate change predictions."
Here are SA expats' photos and experiences today from around Europe:
BAVARIA
Gabi Charles: On the border with Austria… Too hot to move..
BELGIUM
The temperature in Belgium yesterday struck 39.9 C, smashing the country's previous high of 36.6 C in June 1947, said the Royal Meteorological Institute.
Catherine Geurts: It's 40-42 degrees at the seaside, and 38 in the north of the country. Pets, mostly old ones, are suffering a lot… we put wet tissues and water on them. Tomorrow it will be 34-35. We are waiting for the rain. I am waiting for Xmas 😂😂
Guido Cremie: 🔥😎39
Philippe Clinckemaillie: Near Brussels 🇧🇪 it's 41
Candice Annandale: At the Spa-Francorchamps Racing Circuit, it was 40 degrees by 10am!
Yves Verstraete: 44 degrees in the Brussels area today 🌞🔥
Marie-Paule:
CZECH REPUBLIC
Genevieve Diedericks: Cleo says it's hot, but Swartland summers are much worse. 😅 A 'normal (or at least our normal)' 35'C here in Prague today.
DENMARK
Elena Potgieter: Denmark was +30
FRANCE
Paris on Thursday recorded its hottest temperature – 40.6 degrees Celsius – since records began, Meteo France said, breaking a 1947 record.
Helen Henderson: 40 degrees in the shade in the Paris region says it all.
Elmarie Viljoen Neff, Alsace: Behind closed shutters to NOT let the sun in. Even the cat stays inside – which is not normal at all.
Amanda Laurent: 42 in lyon france.
Aziz Slimani: Aybo, won't take a chance to go out there and take a pic, it is blistering hot here in France.
Doreen Everitt: 43 C and very humid in Charny France
Natasha O Shaughnessy: Blistering 40 degrees and brutal. I hate summer. Dordogne. Too hot for photo everything is mors dood gebrand. Hiding in doors, shutters shut, with sheets in windows, ceiling fans going hell for leather. My poor garden. Mercifully rain expected tomorrow.
Too hot for photo everything is mors dood gebrand.
Hazel, Champagne: 42 degrees today.
Jeannie Huntly-Lagrange: Spent the day in a kiddies plastic pool. Here in Versailles it was 45 deg in the garden – love it 😎🥂
Monica Sarah Rossouw: I'm in Paris where temperatures reached record-breaking degrees. At 14:00 it was 40 degrees and at 15:20 it was 42 degrees. Our street is usually busy with tourists, but it's exceptionally quiet today.
GERMANY
An all-time high was measured in Germany for a second day running, at 41.5 degrees Celsius in the northwestern town of Lingen – similar temperatures to those in some Gulf Arab capitals, said Reuters.
Wolfram: Oestrich-Winkel near Wiesbaden
Jana, in Dusseldorf
Michelle Lohse: Sitting inside with newborn, no way im going outside 😂 (37 degrees)
Vivienne Heine: Crazy heat – Germany 🇩🇪 Frankfurt today 🥵🥵🥵 – 41.5 in the car
Tina Van Heerden Velbert: 39, but real feels 42 (allegedly). Feels much worse. We covered our Gem squash and boere pampoen with table cloths and bed sheets to protect them a little. Don't want to lose these most precious vegetables.
We covered our Gem squash and boere pampoen with table cloths and bed sheets to protect them a little. Don't want to lose these most precious vegetables.
Hetta Ras-Buck: Oh dear 🦌 flying back 2-day from South-Africa 2 Germany. Wish I could stay longer in the cold weather. I really do not like summer in Europe. 🙄😳
Holly: Germany today.
Mit Hund auf Tour: Hello from Munich – 30 degrees at 10am – it's what we call a 'monkey heat' (Affenhitze – really hot) in Germany. Thank God we have a lots of lakes around. 🌊
Petra Petersen: 40 in Frankfurt
GREECE
Cherry-Anne Mavrakis: Unbearable
IRELAND (missed the heatwave!)
Beverley Sparrow O'Flynn: Oh my gosh, send some heat to Ireland please, high of 22 in Limerick today 🙂
Stefania Fleischer: 21 degrees Waterford Ireland 😊
Rose RoseRose: I lived in Bloemfontein… next to the sun 😂 (now I'm in Ireland). When people say it's hot, my response is always: "In Africa, we call this winter"! 😂
ITALY
Flavia Giacomozzi: Beautiful Roman coast… breeze and high of 31….😎
Sue Greenberg: Perfect day at 30 degrees in Puglia. Blue skies and a slight breeze.
NETHERLANDS
In the southern Netherlands, the temperature peaked at 40.4 C for the first time on record, Dutch meteorology institute KNMI said. That broke the national record of 39.3 C set the previous day. Before this week, the national heat record of 38.6 C had stood for 75 years, according to Reuters.
Monique Landman: It is incredibly hot in The Netherlands. 40,5 degrees. Feels like Durban in January right now. But luckily we have plenty of water to take a refreshing swim.
Lize Pieterse: It's 41 degrees in NL right now. It's "code red". We get emails reminding us to drink water, avoid public transport and to work from home if possible 😂#pissies
Melinda Walraven: 41°C at 5 in the evening in Eindhoven. We've kept this 5l filled with water for the last two days.
Georgie de Bok: In Brabant the heat is terrible (39). Reminds me a lot of those forty degree days in Joburg four years ago.
Bella Bolletjies: Just an ordinary summer's day if it had been S.A., but here in Netherlands everyone is losing their marbles!!😂😂
Julie Bates: We are not used to it, nor do we have pools or air conditioning – so yes we do lose our marbles and people die in this kind of heat. It's not a laughing matter. In S.A you acclimatise to the heat.
Andrew Tanner-Tremaine: Aalsmeer at 6pm🥵 – 40 degrees.
Katja Haan: The final temperature today inside (!) my office. Started at 8.30 with 29°
Pam Benink: At 11am in my garden near Breda. It's seriously hot 🥵I have to be honest, I love it! But wouldn't want to have to work in an un-airconditioned office this week.
Anita Bollen: Too hot to play ball in the park…🐶☉
NORWAY
Anthony Hawke: Hot hot hot in Stavanger, Norway
QATAR (not in Europe!)
Debi Thomson: Our summer in Qatar gets to around 53 deg. Humidity can also get very high! I love it & don't miss the cold!
Muhammad Haneef: 36 degree in Doha right now today. Humidity 70 % 😓
SPAIN
Kate Cross: Lunch on the Beach in La Caleta de Velez, not seen rain for months and months. Kx
SWEDEN
Anna Marais Steyn: Beach day in Sandviken, Sweden. 33 degrees and loving it! ☀️🥰👌🏻
SWITZERLAND
Alex Kuier: 36 degrees. Went to visit my friend
Melis Schütz: Very mild here in Zürich today…🤣🤣 – 36
Jenny Glaysher Andrews: 34° here in Switzerland today! Was 38° yesterday
Michelle Hamel: It was hot! But spent most of the day indoors! Here we barely have (air conditioning. Not in houses, some shops don't have or don't want to put it on. Same with public transport.
UNITED KINGDOM
Britain reported its hottest weather for the month of July. The temperature hit 38.1 Celsius said the Met Office, the national weather service.
ENGLAND:
Vanessa: Beach Day in England – 35 degrees.
Sintu: It's 32 in Manchester.
Michael: 40 in London.
Robyn Vinall Baird: I'm working in a doctors' surgery – it's 32.
BTW – IF YOU'RE IN THE UK – we're looking for South African expats who'd like to take part in a focus group about your opinions of South Africa. Those selected will get £70 for their time! http://bit.ly/sauksurvey
Jeanne Spencer-Prins: Bought a little children's splash pool, almost gave up blowing it up like a balloon. Now I am pretending to be in Santorini and not a humid 38 degree London… Needs must…
Adi Taylor-Fielder: I have a paddle pool! 🤣🤣
Francesca Caietta: Wish there was a beach close by to me😓.
Nicola: England today
Avril Edison Davis: I've definitely acclimatised too well to the British weather. 37 here in London today and I can't cope! It was a whole different story when I was a teenager sitting on Clifton beach, no brolly, mid-December!!! 😂
Steph: Warwick UK 36 degrees 🥵
Angela Jarvis Nortjé: I think our steps are melting 😩34
Trevor Horwitz: 36degrees Celsius even with the clouds!
Kathy Otto: 37 degrees in the Midlands but not as warm as the same number back home. Sat in the sun for my lunch break which I could not have done in northern Limpopo.
Adam Parton, Shropshire: My cat Ghost doesn't really know what to do in the heat. And poor old Pig is flopping down in any cool corner she can find. I've got plenty of fresh water placed around the house for them, and I've kept my hens' water sink fresh as well.
Karen Phil Holland, Wigan: Boiling here 🥵
Morgan Davies: I live in the UK but have a farm in the Karoo. These people don't know what heat is. They're all a bit dramatic, yes it's warm, the humidity is a bit uncomfortable but it's not the end of the world. Aaaand it's just started raining as I'm writing this, so back to normal UK weather.
Niqui C Grover: 3.23pm in my car in Thames Ditton when I was leaving work – 40 DEGREES
Lynda: 33 degrees in Essex… been languishing in a cold spa between a bit of tanning today! Different heat to Durbs for sure!
Christine Augustus: Very hot in Sussex by the Sea. Don't remember it being this warm in Durbs.
Pat Bennett: I have found it hot but nothing like the coastal or highveld heat! To me it's more like a hot Autumn day in SA!! Record high today according to the weather… we had our "thunder storm" … 2 rumbles of thunder!!
Delia Giusto In my office 🙊 it was 37
Jayton: My Slush puppy melted on the way from the work kitchen downstairs to my office. We have no AC. It's baking hot and humid. Even the thought of more slush puppys does not make it any more appealing. We're in Oxford.
Candice Malone: 38 In the afternoon.. still so hot.. used to it but different to SA heat though.
Joanna: 34c, feels like 37c. I was in Pietermaritzburg for nine months a year or so ago and it was like this for days/weeks at a time. In Europe we do go on about it but in the UK in particular people are not used to it. A friend in Port Alfred told me this week that it's "freezing" and when I asked what freezing was she said 10c. Then I laughed. It really is down to what we are used to.
Helene Crozier: NEVER EVER thought I would say it, but it is OPPRESSING HOT in the UK 🇬🇧 🥵 🥵 🥵
Ros Glaysher: England playing cricket against Ireland at Lords, temperature 36 degrees
Pat Potgieter: It's like this in Summer in SA. You get used to it but here in the UK it is unusual and there is no air con, so fans have to do. In Durban it is always humid.
Bronwyn Eakins, Kent – 36.5 degrees. Spent the day on the beach. I keep telling my British friends (this is normal in SA)… they honestly can't believe this is what I grew up with!!
SCOTLAND
Jennifer Robertson: I am in Scotland by the beach in Ayr and it is so busy today with it being 31.5 degrees, and my comment around lunch time was, I feel as though I am in Umhlanga Rocks ☀️🌞 xx
Heather Stott: It's hot in Scotland too! And we're indoors watching British Swimming summer championships! 🥵
JOKES and HUMOUR during the EUROPE HEATWAVE
Gerhard Harmse: It's hot here in France 🇫🇷
Switzerland:
Shaun Van Wyk: Not sure why everyone's moaning about how hot it is, look at me working on my tan😉

Wanda Herd-Henning: How the Brits see the heat wave!
SEE MORE COMMENTS AND PHOTOS FROM SOUTH AFRICAN EXPATS IN EUROPE'S HEATWAVE HERE: