A major coordinated raid on counterfeit traders in downtown Johannesburg on Wednesday led to the arrest of 560 civilians and 7 police officers. The crackdown came a week after hundreds of traders forced police to withdraw after pelting them with stones and bricks when they attempted a similar operation.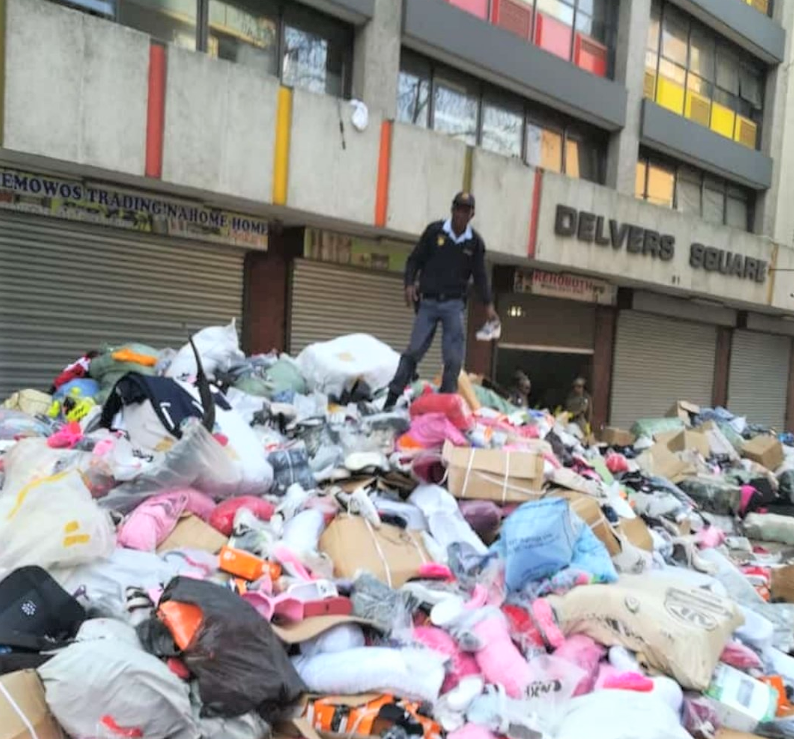 A warrant officer and four constables were arrested at Johannesburg Central after they were caught trying to resell confiscated goods back to the illegal traders, the police said. Two members of the Tactical Response Team were arrested for allegedly leaking information about the planned raid.
The joint day-long operation was between the South African Police, the Metro Police, immigration officers, customs officials, and clothing brand owners. The value of the goods seized was still to be determined, although a similar raid in April brought in a haul of R500 million. Six unlicensed rifles, six revolvers, four shotguns and ammunition were also seized in one room on Jeppe Street.  
The ANC Gauteng Premier David Makhura and the Minister of Police Bheki Cele joined a walkabout of the city centre, although much of the credit for cracking down on lawlessness in the city centre is due to the Democratic Alliance mayor Herman Mashaba.
The law enforcement agencies also recovered 46 vehicles.
The Gauteng Police Commissioner, Elias Mawela, said in a statement the crackdown on counterfeit goods would continue in other areas of the province.
#sapsGP #JHBCBD #OkaeMolao: Large consignments of counterfeit goods including clothing and sneakers were found in different buildings. The monetary value is yet to be determined ME pic.twitter.com/qZ8IsA2fuB

— SA Police Service (@SAPoliceService) August 8, 2019
#JoburgRaids pic.twitter.com/Aw3JXGbMcO

— livereport (@livereport12) August 8, 2019
HERMAN MASHABA is CLEANING our CBD. #JoburgRaids is ALL thanks to @HermanMashaba …. ALL credit goes to him. Let's not take the glory away from someone who showed us what was breeding in our CBD. https://t.co/mAKbMbelB7

— S (@sramphaul) August 8, 2019
#sapsGP #JHBCBD #OkaeMolao: Large consignments of counterfeit goods including clothing and sneakers were found in different buildings. The monetary value is yet to be determined ME pic.twitter.com/qZ8IsA2fuB

— SA Police Service (@SAPoliceService) August 8, 2019