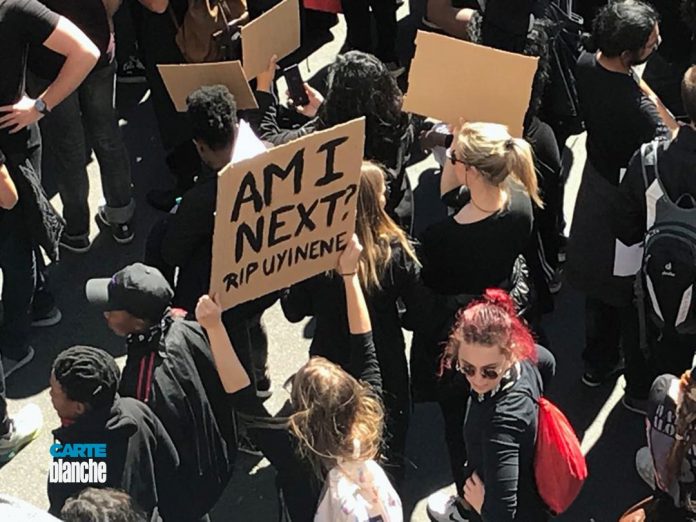 PSA (Public Service Announcement), not for debate: will all those calling for the reinstatement of the death penalty – specifically for rape – please stop and USE YOUR NOODLES… writes South African Editor Helen Moffet. (I am not getting into the debate on capital punishment more broadly — many excellent commentators have already done so.) I am simply going to explain why it is a truly terrible idea in cases of rape, based on my research done on when SA DID have the death penalty for rape.
This is what happens in narrow legal terms:
1) It drives the incidence of rape-homicide up, to avoid identification by the victim. We already have the worst rape-homicide stats in the world. Why would you want to make these even worse?
2) Rape as a crime has an incredibly low rate of police investigation, trial and conviction for all sorts of reasons but encompassing massive sexism in the criminal justice system. If the stakes get higher (death penalty), courts become LESS likely to prosecute rape cases. We have a broken and embattled justice system notoriously poor at getting ANY criminals behind bars. Prosecuting sexual violence will become even less of a priority than it is now.
3) If their cases DO make it to court, victims are treated even worse — under apartheid, almost every accused rapist argued that their victim had "consented", even when they'd raped during a house-breaking, etc. This was vigorously pursued by their defence lawyers, making trials even more traumatic and sick-making for the victims. So the death penalty makes matters worse for surviving victims because the burden of proof becomes even higher.
4) Convictions are statistically much less likely, or the perpetrator is found guilty of lesser crimes by judges who are not that keen on sending a man to his death. So the death penalty means more perpetrators being let off the hook.
5) The research is all over the place, but anywhere between 10 and 30% of SA men have or will rape at some time in their lives. Most of them are known to their victims. WHO ARE NOT GOING TO REPORT if it means putting their uncle/teacher/neighbour/stepfather/etc etc etc etc etc at risk of the death penalty. The death penalty means an instant drop not in the rate of rape, but the reporting of rape.
6) The death penalty massively skews the kinds of rapes that are prosecuted. Under apartheid, unless you were a nice virginal white woman who had been raped by a seedy black stranger (although sadly not rare, still statistically the rarest form of rape by far), the cops and courts wouldn't even consider prosecuting. So it becomes more difficult to prosecute most forms of rape, with the criminal justice system focusing only on certain kinds of rapists and ignoring the rest.
These are not my "opinions" — they are research findings. I understand that everyone's upset. Right now, having been anti-capital punishment my entire life, I think that men like Nene's killer should be given two choices: life imprisonment or the option of self-administered suicide.
But stop and THINK before baying for the death penalty for rapists. WE'VE HAD IT BEFORE AND IT MADE THINGS OBJECTIVELY WORSE FOR SURVIVORS.
PS: I am NOT debating this. And don't give me that "my tax dollars" story either. Right now your and my taxes are in havens all over the world or being splurged by the Guptas. I'd much rather spend my taxes on three hots and a cot for criminals than have them swanning around on the streets (and that goes for all our corrupt politicians).
PPS: My next post will be a happy one, promise.
CARTE BLANCHE: South African Women Have Had Enough
"On 3 August 2019, at the start of Women's Month, a 30-year-old show-jumper and bakery assistant, Meghan Cremer went missing. Days later, on Women's Day 9 August, her body was found in a sand mine in Philippi. But Meghan wasn't the only woman brutally murdered in just these last few weeks. Lynette Volschenk (32) was murdered and her body cut up in her Bellville flat; UCT student Uyinene Mrwetyana (19) was raped and murdered inside the Clareinch Post Office; UWC student Jesse Hess (19) was raped and murdered along with her 85-year-old grandfather in their flat in Parow and Janika Mallo (14) was raped and murdered. Her body was found dumped in her granny's garden in Heinz Park. As South Africa tallies up the numbers, thousands of women around the country are mobilising and protesting against the scourge of rape and murder." If you're overseas (in most countries) you can stream last night's episode of Carte Blanche here: Watch the show overseas
We live in a country where women and young girls are molested by their brothers, their uncles, their fathers. A country where wives have become punching bags and morgues fill up with the bodies of dead women killed by men. We say: enough is enough. #CarteBlanche #AmINext pic.twitter.com/vJjyVyYJRX

— Carte Blanche (@carteblanchetv) September 8, 2019
"You have the power. Take responsibility." ~ Graça Machel, Chancellor of the University of Cape Town. #CarteBlanche #NoToWomenAbuse #AmINext pic.twitter.com/WbrEup2GTE

— Carte Blanche (@carteblanchetv) September 8, 2019
Update from ANC Parliamentary Caucus
The ANC Parliamentary Caucus said in a statement today that it supports President Ramaphosa's call to review laws on domestic violence and sexual offences.
"With this in mind, the ANC in Parliament will work with other political parties, to expedite the making of laws that will impose harsher sentences for all crimes against women and children."
The ANC Parliamentary Caucus said it supports calls that additional measures be implemented immediately to halt acts of GBV, these include:
Declaring Gender-based violence a national emergency and further dedicating time and necessary resources to eradicate it;
For the National Register for Sex Offenders (NRSO) to be made public;
The tagging of those convicted of sexual offences,
Life sentences with no possibility of granting parole and no bail for perpetrators;
The change of mind-set of members of the South African Police Service (SAPS) on dealing with victims.
Rape and paediatric kits must be available at all police stations.