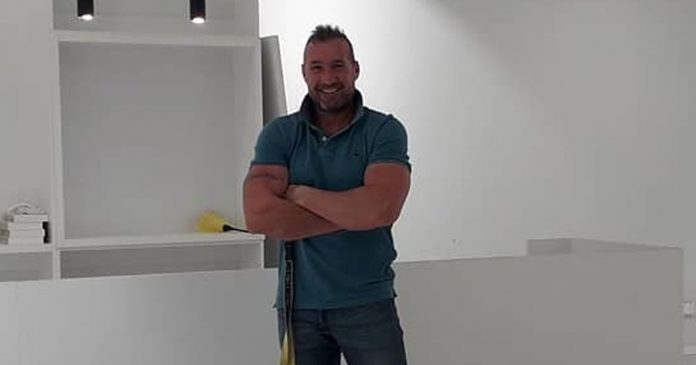 Kelly Malan thought her baby was going to choke to death last Monday, and as she desperately tried to flag down a car in the busy Sandown peak traffic in Cape Town, South Africa… there was one good guy, a knight in a shining bakkie, who not only pulled over to help, but took her and baby Dani to hospital, and sent a friend to fetch her car!
That man is Ben Mans, and if social media has anything to do with it – he's about to be rewarded with a lot of work for his carpentry business!
Kelly said on social media: "Monday was most probably the scariest day of my life. My daughter got sick twice at school, so i rushed to fetch her. On the way home, she started getting sick in her car seat, and the more she was getting sick the more she was chocking."
Kelly pulled over and took 15-month-old Dani out of her car seat, and turned her half over to "get her to breathe properly again". She realised she couldn't leave her in the car seat to choke to "possible death".
So "shaking and crying I flagged a bakkie down. Some cars drove by before he stopped. This guy stops, and I ask if he can take me to the hospital, says no problem get in and leave your car on the pavement. On the way to the hospital he calls his friend and asks his friend if he can fetch him to come get my car.
"He drops me at the door of Blaauwberg Hospital, and I give him my car key and he gives me his business card."
Having never met Ben, Kelly knew he could either steal or car or bring it to her. At that point her daughter's life was more important.
"Not long after here he comes to drop my car keys and see if we ok. I had no words, I could hardly speak. This guy is Ben Mans!! Who does something so kind? Well Ben does. I literally feel like he saved my baby's life!!!! Thank you Ben from the bottom of our hearts. I hope to repay you one day.
"If anyone needs any carpentry done, please do consider Ben, his business card is below. Sorry the card got wet in all the commotion…"
Ben responded to Kelly's post a couple of day's later revealing "she opened a whole new world to me and to my business", Mans Custom Carpentry Design.
Ben says the feedback and response from people has made him "lost for words. I really thank every single person for that from the bottom of my heart. The most kind words and appreciation from strangers for helping someone that was in real need of help.
"At the time I really thought I was just doing a small good deed. But after I spoke to a friend with two daughters of his own I can now understand what Kelly had to go through.
"Kelly. In your post you said you hope to repay me some how. Well you did more already than you think.
"Not only did you give me business exposure, it really makes me want to be even more of a better person. AND I URGE PEOPLE TO DO AND TO THINK THE SAME. Because doesn't matter how small we think the deed is, if can make a massive change to someone else's life.
"We all are experiencing a real troubling time in our country with crime, murders of friends and loved ones. So take control of the things we do have control about."
Messages have poured in for Kelly and Ben. "May God shower you and your business with His favour and blessing" said one; "I see this man as an angel sent by god at your moment of need", said another.
#GottaLoveSouthAfricans