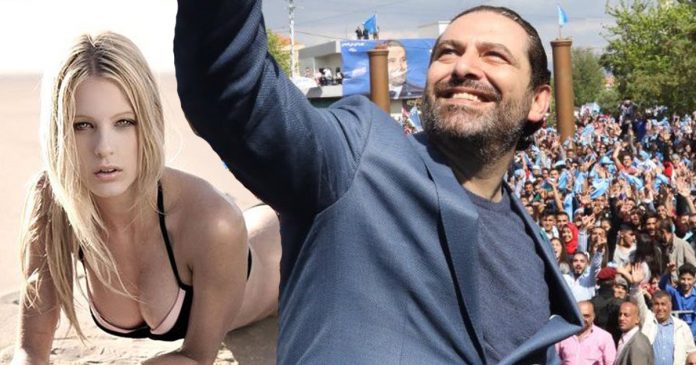 The prime minister of Lebanon, Saad Hariri, paid more than $16 million to a South African swimwear model, Carien van der Merwe, after they had "a romantic relationship" in the Seychelles several years ago, according to a report in an American newspaper.
In a New York Times story published three days ago, with the headline "Lebanon's Prime Minister Gave $16 Million to South African Model," it was reported that the facts had surfaced in court papers it had got from South Africa.
As far back as 2013, the Mail & Guardian reported that Van der Merwe had been asked in court to explain the origins of $15.3-million, which she claimed was a donation from an unnamed Arab admirer. Hariri, whose net worth at the time was put at $1.9 billion by Forbes, was not in office at the time.
The Times said that Hariri made the donations in between his present stint as prime minister and an earlier one, while "he was running family businesses in construction and other domains and living in France and Saudi Arabia."
Back in 2013, we reported how swimwear model Candice-Jean van der Merwe was asked to explain the origins of $15.3-million she claimed was a donation from an unnamed Arab admirer. We now know who that admirer was h/t @nytimes. https://t.co/cUwVvygQnG

— Mail & Guardian (@mailandguardian) October 1, 2019
The transfer would likely have remained secret had the large sum not raised suspicions among the South African financial and tax authorities, who investigated and deemed it taxable income, the Times said.
"Ms. van der Merwe bought properties worth more than $10 million, including a house in Cape Town's upscale Fresnaye neighborhood with an outdoor swimming pool and commanding ocean views. She also lent $2.7 million to a real estate company her father was involved with and made other transactions, leaving $537,000 in her account, she said.

"The tax authorities considered her claim that the money was a gift implausible and suspected the funds had been for her father, Gary van der Merwe, a businessman who had fought repeated court battles with the tax authorities over his own business dealings."
candice van der merwe ! Worth of 16 million dollars ! ? pic.twitter.com/BevVtnOH2U

— Said Mrad (@djsaidmrad) October 1, 2019
WATCH Candice van der Merwe, 2011