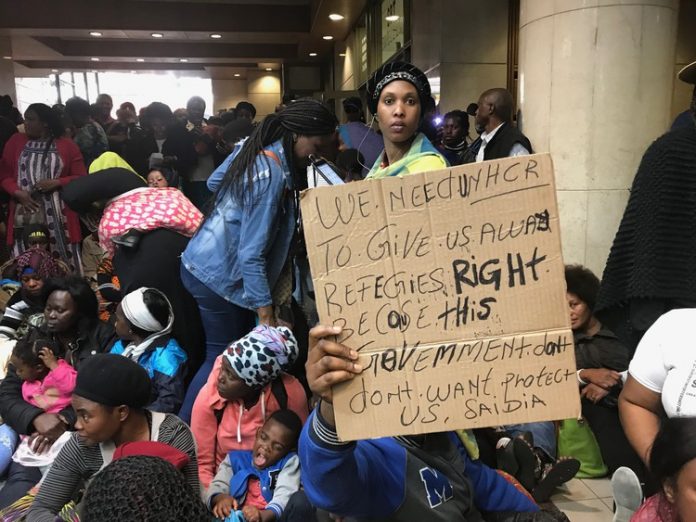 The South African government has emphasised its commitment to protecting the rights of foreign nationals residing in South Africa.
This comes amid media reports of foreign nationals allegedly staging a sit-in at the offices of the United Nations High Commission for Refugees in Cape Town (see news below). The Western Cape Refugee and Migrant Forum has apparently distanced itself from this action, according to SANews.gov.za.
Acting GCIS Director General Phumla Williams said: "South Africa has a high number of foreign nationals who are integrated into communities across the country and government calls on all South Africans and foreign nationals to live in harmony as we work together to create a better South Africa and contribute to a better and safer Africa in a better world".
The South African government reiterates that the country welcomes all people who are legally in the country and are contributing to its economic development. South Africa, the statement adds, is internationally renowned for using dialogue to solve differences and problems.
South Africa is a signatory to international instruments which form part of Public International Law, and these are incorporated into SA's domestic law by the Refugees Act.
"South Africa is a constitutional democracy governed by laws and as such we expect everyone working and living in the country to be doing so legally and obey South Africa's laws in their totality," said Williams.
"As a country we also remain resolute to peaceful dialogue as the first option of resolving any form of dispute," she said. – SAnews.gov.za
Refugees accuse UNHCR of incompetence
"I am here to demand that UNHCR confront Home Affairs on our behalf"
By Tariro Washinyira
Hundreds of refugees protested outside the offices of United Nations High Commission for Refugees (UNHCR) in Cape Town on Tuesday. The protest was organised by the Western Cape Refugee Community.
They accuse the organisation of failing to protect them from xenophobia, failing to help get their documents from Home Affairs and failing to help them with resettlement in other countries.
GroundUp is still awaiting a response from UNHCR to a request for comment.
Many of the protesters told GroundUp that documentation problems had caused their children to be expelled from school or miss matric examinations. Some said the documentation problems had cost them their jobs or businesses.
Tendai Bhiza, an activist, said that UNHCR employees often refused to serve refugees unless they had appointments, but yet the office phone number for making appointments often went unanswered.
Bhiza said that UNHCR was mandated to protect refugees and resolve their problems. Its primary purpose was to safeguard the rights and well-being of refugees.
Thierry Issia was 17 when he fled war in Burundi about 30 years ago. He complained that Home Affairs had withdrawn his refugee status in 2014. His children, who were present at the protest, are undocumented though he is married to a South African woman. "The South African government told me I must go back to my country. Where must I go now, because I don't have a home to go?"
Issia's complaint with UNHCR is that since 2014 the organisation has kept postponing his appointment. He said they don't answer their phones.
Maksiem Bururu has been living in South Africa for five years but has not worked. "My wife and children are living on handouts. Employers are refusing to employ me because my asylum document is never extended for more than three months. I am here to demand that UNHCR confront Home Affairs on our behalf."
In a statement, the Western Cape Refugee Community vowed to continue the protests until UNHCR changed its treatment of them. They accused the organisation of failing to deal with refugee problems since the 2008 xenophobic violence.
---
Published originally on GroundUp, © 2019 GroundUp.