So much has been happening on the train front in South Africa the last few months – new trains being built, shiny new blue engines and coaches spotted around the country, a government "war room" started to cut down delays and identify problems, plans announced to fence urban lines to stop vandalism – it's hard to keep up.
The beleaguered and long-plundered Passenger Railway Service of South Africa (Prasa) – which seemed to be better known for bad news of railway coaches being burned, fatal crashes, cables and rails being stolen, officials faking their qualifications, and for buying wrong-sized trains – has appointed numerous new executives who have sworn to clean up the company.
A "war room" started in August by Minister of Transport Fikile Mbalula stated that before the end of the year it wanted to, among other things, improve on-time performance to 85 percent from 50.2 percent and almost double available train sets, to 291 from 157.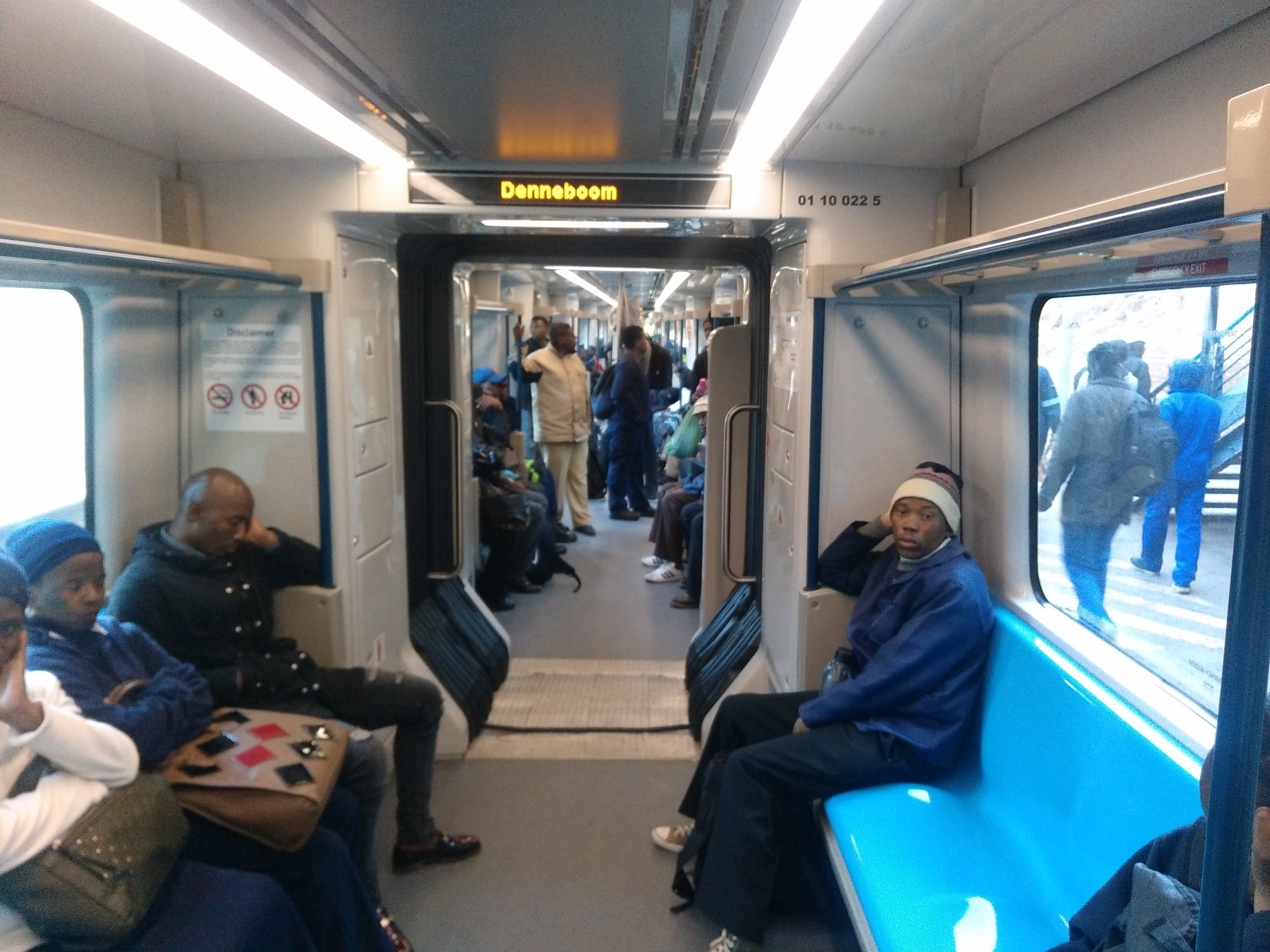 In response to a message on Twitter, Prasa sent this video of one of its new trains transporting commuters:
Ted, the trains he is referring to are working in some parts of our country. pic.twitter.com/n6HFi2iWYv

— PRASA Group (@PRASA_Group) October 16, 2019
Last week, the "war room" reported that its efforts were having a positive effect. In less than eight weeks of operation, it said, it had increased the on-time performance of South African commuter trains by 15 percent.
At the same time, however, Prasa "temporar(ily) terminated" its long-distance services – Shoshaloza Meyl and Premier Classe – to Musina (on the Zimbabwe border), Komatipoort (on the Mozambican border), Cape Town to East London, and Johannesburg to Port Elizabeth. The Johannesburg to Cape Town Premier Classe route continues running.
In a statement earlier this month, Prasa blamed "internal challenges" for the service cuts and said it was working around the clock to get them going again. No timeline was provided.
Trains have been big on President Cyril Ramaphosa's slate too. In April he attended the launch of two new Metrorail trains in Cape Town – in their striking blue colours – the pilot trains for others that are meant to come on line (see video above). In his state of the nation address he also spoke of a high-speed train between Gauteng and Musina, to better connect South Africa to its Southern African neighbours.
In September, one of Prasa's former executives, Mshushisi Daniel Mthimkhulu, was ordered to pay Prasa almost R6 million in damages, after he was employed based on a fabricated resume and got a huge raise after faking a letter promising him a better job elsewhere. According to a report in the Daily Maverick he also headed the team that acquired the 13 Afro 4000 locomotives in 2013 that were unsuitable for South Africa's railway infrastructure. "Purchased from Spain's Vossloh at a cost of R600-million, the trains proved too tall for the pylons powering the rail network," the report said.
Many of the new blue-liveried trains are being built locally by Gibela, a joint French-South African company. In a recent article by CNN it said Gibela had a $3.3 billion contract to build 600 commuter trains at its Ekurhuleni plant over the next ten years. The plant has the capacity to assemble 62 six-car trains a year, according to the article.
To deal with vandalism and non-paying customers, Prasa's Metrorail has said it will spend R6.3 billion over the next three years to build a wall of concrete blocks around railway tracks in metropolitan areas. Business Insider quoted this figure from an interview with "war room" chief Sipho Sithole.
It's not the first time this proposition has been raised. In 2018, Metrorail said it was building a R70 million wall in the hardest hit areas of Cape Town to deal with vandalism. But there are good signs that Prasa may be turning a corner.