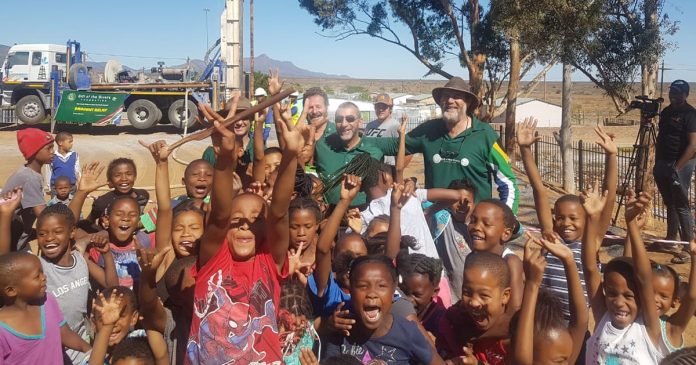 While most kids in South Africa dream of having things like cell phones and tablets, the top of these children's wish list in Graaf Reinet is simply… water. And this week they got it. Watch below as the children's joy bubbles over when the always amazing Gift of the Givers successfully drilled the seventh borehole intervention for the drought-stricken Eastern Cape town!
Announcing the successful drilling, Gift of the Givers organisation posted this video saying: "💦 💦 AND WE HAVE LIFT OFF!💦 💦…
7th Borehole for Eastern Cape!

💦 💦 AND WE HAVE LIFT OFF!💦 💦 The 7th successful borehole intervention for Graaf Reinet#GiftOfTheGivers #ForTheGreaterGood #MakeADifference #EasternCape #DroughtCrisis #DisasterResponse Franklin Electric

Posted by Gift of the Givers on Wednesday, October 16, 2019
"🙌 Celebrations were the order of the day as the #GiftOfTheGivers Borehole Team reigned successful in drilling a 7th borehole for the drought-riddled area of Graaf Reinet 🤲" said the disaster response organisation, thanking everyone involved for together helping ensure "we can #MakeADifference".
They then posted this awesome video of the local children's reaction as the water bubbled forth… saying "and the joy on these faces make it all worth it!"
Gift of the Givers also thanked the Borehole Team and management from Franklin Electric (Water Pump Manufacturers) who have made huge contributions to this intervention in the Eastern Cape drought crisis.
On Wednesday Gift of the Givers also replenished a very happy and relieved community with water for the people and fodder for livestock (together with local support).
#ThankYouGiftofTheGivers #AndFranklinElectric