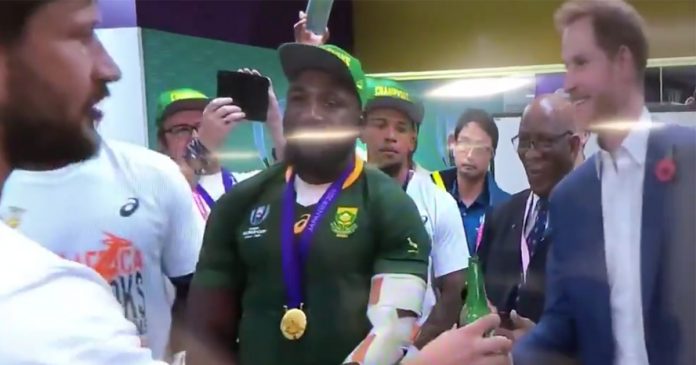 Prince Harry's team – England – may have lost to South Africa 12-32 in the Rugby World Cup Final… but that didn't stop the English prince from hanging out with the Springboks.
Sports writer Liam Del Carme posted this video from behind the scenes, which shows Harry enjoying some time out with the South Africans.
Frans Steyn – who just became the second South African player ever (after Os du Randt) to win two Rugby World Cups – can be seen challenging the English prince to a down down. And he almost accepts… but it looks like the once rebellious prince is now maturing a little, since marriage and fatherhood. He restrains himself and declines… but then points to the camera as if to say that a down to down would be fine if the camera wasn't filming him.
One Twitter user said: "He was so close to taking Frans's challenge to down the beer. Then he remembered the cameras. He's growing up so well, is Harry. ? If it weren't for the cameras present he would have …??"
South African fans tweeted their praise for Frans ("I love Frans Steyn so much ?") and Harry ("he has his mom's heart") and said "Prince Harry is a South African at heart?."
WATCH When Harry Met Frans Steyn… at the Rugby World Cup Final
Now this. Harry moment. #RWCFinal #Bokke pic.twitter.com/pdbLGcITxj

— Liam Del Carme (@LiamDelCarme1) November 2, 2019