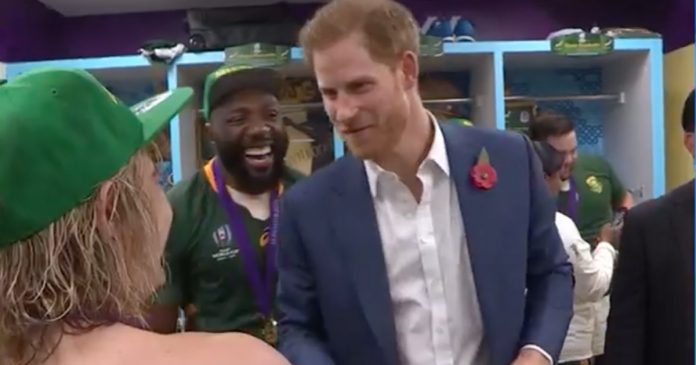 Here's the full video showing the moment that Prince Harry of England met South Africa's Springboks in their dressing room, after they'd just beaten his team 32-12 at the 2019 Rugby World Cup Final in Japan. It's a historical and hysterical moment with Faf de Klerk in his South African flag speedo and Frans Steyn suggesting a down down.
Watch to the end where Harry, who recently visited South Africa with his family and who is known to call southern Africa his second home, congratulates the Springboks saying: "Congratulations, that was outstanding. I genuinely think that rugby has the ability to unite everyone around the world, and I cannot think of a nation that needs it more than you guys right now… so on that, well done."
Harry, also known as the Duke of Sussex, is a patron of the Rugby Football Union. He made a solo trip to Tokyo, Japan, without wife Meghan, Duchess of Sussex, and their five-month-old son Archie, to watch the game.
WATCH VIDEO: When Prince Harry met the Springboks in their dressing room at the RWC
Inside the South African dressing room

?A MUST WATCH ?It's all going off in the Springboks dressing room ???Drinks are flowing ??Kolisi throwing shapes ?de Klerk's in his pants ?Prince Harry gives a speech ?

Posted by ITV Rugby on Saturday, November 2, 2019