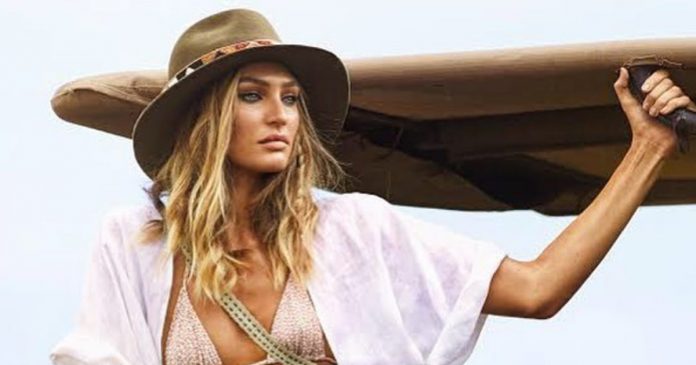 South African supermodel Candice Swanepoel, who lives in the United States, says – like so many SA expats – that she carries Africa with her every day.
And with her latest swimwear range – featuring animal-print bikinis – it's clear she's wearing Africa too! Yesterday's photo on Instagram – where she has 13.7 million followers – has already been liked by over a quarter of a million fans.
With October's launch of a new campaign for her Tropic of C swimwear, Candice describes it as a "love letter to Africa", with one of her Instagram posts including an actual letter she's hand written. It says:
Africa is where I grew up, where my family grew up and where their parents' parents made their home. The pulsating beat of the African drum lives inside me, and when I hear that soulful beat, I could be anywhere in the world, my spirit ignites (with) the music carrying me home to where my senses (are) engulfed with the sights and smells of this special land.
Candice says she may have "left South Africa when I was 16 years old to pursue my career, but it never left me.
You do not choose to live in Africa, Africa lives in you
"You do not choose to live in Africa, Africa lives in you, and I carry Africa with me every day."
Her eco-lifestyle brand – Tropic of C – which she founded over a year ago, is itself inspired by her South African "life spent at the beach", she says.
Candice says: "During the making of my latest @tropicofc campaign, it felt only natural for me to paint a picture of the Africa I know. I take a lot of my inspiration from where I grew up, it's not just about a concept.. It's much more that. It's a piece of me …of my essence. I hope you like it…"
Most of the photos were shot in Masai Mara National Reserve and not in South Africa.
Candice's Instagram page also features some photos with her children – Anacã (2) and Ariel (15 months).
With her children in Ibiza:
After dating Brazilian model Hermann Nicoli for over 10 years, and becoming engaged in 2015, Candice recently confirmed she is now single. Since she misses Africa so much, hopefully she finds herself a South African!