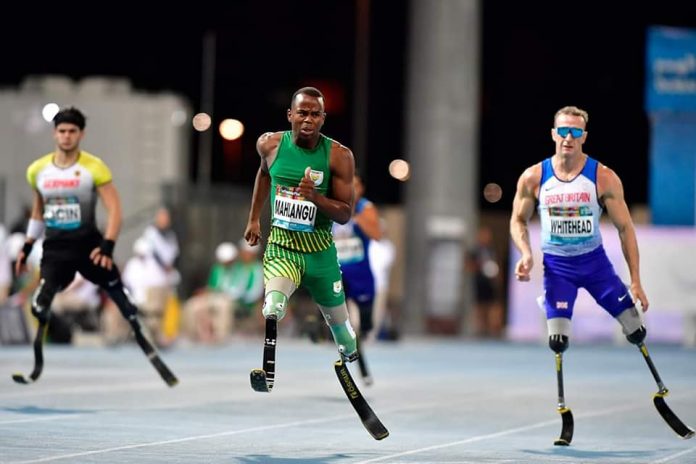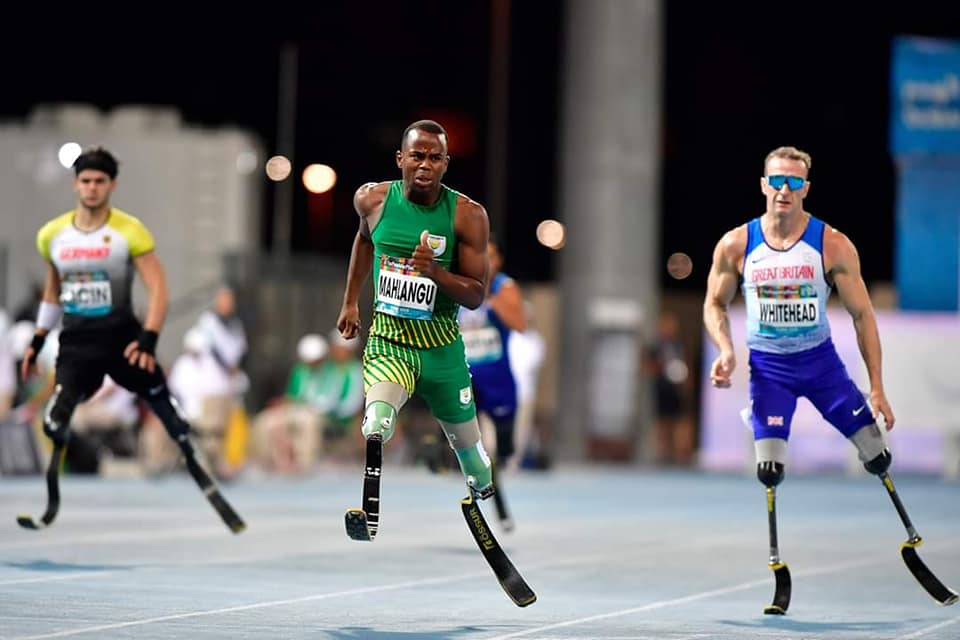 South Africa's Ntando Mahlangu took his first world title in the men's 200m T61 at the World Para-Athletics Championships in Dubai.
Mahlangu scooped his Gold Medal in a time of 23.23 seconds, ahead of Great Britain's Paralympic hero Richard Whitehead who ran in 23.82 seconds.
On Facebook on Friday, an elated Mahlangu wrote: "An honor to stand tall beside Richard Whitehead (GBR) and Ali Lacin (GER) after last night's T61 200m final. Thank you Mr. Whitehead for always supporting my journey and inspiring me to dream big!"
After the race, the 17-year-old South African told reporters: "I didn't know that I would be first. I was a little bit nervous, I just tried to concentrate on myself and on what I wanted to do."
He added: "I like when the competition is hard and I'm really grateful for the win."
It's another incredible achievement for a youngster who was confined to a wheelchair since birth until he was at least 10. Mahlangu suffered from hemimelia, a condition which resulted in his legs never developing fully beneath the knees. In 2012 the decision was made to amputate both his legs at the knee. In September that year – thanks to an incredible non-profit organisation, Jumping Kids (which helps youngsters who need prostheses) – Mahlangu got his first pair of cheetah blades and hasn't looked back!
The double-amputee, who won Silver at the 2016 Paralympic Games in Rio, is already an inspiring role model to his team-mates, and back home he's been racing able-bodied athletes too, "giving me a chance to show people out there what I can do" and that "if I can do it that means other kids can do it too…"
So far South Africa's talented team has also produced another Gold (Anrune Weyers), a Silver (Mpumelelo T Mhlongo and New World Record), and three Bronzes (Charl du Toit Reinhardt Hamman, Anika Pretorius and Cheryl James).
WATCH Ntando Mahlangu win Gold in Dubai
Ntando Mahlangu, 'n graad 10 Affie, het so paar oomblikke gelede die goue medalje ingepalm in die T61 200m by die Wêreld-Para-atletiekkampioenskap in Dubai. Wat hierdie prestasie des te meer merkwaardig maak is dat hy as 17-jarige teen mans meeding en die voormalige wêreldkampioen, Richard Whitehead van Briitanje, oortuigend geklop het. Sy wentyd was 23,23 sekondes. Welgedaan Ntando!

Posted by Afrikaanse Hoër Seunskool – Affies on Thursday, November 14, 2019
#CongratulationsNtando #MakingSouthAfricaProud