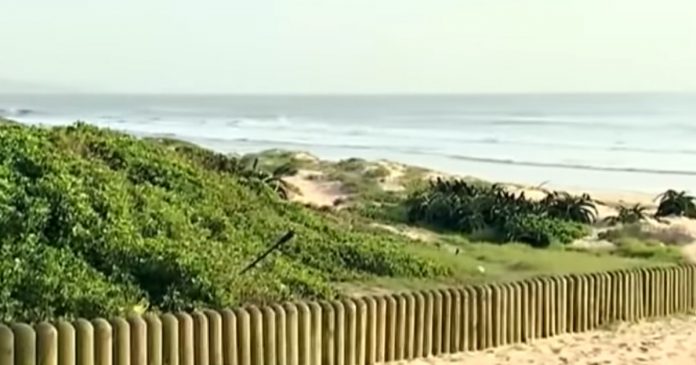 Two people have been found murdered on Durban beachfront in KwaZulu-Natal, South Africa – a woman in her 40s who has reportedly been identified because her handbag was lying nearby, and a younger man. Both were wearing jeans, and had been stabbed multiple times.
Their bodies were found by a local man on Monday afternoon when he was searching for plastic and cardboard which he sells. He found the bodies in a sand dune not far from Suncoast Casino, and close to where cyclists and joggers pass by. The man immediately ran to the nearest police station to report the discovery.
The South African Police Service (SAPS) has asked that people stop sharing photos of the gory scene on WhatsApp and social media, as the next-of-kin have not yet been notified (and even if they were, it's not a cool thing to do).
This comes just days after Durban launched Africa's longest beach promenade – 8km from Durban Harbour entrance to Umgeni River mouth; and just before holiday makers are set to descend on the coastal town.
Sharon Hoosen, DA KZN Spokesperson on Community Safety and Liaison, said the DA has "issued a warning to residents and visitors to the province to stay away from Durban's beachfront area at night, until such time as police patrols are increased.
"The move comes after two people – a man and a woman – were found dead on the sand dunes near Suncoast beach late yesterday. The pair appeared to have been stabbed to death."
She said: "This tragic incident is yet another reminder of how unsafe our communities are becoming. During the last two years, the Durban beachfront has practically become a 'no go' zone, with an increase in contact crimes which shows no sign of abating.
"This has coincided with visible policing including motorbike and horseback patrols slowly becoming non-existent, creating a breeding ground for criminals to thrive. It should therefore come as little surprise when we hear of murder, rape and other horrific incidents.
"A look at the latest crime statistics for the two main police stations serving the beachfront – Point Police Station and Durban Central Police Station – show that contact crimes which include common robbery, robbery with aggravating circumstances, assault and murder have all increased over the last three years. This is a clear indication that the police are failing to reduce crime and protect our communities."
She said the DA will write to KZN Community Safety MEC Bheki Ntuli to call on him to urgently reinstate visible policing – including foot patrols, motor bike and horseback patrols.
No arrests have yet been made.
WATCH 2 people murdered on Durban's beachfront