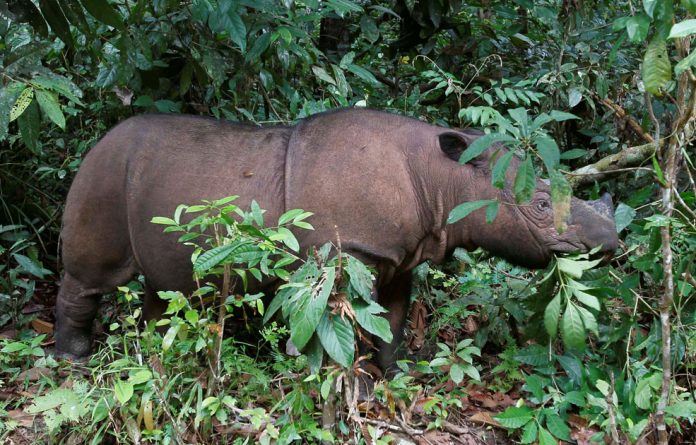 KUALA LUMPUR – The last Sumatran rhinoceros in Malaysia tragically died on Saturday, leaving the smallest species of rhino, which once roamed across Asia, surviving in small numbers mostly in Indonesia.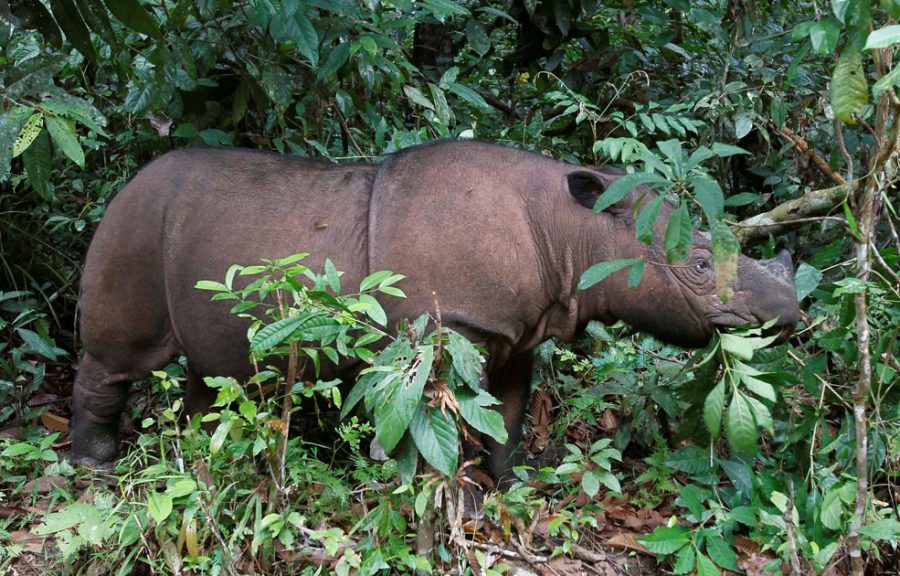 The 25-year-old female rhino, named Iman, who has been cared for in a wildlife reserve since her rescue in 2014, died of cancer in the state of Sabah on the island of Borneo.
"Iman's death came rather sooner than we had expected, but we knew that she was starting to suffer significant pain," said Augustine Tuuga, director of the Sabah Wildlife Department.
The Sumatran rhino was declared extinct in the wild in Malaysia in 2015. Malaysia's last male Sumatran rhino Tam died in May this year.
The species has now almost disappeared from the wild, and conservationists estimate that only about 30 to 80 Sumatran rhinos survive, mostly on the Indonesian island of Sumatra and on the Indonesian side of Borneo. Remaining populations are heavily guarded by anti-poaching units, but despite protection, numbers continue to decline.
Their isolation, caused by habitat loss and poaching, means they rarely breed and may become extinct in a matter of decades, according to conservation group International Rhino Foundation (IRF).
Since 2011, Malaysia has tried to breed the species in captivity through in-vitro fertilization, but without success.
Conservationists had hoped Iman could be bred naturally with Tam… but Tam did not have high quality sperm and Iman had a uterine tumor, detected when she was captured, which prevented conception.
Genetic material from both Iman and Tam have been saved and conservationists hope someday, once the technology is in place, to convert these cells into viable embryos that could be transplanted into surrogate rhinos.
The IRF said in a statement titled "Mourning Iman", that they were "saddened by today's news", and that Iman had received around the clock care from her dedicated keepers and veterinary staff.
For several decades, Sumatran rhinos have been devastated across their range by poaching to feed illegal trade in horn for Asian markets, said the IRF in the statement.
The species is likely now the most endangered large mammal on Earth, with declines of more than 70 percent in the past 20 years.
In Sabah, logging, which decimated the region's rainforests, followed closely by extensive development of palm oil plantations, also was a contributing factor.
Like Sabah, Sumatra also has seen massive deforestation and rain forest fragmentation, pushing Sumatran rhinos, tigers, elephants, and orangutans to the brink of extinction despite ongoing protection.
Iman's death is a shocking reminder to South Africans on the importance of conserving SA's rhino and ending the demand for rhino horn.
Source: IRF Statement and Reuters (Reporting by A. Ananthalakshmi and Jenni Baxter; Editing by Ros Russell/Reuters and Jenni Baxter/SAPeople)