The driver of a car in Port Elizabeth, South Africa, had a miracle escape after a runaway lorry crashed over a 10-foot high embankment onto a dual carriage way and totally crushed the vehicle, with her inside. The female driver, named as Rochelle Velkers by the Herald Tribune, is recovering in hospital… and is calling the governing chair of the nearby primary school her "angel". It was he who rushed to her rescue and, risking his own life, stayed with her, holding her hand and chatting, throughout the terrifying ordeal… making sure she stayed conscious as rescuers worked for almost an hour to free her from the car.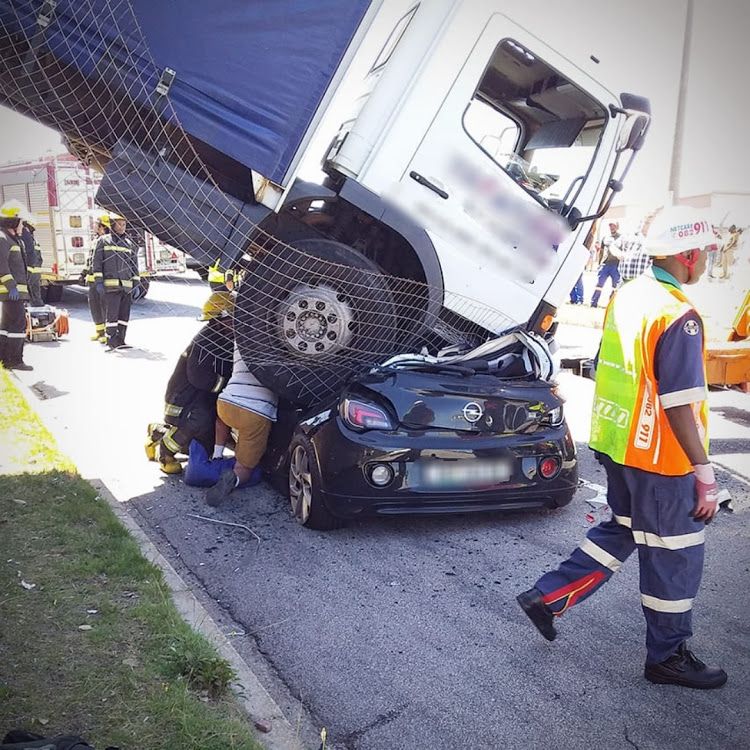 The truck had been parked on a hill in the Eastern Cape city by the driver while he popped into Parsons Hills Primary School to pick up his child. The driver had either forgotten to put on the handbrake or it failed while he was inside… and it rolled down the hill and onto Velkers' passing car.
When the driver came out of the school with his child, he found his lorry missing… and then saw the rear of it high up in the air at the end of the road, with the nose at 45 degrees over the edge.
Motorists had all stopped to help but assumed initially that anyone inside had been killed as the three door hatchback Opel Adam appeared to be totally flattened by the truck.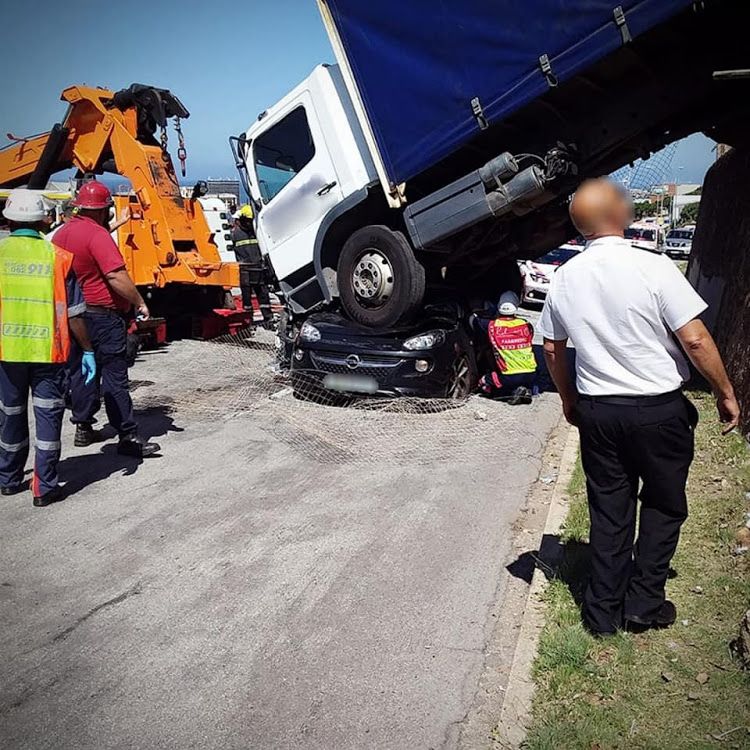 Forget Charlie's Angels! Charlie IS the angel!
But fortunately 71-year-old Charlie Gillett had rushed with others to the scene from the school when he heard about the accident.
He told the Herald: "When I got there I jumped down from the wall and climbed underneath the truck. At that stage, we all thought there could also be a child inside the vehicle.
"I saw a hand and leg sticking out and started chatting with the driver of the car. She was very disoriented and I just kept telling her I am not leaving and we are going to get her out. I knew I had to keep her awake, every time I felt her dozing off I would squeeze her hand and carry on talking to her."
Apparently Gillett spent 45 minutes holding her hand and giving her strength to stay awake while the fire and rescue service used the "jaws of life" hydraulic cutting equipment to reach her. The young woman was completely trapped and rescuers had to call on the assistance of a special tow truck to pull the fallen truck back up before they could use the jaws of life to free her.
Gillett told reporters: "All that was going through my mind was that I must help this woman. I did not think about the truck landing on me or anything.
"The car was badly crushed. I could not see her face or anything. The fact she survived with fairly minor injuries is nothing short of amazing. She is so lucky to be alive, I was so worried about her."
At first she couldn't remember even her own surname she was so deurmekaar… but while she was loaded into the ambulance she kept repeating "thank you" to Gillett and rescuers.
During the ordeal, people encouraged Gillett to move away because they were worried the truck would fall on him, but school principal Clinton Saddler said that "there was no way (Gillett) was going to leave her. He kept telling her that he was going nowhere."
This evening, 71-year-old Gillett and an eternally grateful 26-year-old Velkers, met up in hospital. She said: "Thank you, Charlie, Thank you. You are my angel."
SAPeople contributor and PE resident Maureen Swanepoel Jourdaan said: "Never mind #imstaying, #imstayinginpe. What wonderful people we have here. True hero. Wishing her a speedy recovery. #proudportelizabethan"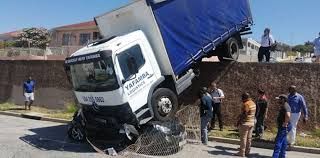 South African Police (SAPS) have opened a case for reckless and negligent driving with Captain Sandra Janse van Rensurg confirming that nobody was at the wheel of the truck in the incident.
The accident happened at 2.50pm local time on Tuesday, totally blocking the road for several hours while the rescuers freed the stricken driver and the runaway truck was safely pulled back up the embankment
Video: Truck lands on top of car in PE accident