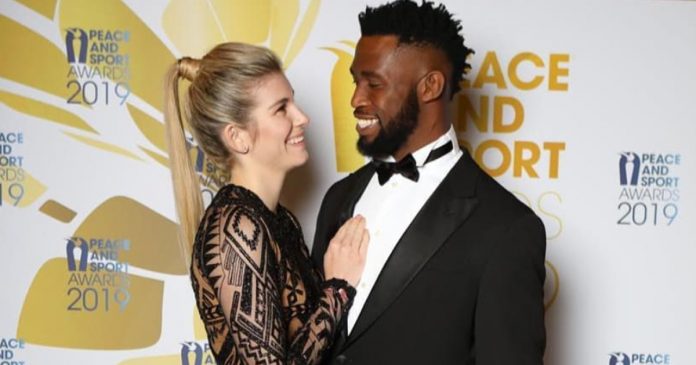 Springbok Captain Siya Kolisi said something powerful on Thursday night in Monaco, after winning the World Peace and Sport Champion for 2019 award. Siya's wife Rachel took to social media to share the message, saying it really hit her and "every single person in the room".
Siya said: "We may break all the records and lift all the trophies and medals, but someone else will come and do the same after us. if we don't use our influence to make a impact now, we will be forgotten. The lives that we touch and change will last forever."
Rachel said: "I heard so many people's stories last night on how they're impacting their nation through sport/community. Some were very famous sportsmen and women. Others were people with an urgency and passion strong enough to see a change in their country.
"Let's never be comfortable if there are others suffering."
Rachel's post has been shared by thousands who agree!
Siya dedicated his award to the 2019 Rugby World Cup Winning Springbok squad.
He said: "It's a great honour and a privilege for me and it's great to see people recognise people that use their voice and use their platform and do some work off the field as well and it will inspire people to do more.
"We're not just sportsmen. We can do much more off the field."
Kolisi also praised the impact of the Springboks at the RWC tournament in Japan and back home in South Africa, and said the momentous win in Japan was a collective effort.
"You're playing a team sport and that always makes it hard to get individual accolades because there are so many people around me that have helped me," he said.
"Among my team mates there are so many other leaders. I don't like taking all the credit because it's not just me, the coaches, the physios, everybody adds value to anything the team achieves."
The South African skipper is also a nominee for the prestigious BBC World Sports Star of the Year award. He is up against golfing great Tiger Woods, road runner Eliud Kipchoge, and former Australian Cricket captain, Steve Smith among others.
Kolisi was also gracious on this nomination, tweeting that the RWC win was not just about him, but a Springbok team effort.
Very grateful for the @BBCSport recognition however this is not about one person. I'm nothing without my teammates & our whole organization. Proud to celebrate this nomination together. 🇿🇦 #bbcsport #bokrugby #RocFam https://t.co/dAFeOMWglN

— Siya Kolisi (@SiyaKolisi_Bear) December 9, 2019
Siya's wife Rachel had another important message from the evening – this time more personal, but so important for young women and girls everywhere. She posted a photo of herself facing the camera and said: "I'm so self conscious about my ears. I was teased for years about my "elephant ears". I wore them out last night because we need to embrace our uniqueness."
#CongratulationsSiyandRachel #InspiringSouthAfricans #InspiringTheWorld
Im so self conscious about my ears. I was teased for years about my "elephant ears". I wore them out last night beacuse we need to embrace our uniqueness.

Posted by Rachel Kolisi on Friday, December 13, 2019