Koalas, which are usually native to Australia, have been spotted all over New York City in the past few days. These ones however are toy koalas and they're on a mission to raise funds to help the the real-life arboreal herbivorous marsupials back in Australia.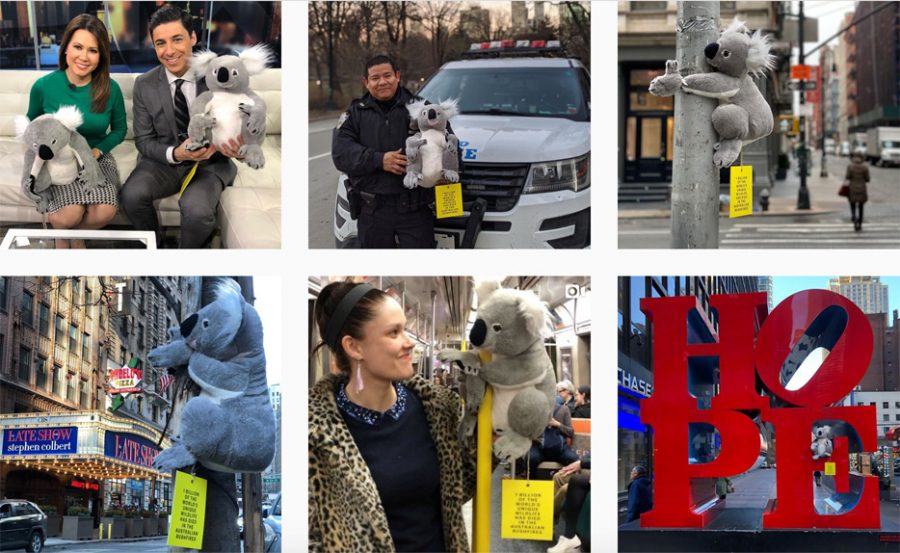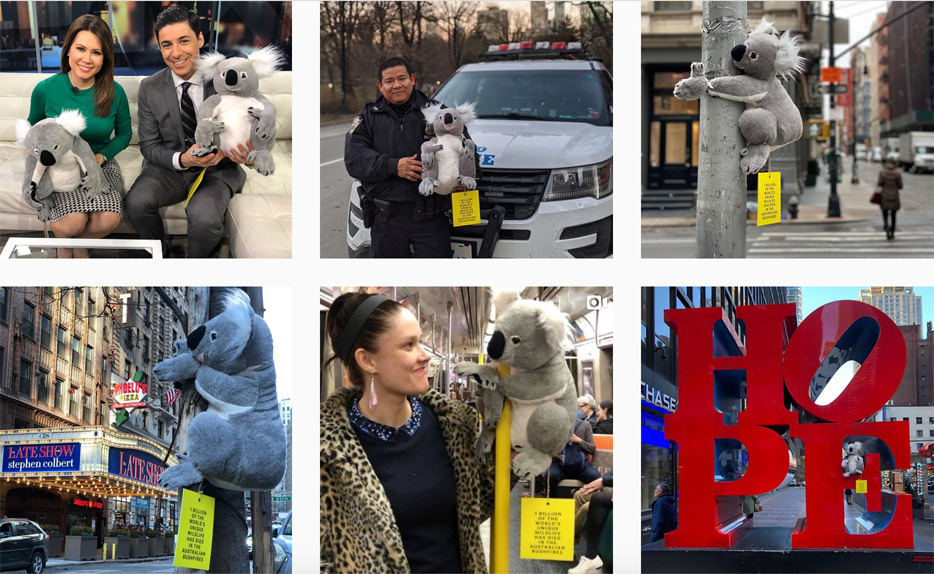 The toys have been photographed clinging to landmarks all over the city – from Brooklyn Bridge to Central Park. They've even featured on the news.
They have a tag on them which explains the crisis in Australia where bushfires have raged across the country for months now, reportedly leading to the loss of one billion of the country's unique wildlife (with over half a billion animals dying in New South Wales alone).
The koala campaign – KoalasOfNYC on Instagram – has been launched by an Australian media agency (Cummins&Partners) which has an office in New York.
The tags include a QR code for people to donate funds to help.
The fundraiser was started by Australian wildlife rescue group WIRES. Its CEO, Leanne Taylor said: "Right now, our staff, qualified experts and volunteers are working around the clock to ensure that as many native animals as possible receive the ongoing care, supplementary food and recovery they need."
Central Park:
Brooklyn Bridge:
Meanwhile, there is also a campaign on at the moment to inform Australian residents that the best way to save koalas is to give them a bowl of water to lick from, rather than pouring water down their throat. Tragically at least one koala – Arnie – has died after being given water in the wrong way, from good samaritans whose intentions were to help.
Usually koalas get all the fluid they need from eating eucalyptus (gum) leaves, and don't actually drink water. The risk to them of drinking it from a bottle is that they could breathe in the water – which once in their lungs poses the risk of pneumonia.
Anna Heusler – whose heartbreaking and heartwarming video below went viral – has joined Adelaide Koala Rescue as part of their admin team and says: "I've now learned that that's not the way to give water to a koala… You're supposed to put it in a dish, on the ground. It's better for their aspiration. It's supposed to be flat — they drink out of a bowl like a dog. But I didn't know that. I know that now." (The koala she saved is not the one that died.)