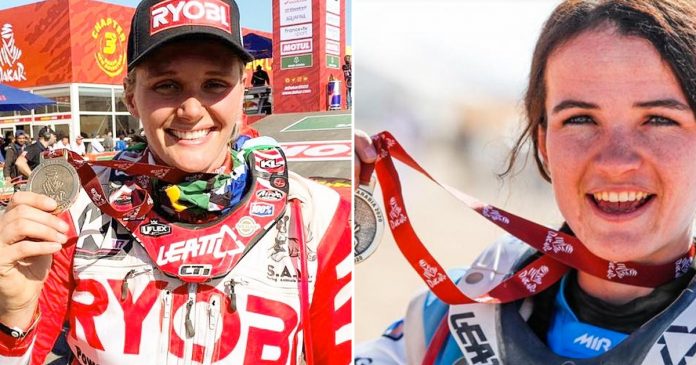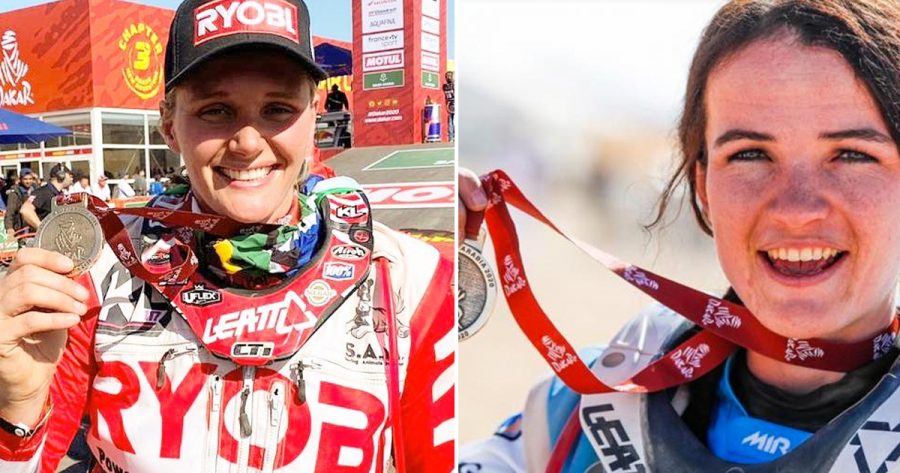 South African bike riders Kirsten Landman and Taye Perry received heroes' welcomes as they returned to South Africa on Sunday 19 January, the first women from Africa to ever complete the challenging Dakar Rally, which was held in Saudi Arabia from 5 to 17 January.
UPDATE: Meet Kirsten and Taye on Carte Blanche tonight, 26 Jan, at 7pm on M-Net. You can also watch on DStv Now app; or – watch the show overseas from Tues (in most countries, sorry not all!) Find out more at the bottom of this page.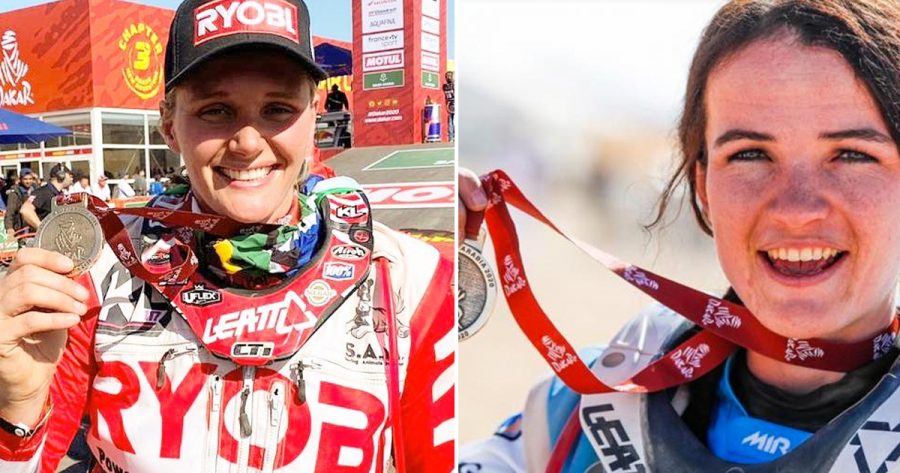 Ryobi Africa (who stepped up as one of Kirsten's main sponsors) announced on Friday 17 Jan: "She's done it! Kirsten Landman has achieved her dream of crossing the Dakar Rally finish line, and becomes the first African woman to ever do so on a bike."
Kirsten's story is one of courage and determination, overcoming a major accident in 2013 (at the Desert 1000 race in Botswana) that almost killed her, and conquering her (natural) fears of enduro racing to not only enter the 2020 Dakar Rally, but participate with a mission to be the first female from Africa to cross that finishing line, and earn the coveted Dakar finisher's medal.
On the eve of finishing the famous race, the "Proudly South African ????" rider admitted: "This has been an emotional roller coaster. I can't wait to cross that finish line ????"
Cross it she did, making history. Her fans, some from back home in Bryanston, were elated. One summed up the feelings of most, saying: "Congrats, Kirsten! What a brilliant achievement! Courage, determination and pure guts! What an inspiration you are to all your proudly South African supporters!"
Taye Perry – South Africa's Desert Rose ?
Fellow South African Taye Perry may not have crossed first, but she also won many hearts with her refusal to give up, despite being stranded for hours after suffering a knock and a fall… and her bike experiencing electrical problems.
The 28-year-old from Rustenburg is being called South Africa's "Desert Rose?" and the People's Champion; the "little girl  (1.58m) from South Africa who, against all odds, has just finished the Dakar Rally 2020 and who inspired everyone around the world to never… give… up!"
With just two days and 1,1,73km to go of the Rally, after completing 10 days (and 6,666 km), lying third in the Ladies Bikes Category and in the Top 10 of the Rookies Category disaster struck for Taye when she fell and her bike wouldn't start up again.
If she evacuated, the race would be over. So she hung in there for hours, in a section of the desert called the 'Empty Quarter' (as big as France with rows and rows of dunes) – until a Spaniard and Argentine car team rescued her, refusing to let her dream die, and towed her for hundreds of kilometres to a spot that they were allowed to take her to.
After that, she pushed her bike to the stage's finish line! Into the welcome arms of her team. Taye had just two hours to rest in her tent, while the team fixed her bike, before it was time to set off on the final day of the Rally.
Taye barely had 90 minutes' sleep. Her position in the final stage, Stage 12, was "dead last"… but she pressed ahead. "My general standings were no longer relevant. But I was thankfully still in it," she wrote on Facebook. "And here I am – with a Dakar finisher's medal! …still loving every moment, knowing I fought for it, and appreciated every struggle and challenge. I will be back and better. And I can't wait to get on my rally bike again…"
Taye finished 77th, but the young South African finished first in the hearts of all those watching her grit and determination. Of the 144 who started the race, Taye was one of only 93 who finished it.
Elza Thiart-Botes wrote on social media: "I know about your struggle to get to the Dakar Rally [Friends had even set up a BackaBuddy campaign for Taye] – and almost all the other races you so love to compete in – and I will even more do whatever I can to support and assist you as I am blown away by your never-giving-up attitude and will to finish.
"You are a hero in my eyes and I hope you receive a hero's welcome back. Respect…"
Today, both Taye and Kirsten received the heroes' welcome they each deserved. Incredible South African women inspiring others!!! Both reminding us: Never Give Up On Your Dreams!
SADG – FABULOUS WELCOME FOR SA's. DESERT ?ROSE! #thepeopleschampion #pocketrocket #pocketrocketperry #Dakar2020 #DakarRally Nomade Racing Assistance

Posted by Taye Perry on Sunday, January 19, 2020
UPDATE: Watch Carte Blanche Sunday 26 Jan in SA, Streamed from Tues 28 Jan overseas 
"The Dakar Rally is an endurance race like no other – thousands of kilometres in twelve gruelling days across the harshest terrain Saudi Arabia has to offer. It's a race that pushes riders to their limits – the ultimate challenge that very few would dare take on, but this year two South African women took their place amongst some of the most elite racers in world. One is known as "The iron lady of hard 'enduro'", and the other, "The Desert Rose". Carte Blanche meets these two extraordinary riders who beat the odds and returned as conquering heroes."
That's Carte Blanche tonight at 7pm on M-Net. You can also watch on DStv Now app; or – watch the show overseas from Tues (in most countries, sorry not all!)