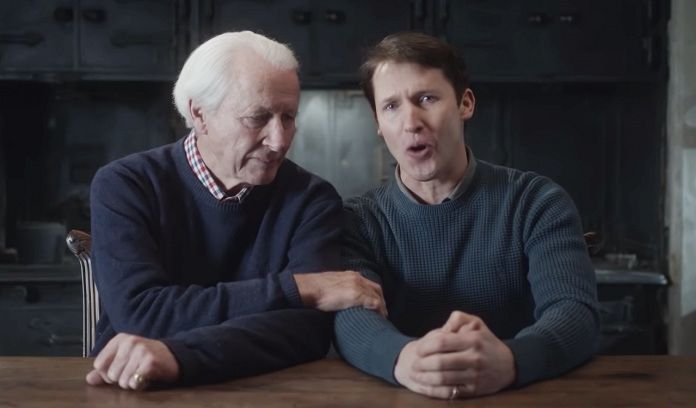 In a video that will remind music fans of Sinead O'Connor's legendary "Nothing Compares 2 U", James Blunt – who is renowned for sharing his raw emotions – has exposed his heartbreak like never before, in a song where he sits side by side with his beloved dying father.
The tearful British singer and songwriter pays tribute to his dad in the video, singing:
"I'm not your son, you're not my father
We're just two grown men saying goodbye…
So Daddy, won't you just close your eyes?
Don't be afraid, it's my turn
To chase the monsters away."
Blunt's father, Colonel Charles Blount, sits next to his son, at a couple of poignant moments touching him on the arm. Colonel Blount has Stage 4 chronic kidney disease.
Atlantic Records describes the track as "a heart-breaking ode from a son to his father, the track showcases Blunt's emotional vocal line at its strongest and is sure to reduce even the most resilient to tears."
Blunt has already done all he can to try save his dad. He tried to donate his own kidney to his father, but he's not a match. His dad is an O-positive.
On the track Blunt reflects: "'Monsters' is a song for my father who I idolized as a child, has been my best friend through adult life, and now urgently needs an O positive kidney donor."
On a radio show last year he begged listeners "I've come on here to ask you what blood group you are. If you are an O-positive, I'll take it off you."
Blunt told the listeners that it was an "amazing moment" when he heard his dad had kidney disease… "because when you realize your father's mortality, it's a great opportunity to say the things I'd like to say to him."
James posted the video on Twitter a few days ago, saying: "Do not watch this." (Some fans did agree it should come with a warning to grab some tissues first!)
The video has already been viewed by millions, many fellow children going through similar heartbreak watching their parents struggle with illness, and preparing to bid them farewell. As one said, "it is both a blessing and a curse" to be able to say goodbye to a parent while they're still alive.
Blunt is donating all proceeds from the Monsters single to charities Help for Heroes (for wounded army veterans) and the British Legion (provides support for British army veterans).
WATCH James Blunt (with his ailing father), Monsters