CAPE TOWN – A fire has been blazing on a metrorail train in Cape Town, South Africa, on Saturday evening, destroying several carriages. It's not yet known if it was arson, but there have been a string of arson attacks on trains in the City of Cape Town in recent months… leading DA Councillor Angus McKenzie to call for PRASA's urgent attention to this "catastrophe".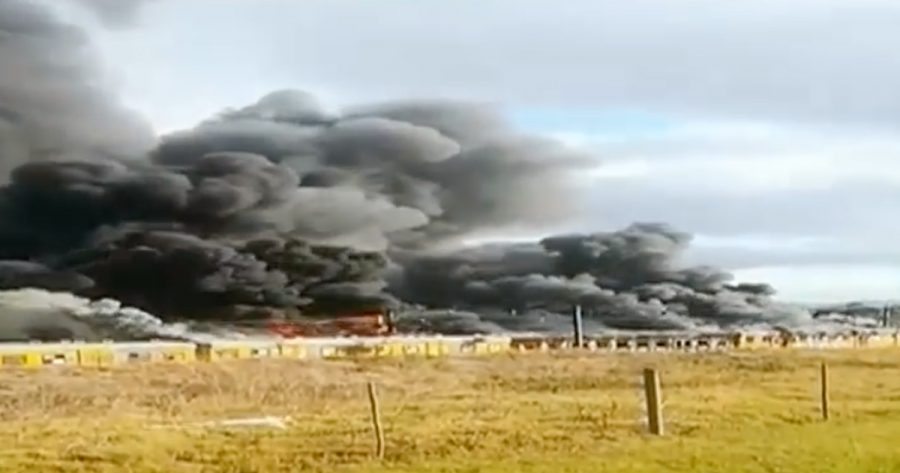 Fire and rescue services were battling flames at the scene – on the corner of Acre Road and Acre Crescent, between Kentemade and Century City stations, according to the City of Cape Town.
"We ask residents in the area to please exercise caution," said the City of Cape Town.
Train alight between Kentemade and Century City stations, Corner Arce rd and Acre crescent. Fire & rescue services on scene. We ask residents in the area to please exercise caution. pic.twitter.com/fBXbtnwpeg

— City of CT Alerts (@CityofCTAlerts) January 25, 2020
According to local media reports at least six carriages and one motor coach have been destroyed.
Vandalism and arson attacks have been rife in the last few months, and this week PRASA said it will be spending R1-billion to fix Cape Town's vandalised and broken Central Line, and make it more secure – partially by September, and the rest in 2021.
Frustrated commuters have been suffering from train delays and cancellations because of the vandalism.
DA Councillor Angus McKenzie from the City of Cape Town told eNCA that this is a "huge crisis" – with hundreds of thousands of former commuters now either travelling by road (buses and taxis), or having lost their jobs because they can't get to work.
Only 33 of 88 train sets are now operational. (Apart from those trains that have been vandalised, McKenzie says nothing has been done with the rail infrastructure since 1994.)
"We only have 30 carriages left that we are working with to service the entire Western Cape," said McKenzie, adding that five years ago there were over 700,000 people using the rail infrastructure network. Today there are less than 100,000!
"Six hundred thousand have found their ways on the roads… or have lost their jobs," said McKenzie.
He implored PRASA to understand the "urgency" and need to address this "catastrophic" problem that is leading to further unemployment.
It's a serious problem needing an investigation by a highly specialist police unit like the Hawks, he said, and pointed out that even though two minors were arrested a couple of weeks ago, it's clear "the ring stretches further".
No injuries have been reported.
WATCH Train set alight in Cape Town