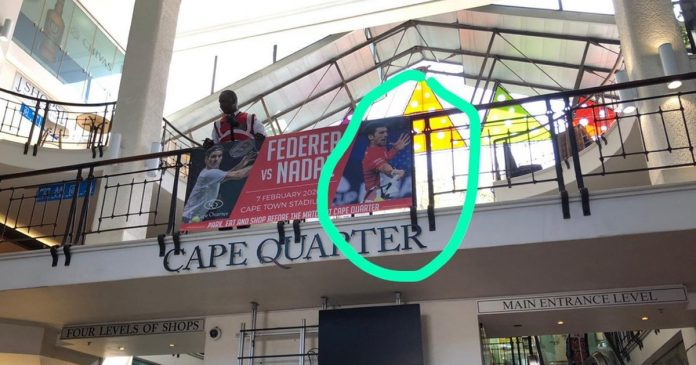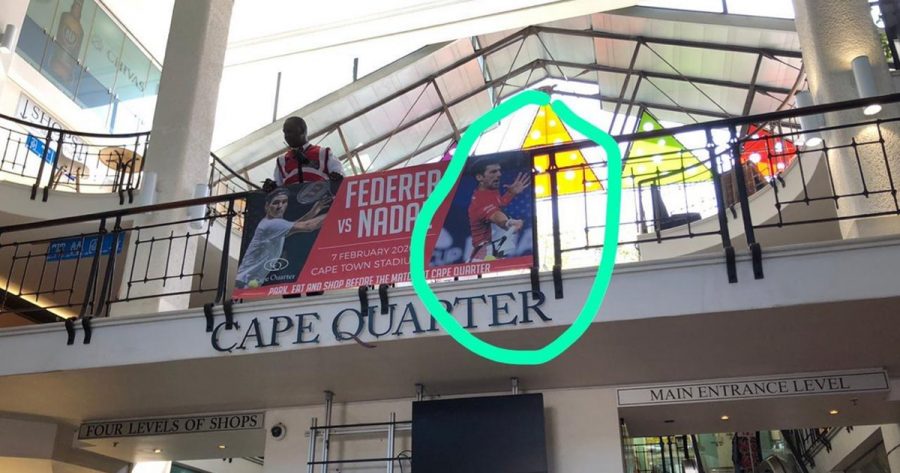 It's the tennis match in South Africa that everyone's excited about. Roger Federer vs Rafael Nadal in Cape Town on 7 February. It's due to break a world record. Tickets sold out within minutes. But it looks like someone at a shopping mall in Cape Town got a little confused when creating a banner to promote the event. Instead of featuring currently ranked world number one player Nadal, they've splashed on a great in-action shot of… number two, Novak Djokovic.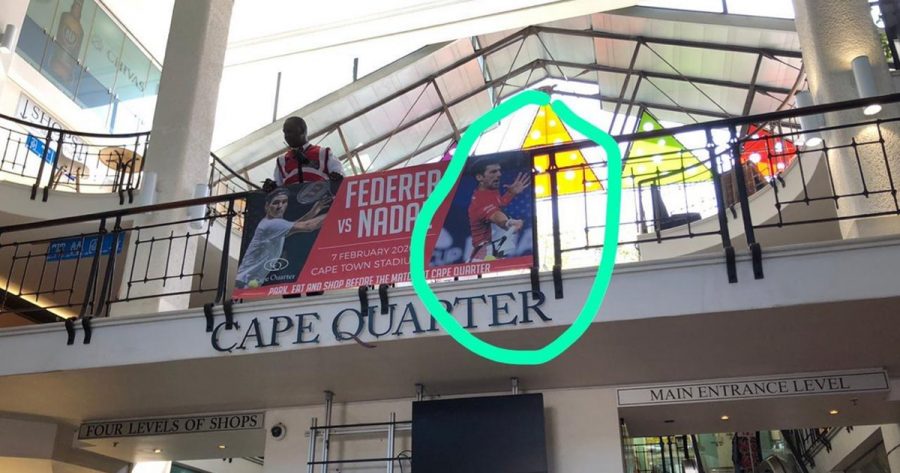 On Tuesday morning, Cindy Poluta from 94.7 radio tweeted a pic of the offending poster, seen at the Cape Quarter shopping mall in De Waterkant, Cape Town, saying: "Who is Federer playing in Cape Town?!?! ???"
Social media users were not impressed. "No, man. Are they that dof?," said one. "Novak Nadal?," said many. "What if the picture is right and the name is an error ?" joked one. "YOU HAD ONE JOB!!" shouted another. "The worst of this all. Someone who is getting paid to do this job, signed it off…"
UPDATE: Janine Händel, CEO of the Roger Federer Foundation responded in a statement, saying: "We were made aware of the banner via Twitter this morning. The banner was neither initiated, produced nor installed by The Match in Africa, rather by a shopping mall near the stadium. We welcome the excitement for the upcoming event. On the other hand, we regret that the charity event is being advertised for a commercial purpose."
At the bottom of the banner it says: "Park, eat and shop before the match at Cape Quarter."
Just to be clear – the match, will be between Swiss player Roger Federer (whose mother is a South African expat) and Spain's Rafael Nadal.
It's the 6th edition of this event, but the first to be played in Africa… and will benefit children's education on the continent (including in South Africa).
The spectacular arena has a seating capacity of more than 50,000 people and the aim is to set a new world record for the most spectators to watch a tennis match.
Federer says: "This Match in Africa is a dream come true. I will play in my mother's home country against my toughest rival and friend Rafa Nadal. We share not only the love for tennis but also for the good cause of giving children a better start in education and in life.
"I feel privileged to have other leading philanthropists on board to entertain millions of people in the stadium and on TV. It will be a once-in-a lifetime moment for my family and I."
Rafael Nadal said: "Roger and I have shared so many magical moments on and off the court. Travelling with him to Cape Town and playing for the benefit of children is something I am very excited about. It will be my first time in the region with Roger as a tour guide – that will be fun."
Novak Djokovic said… nothing! He's not playing!
Who is Federer playing in Cape Town?!?! ??? pic.twitter.com/Nsbqwub5Dm

— Cindy Poluta (@CindyPoluta) January 28, 2020