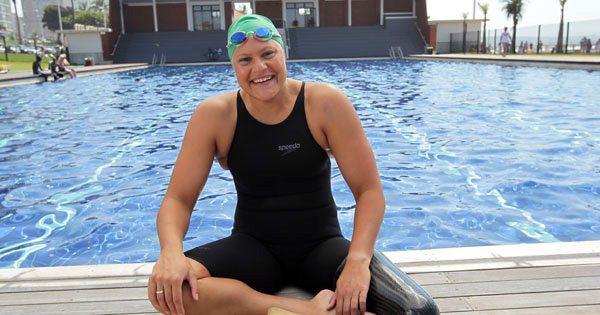 We could not be more excited – South African swimmer Natalie du Toit is through to the third and final round of the Laureus Sporting Moment category! Thank you to all the SA people, and other fans worldwide, who've voted for her. As this award is based purely on votes, please vote right now for her to win!!! (Link below.)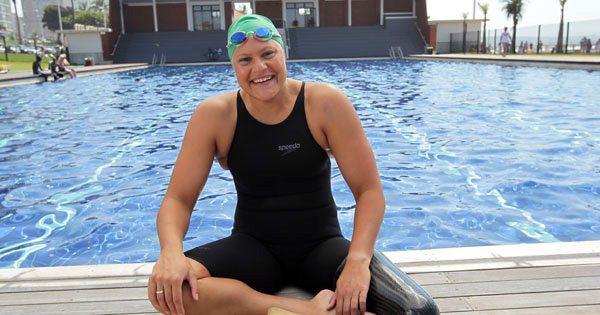 Fifteen of the original 20 moments have now been culled, and Du Toit is one of only five finalists left standing.
She needs South Africans in SA and around the world to please vote for her to win. There will be only one winner. Let's make it happen again for SA!
Du Toit has been selected for her "ability of the mind". For those who don't know her story, you can read it below.
The other four finalists are Indian batsman Sachin Tendulkar, former Chapecoense football players (one of whom also has an amputated leg), racing driver Mick Schumacher and double-amputee Xia Boyu who summited Mount Everest.
They're all amazing and have achieved beyond most people's wildest dreams… but Natalie's our girl! Please vote for her now.
Natalie du Toit – and her Ability of the Mind
At just 14 she swam for South Africa in the 1998 Commonwealth Games. Her dream was to compete at the Olympics… but tragedy struck in 2001 when she was riding her scooter to school. A car crashed into her, almost killing Du Toit, and forcing her to have her left leg amputated at the knee.
But she didn't let anything stop her ambition to swim competitively. Within three months she was back in the pool.
Thanks to what Laureus calls her "relentless determination and incredible strength in recovery and training" du Toit made it to the Commonwealth Games in Manchester 2002… where she broke records in the multi-disability 100-meter freestyle as well as the multi-disability 50-meter freestyle.
Even more importantly – "she also left her mark on the world and made history".
Laureus says: "Natalie du Toit qualified to swim in the 800-meter able-bodied freestyle final. This was the first time in history that an amputee had qualified to compete in the finals of a major, able-bodied, international swimming competition.
"With her strong focus, du Toit finally realized her ultimate goal in 2008 in Beijing, when she made history by becoming the first female amputee swimmer ever to qualify for the able-bodied Olympics.
"Continuing to push boundaries, Natalie du Toit carried the South African flag during the opening ceremony at both the 2008 Olympics and Paralympics."
Only Laureus award voted for by YOU

🏊‍♀️🇿🇦 Ability of the mind is a finalist in Laureus Sporting Moment 2000 – 2020! There can only be one winner! Have your say now ✅

Posted by Laureus on Tuesday, February 4, 2020
PLEASE VOTE FOR NATALIE DU TOIT HERE… we have 5 days and 20 hours… GO!!!