President Cyril Ramaphosa teed off this morning with South African golfing star – Simthandile "Sim Tiger" Tshabalala – who is fast becoming a legend at all of eight-years-old!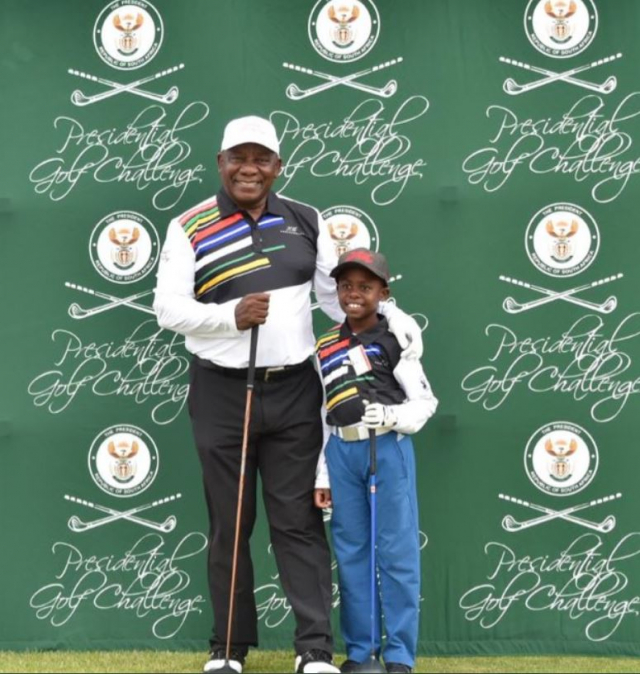 The President met Sim Tiger at the Atlantic Beach Golf Estate this morning. The young boy is already a phenomenal young golfer, who has flown the flag high for South Africa in various international tournaments.
He has well over 20 trophies and most recently came second in his age group in the Australian Open 2020 in January. In November 2019 he was presented with the Sports Minister's Excellence Award at the SA Sport Awards.
The South African President said today: "Young SimTiger Tshabalala is our Tiger Woods of the future." (SimTiger, his nickname, is a reference to Tiger Woods.)
After Sim Tiger's impressive drive the President said: "You could see the drive that he demonstrated here. I could never get close to him! So he's going to beat me. I'm sure about that," adding with a laugh: "I'm going to lose my money today."
The Presidential Golf Challenge on Friday morning was to raise money for better school sanitation.
SimTiger, who started playing golf at the age of four, only started competing in 2018.
The young prodigy learned to play golf by watching YouTube videos with his dad. It's only in the last few months that he's gained a professional coach and a sponsor – manufacturer, TaylorMade. Otherwise it is his father – Bonginkosi Tshabalala – who has been funding his career, making sure his son reaches his full potential. For father and son it's been an incredible journey, spending lots of quality time together… something which SimTiger's dad never had.
"I grew up with an absent father, with no male guidance or exposure to many things, so it's very important for me to be able to provide this platform for Sim. I want him to have a better life than me," Bonginkosi told Forbes Magazine.
The President's not the only one who can't beat SimTiger. Bonginkosi told SAPeople: "I play golf, but my son beats me all the time. I have never won against him!"
Bonginkosi also shared some tips with us on how to raise a prodigy! "Parents need to expose their children to as much sport as possible, and make an effort to identify their children's talents," he says. "Once they identify those talents they need to support their kids throughout and be there for their kids all the time. They need to always motivate their kids and believe in them."
SimTiger is using his newfound fame to spread goodness in the world. He has recently been named the official Global Honorary Youth Ambassador for 67 Blankets for Nelson Mandela Day, and tweeted: "Let's crochet some blankets for those in dire need and keep them warm #SimTiger #67BlanketsForMandelaDay #Charity."
He's also on a mission to inspire other kids so that "they can do what I do and play golf and enjoy the game and have fun."
SimTiger's tips on winning are: "You have to practise, practise, practise… because you have to be different from the others. That's how you win tournaments."
Last month someone tweeted on SimTiger's timeline: "I think this young champ deserves a one on one session with Mr President or be invited during the SONA. He is the whole country yazi."
Today, after that dream came true, SimTiger said: "I feel great. I feel honoured to be here, playing with the President, meeting the President. You know being here makes my heart feel happy, and proud of myself."
His dreams are even bigger though. As he told the BBC a couple of months ago: "I play golf and I want to become the best in the world."
There's no doubt he will…
WATCH South African Golf Prodigy 'SimTiger' Tshabalala and President Rampahosa
I have just finished playing the Australian Open 2020 and I came second, another top finish representing my country on foreign soil. #SimTiger #AusOpen2020 🇿🇦 ⛳🏌️‍♂️ pic.twitter.com/UIJGcQHqcx

— Simthandile SimTiger Tshabalala (@tiger_sim) January 17, 2020
SimTiger with his dad and 67 Blankets founder Carolyn Steyn
Simthandi, better known as @tiger_sim and his Dad, Bonginkosi Tshabalala came for tea today. Sim_Tiger & Dad/caddy leave for the Kids World Golf Championship tomorrow. Before leaving for Malaysia he was made Ambassador for @67Blankets . Best of luck. South Africa is behind you! pic.twitter.com/lZrf0a1XPu

— Carolyn Steyn (@Carolyn_Steyn) December 11, 2019
SimTiger's awards:
Young golfing sensation @tiger_sim and his father Bonginkosi Tshabalala joined @Benji_Sports to chat about the 8-year-old's achievements in the golfing world.#SportOn405 pic.twitter.com/J7tzKCy36o

— Sport On 405 (@SportOn405) January 25, 2020