A happy hippo cruising in to a garage on Sunday evening in KwaZulu-Natal, South Africa, has put a smile on locals' faces.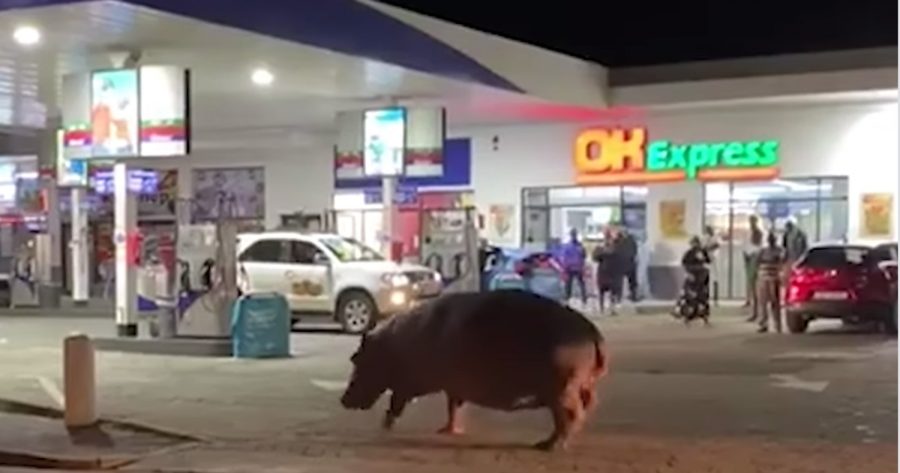 On Monday a video of the hippo's casual stroll through a busy Engen Garage in St Lucia was shared on social media amongst South Africans everywhere.
The OK Express at Engen St Lucia posted the 30-second video last night, saying: "Just a casual Sunday night stroll in St.Lucia looking for snacks at OK Express 🦛🌿"
Fortunately "the hippo returned back to the lake after grazing around town", said the OK Express. They also explained that "St.Lucia town is surrounded by a large lake and extensive natural habitat for wildlife. #stluciaestuary #okexpress #engen"
In fact this isn't such a rare occurrence at all. In July 2017 almost identical footage was taken when a hippo took the very same stroll through the Engen fuel station, totally unperturbed by all the people and vehicles. It's clearly a favourite for hippos taking an evening walk.
Just months previously a tourist in the area suffered minor injuries after being attacked by a hippo, on his way home one evening. Luckily a passing motorist gently bumped his vehicle into the hippo so that it let go of the man, who then spent the night in hospital.
Hippos are the third largest mammals (after elephants and white rhino) and considered one of Africa's most dangerous animals. According to the BBC, they kill around 500 humans a year (although dogs kill 25,000 and mosquitoes 750,000!) To be safe – never get between a hippo and the water!
WATCH VIDEO: Hippo casually strolls into petrol station in St Lucia, KZN, South Africa
Just a casual Sunday night stroll in St.Lucia looking for snacks at OK Express 🦛🌿 The hippo returned back to the lake after grazing around town. St.Lucia town is surrounded by a large lake and extensive natural habitat for wildlife. #stluciaestuary #okexpress #engen Engen SA

Posted by OK Express at Engen St.Lucia on Sunday, February 23, 2020
The video has sparked memories for many…
Maureen Rosemary Wilson said on SAPeople's Facebook page: "Many years ago there was Huberta the hippo who wandered from St Lucia all the way down the Zululand Coast, stopped in for golf at the Durban County Club….. Then on to King Williams Town where she was unfortunately shot dead…. Her body is in the museum in King Williams Town …"
Anna Sharma said: "I was there 8 years back. Mama hippo and the baby was walking the streets at night. Great place…"
And it reminded some of this favourite old chocolate commercial:
WATCH Chomp chocolate advert, South Africa