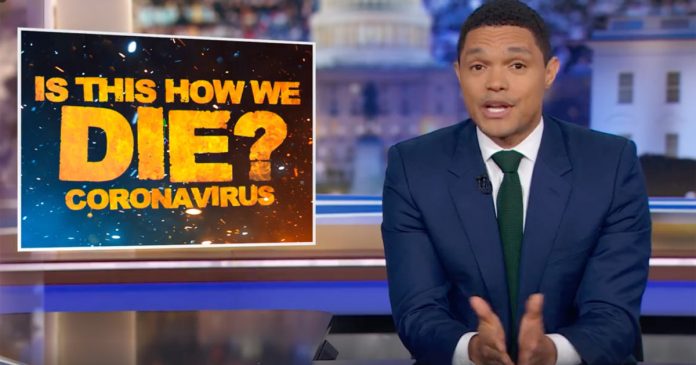 In a segment on his award-winning The Daily Show, South African expat and comedian Trevor Noah says: "The coronavirus is the worst global pandemic since Baby Shark" and asks (with tongue in cheek): "Is this how we die?"
The talk show host also shares footage from around the world on leaders responding to the epidemic from Donald Trump to the Deputy Health Minister in Iran, who along with other top politicians in Iran has fallen ill. (Iran also reportedly has an 11% fatality rate from the Coronavirus compared to the 3.5% in China.).
In the segment, Noah refers to the 'pandemic' (an epidemic that spreads worldwide) but the epidemic (disease that's spread through one or several communities) has not yet been officially declared a pandemic… although an announcement is surely imminent as cases grow in the US, Italy and other countries around the world.
If you're in South Africa, watch Trevor Noah on The Daily Show on DStv CatchUp!)
WATCH VIDEO: Trevor Noah on the Coronavirus, on The Daily Show
In its latest press release, WHO says a team of 25 international and Chinese experts travelled to parts of China, including Wuhan (the epicentre of the disease outbreak), and that there's good news: "Among the team's findings was that the epidemic peaked and plateaued between the 23rd of January and the 2nd of February, and has been declining steadily since then."
According to the WHO, the team estimates that the measures taken in China have averted a significant number of cases.