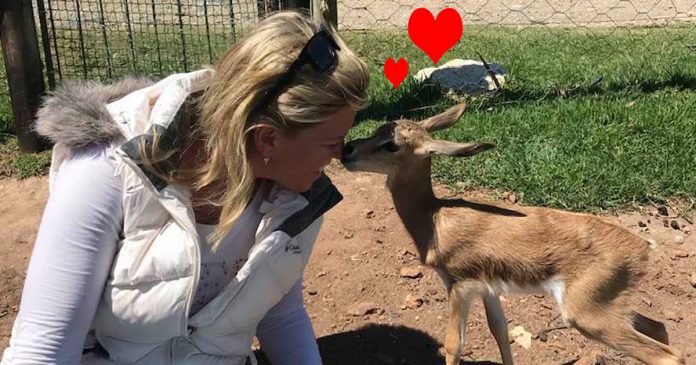 A baby springbok named Missy is the luckiest Bokkie in South Africa. She has been saved not once, but twice, by a Stilbaai farmer who has the hugest heart.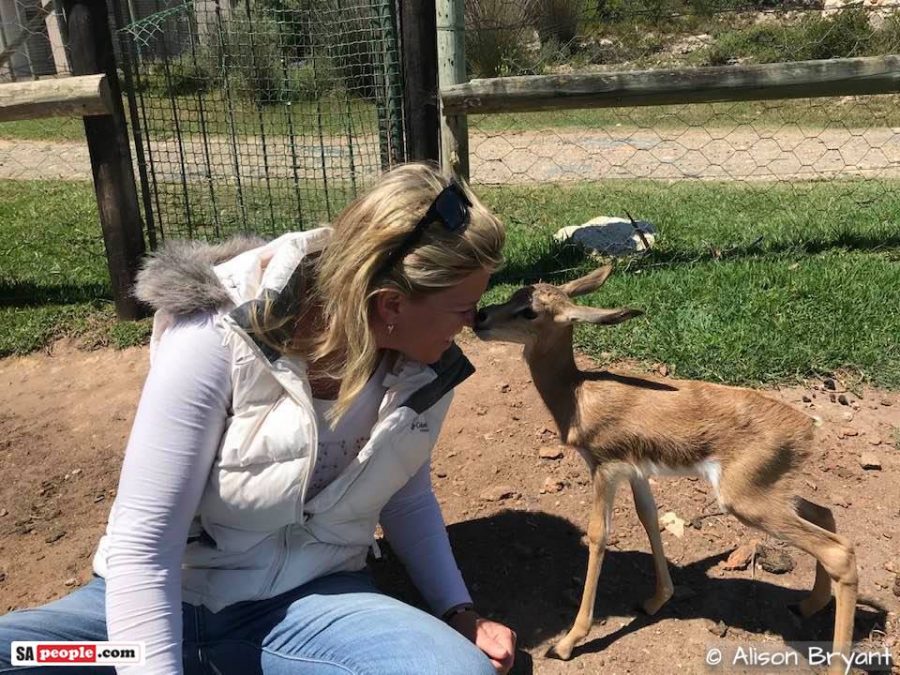 It all began on 23 October 2019… as South Africa's Springbok team was making headlines in their final campaign to secure the Rugby World Cup in Japan.
Alison Bryant, who has a herd of 11 springbok (along with a menagerie of other animals) had bought some new pregnant ewes for her 72 ha farm on the banks of the Goukou River. But when the ewes began to lamb (give birth), the farm's dominant springbok ram attacked… and unfortunately killed them.
"Luckily Missy was still wet from birth when I saw the ram attacking her, and I ran into the camp and saved her," Alison told SAPeople.
"It then took every two hours to get her to suckle from a bottle with milk and egg yolk mixed." The mixture helps the young as they lose out on the colostrum, explains Alison, who just a few years ago was the Merchandise Director of @home for TFG.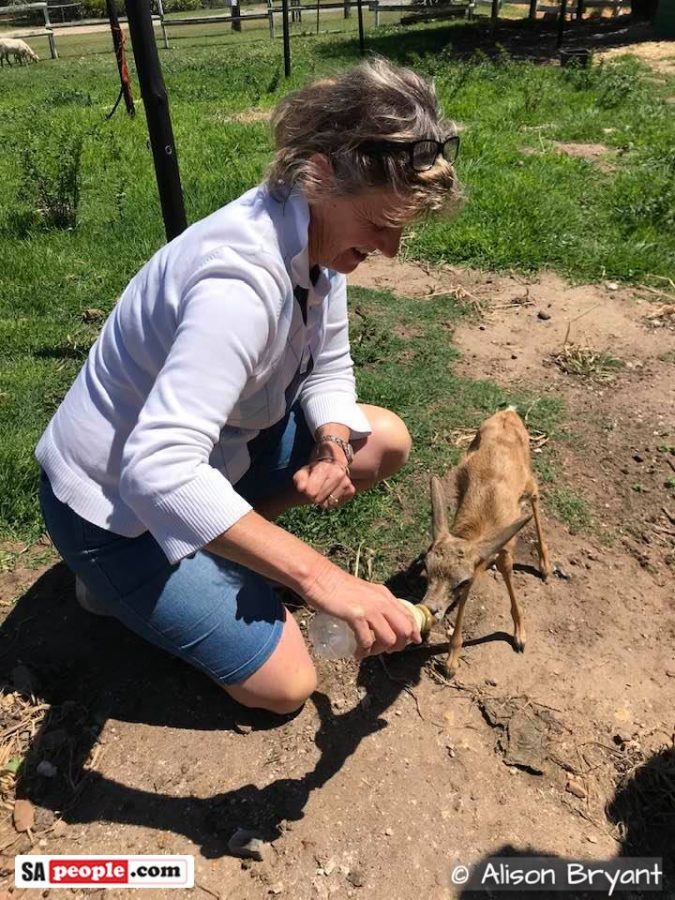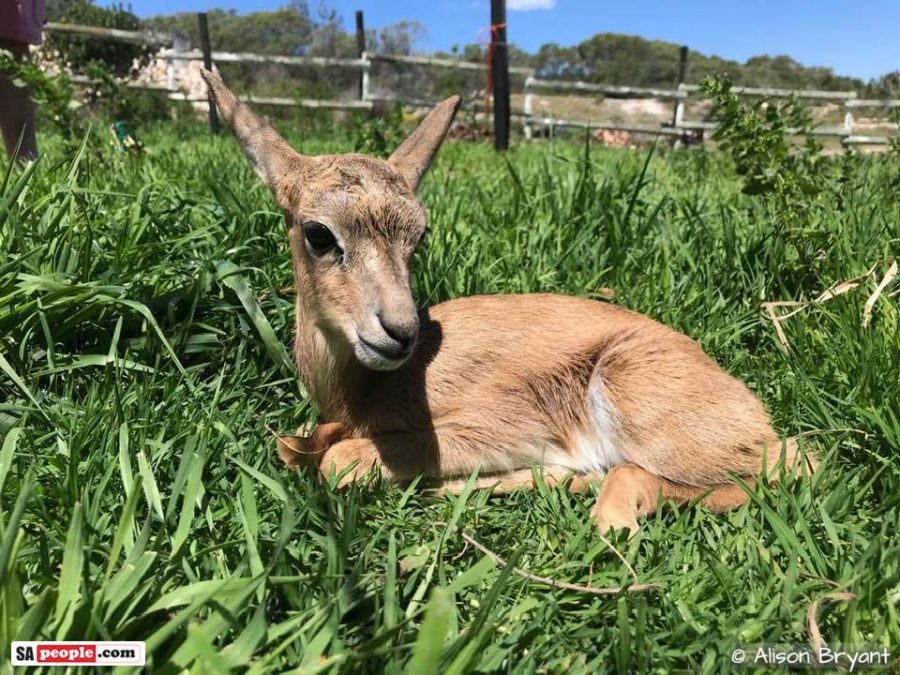 Alison traded in her corporate life to dedicate it to farming (specialising in Extra Virgin Olive oil and table olives) and her love of animals… but she never expected to be taking care of a newborn springbok!
And as the Springbok rugby team went from strength to strength in Japan, finally winning the Cup in the first week of November, so too did Missy… winning the hearts of not only Alison and her husband, but also friends and guests at the self-catering cottages on her property.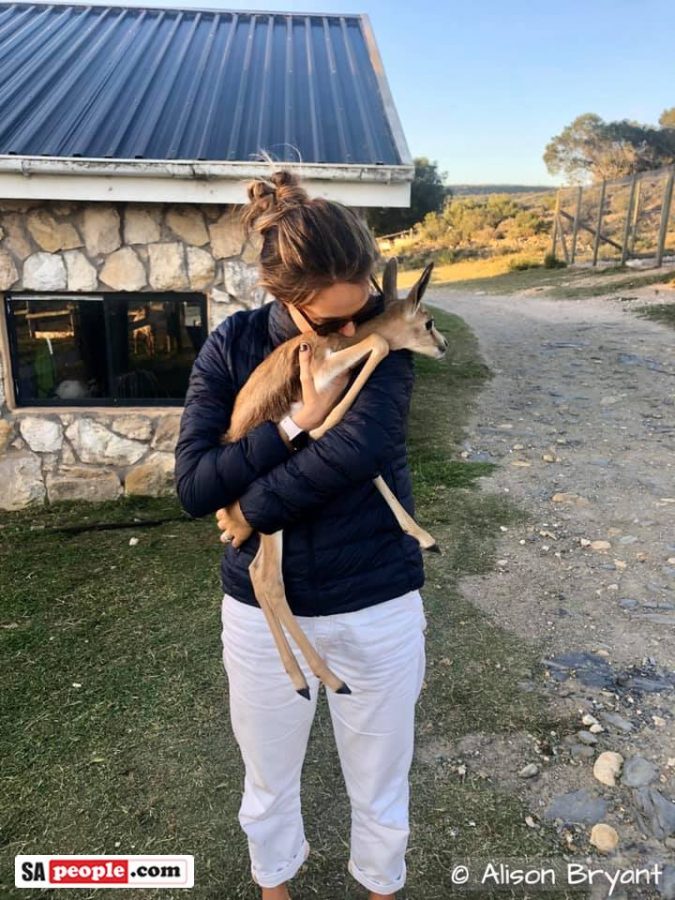 But sadly, tragedy struck again exactly a month ago while she was still being weaned, when Alison discovered that Missy had fractured her pelvis… rendering her back legs paralysed.
"My little Missy, an absolute fighter is back to where she started… inside the house in the spare bedroom needing care 24/7," a heartbroken Alison told friends on Facebook. "She somehow broke her pelvis and needs to be contained for six to eight weeks for the hip to hopefully mend. Keep fighting my girl!!! Your mama is not going to give up. Facebook friends please keep us in your prayers."
It's a mystery as to how Missy injured herself – that day she was in the sick bay paddock with two Damara lambs and a Dorper "new mommy to twins". On the x-ray it appears like something fell on her.
"The only thing we can think of is that Missy was too close to the mom and her newborns… and she might have been butted, causing her to fall and fracture her pelvis," says Alison.
So for the past four weeks Alison has been nursing Missy in her home, in the spare room. Apart from medicine, Missy's needed three bottles a day and has been "chomping on Lucerne".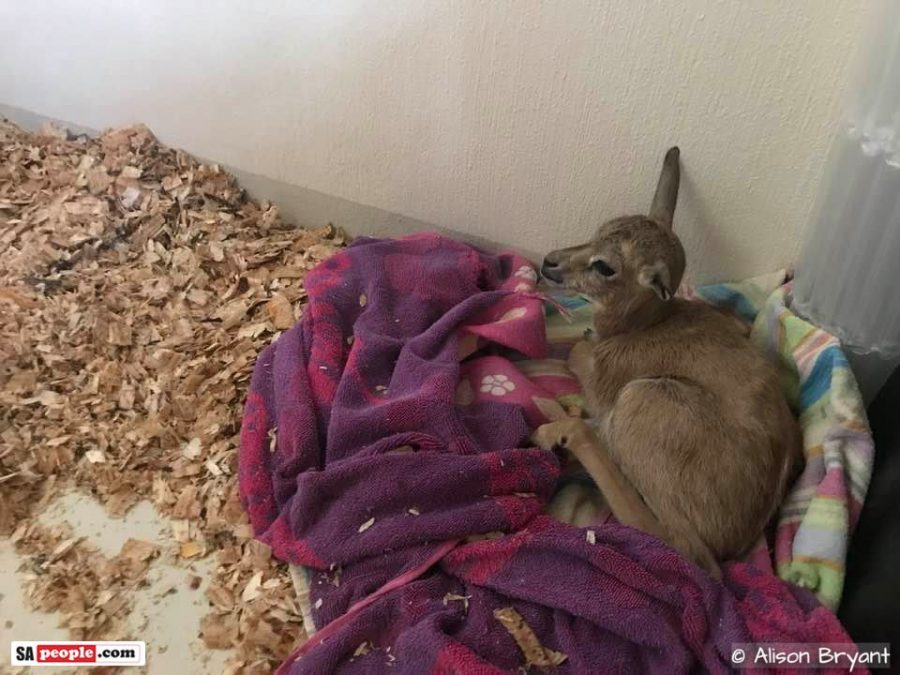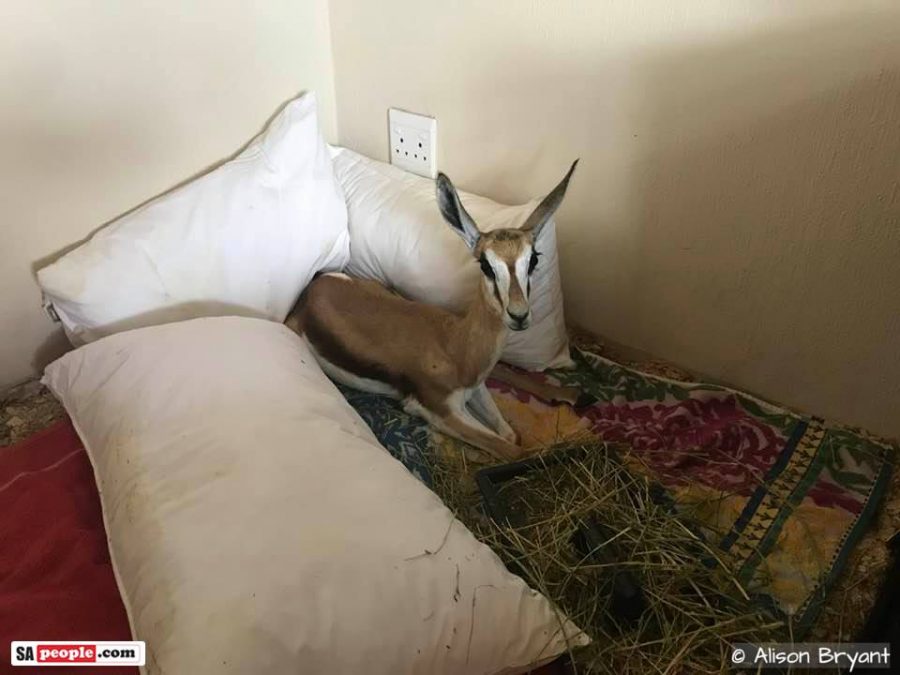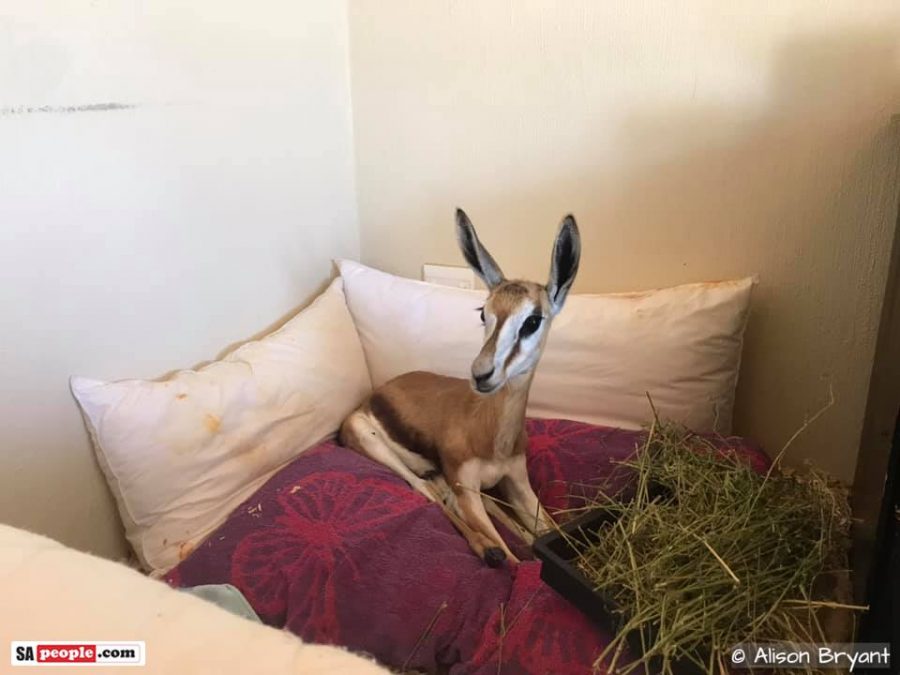 Although Alison's not a trained nurse (though she has done the Emergency First Aid Responder Program), she's been caring for animals for years. On her farm she has the springbok, sheep, horses, Rooi Poenskop cows, bontebok and gemsbok. And in the busy December holiday season, she's one of the horse riders who helps in beach patrols for Stilbaai SAPS.
In the beginning there were sleepless nights as Missy suffered from pressure sores and her left knee was raw. The solution was a dog bed, although she wasn't too happy with it.
And then Alison had a brain wave – she used her experience with horses, creating a new sling for Missy from the stretchy red bandages she usually uses for the horses, which helps relieve the pressure.
She says: "It works like a dream – 'n boer maak 'n plan!"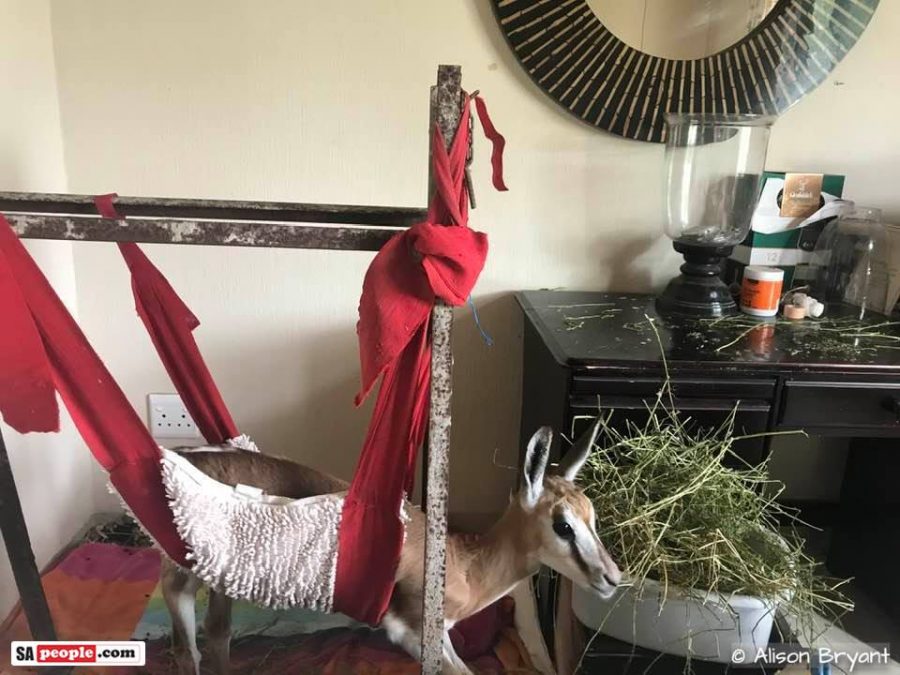 On Friday, the vet said he can't believe how Missy has grown. "She is alert and eating well, and because she is young her pelvis fracture should repair," says Alison.
"The vet has suggested she stays longer in the sling during the day so that her front leg elbows/knees can recover."
The sling is helping her muscles recover, and hopefully within the next three weeks she'll be ready to walk again.
"Holding my thumbs and toes," says Alison. "I have got so attached to her…"
WATCH Missy before she fractured her pelvis
Have an unexpected new born to look after and bottle feed every 3 hours😂😂😂😂. Missy was born on Monday morning and the dominant Springbok ram took a dislike to her , so she had to be rescued.

Posted by Alison Bryant on Saturday, October 26, 2019
MORE
Visit Stone House Lodges Olive Farm, Stilbaai, Still Bay