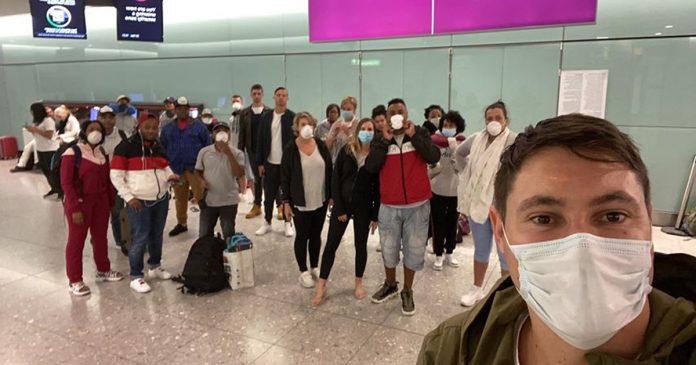 About 100 South Africans making their way home to South Africa have found themselves trapped in transit in Terminal 3 at Heathrow Airport in London.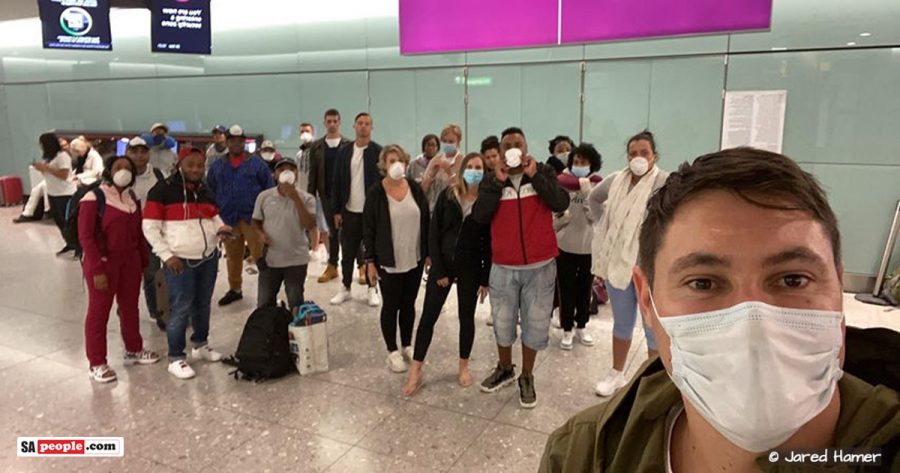 The South Africans, who are mainly seasonal workers who have flown in from different parts of the world, were on their way back to SA via London. But on landing at Heathrow, they have been told that whilst they were flying to London, South Africa's airports have announced their closure.
The prohibition of all international and domestic flights, as announced by the South African government, will become effective during the night of the 26th to 27th of March at midnight.
Jared Hamer, who works on cruise ships, told SAPeople he checked before flying from Miami that his flight to SA was still confirmed. He was reassured by his agent that everything was still on track. At the airport in Miami he was only given a boarding pass to London, and told it was fine that he didn't yet have the boarding pass for his connecting flight from London to Cape Town.
However on arriving at Heathrow, Hamer and many others in a similar position have been told they can no longer fly to South Africa.
Their British Airways flight to SA was due to land at 8am on Friday. Lockdown begins tonight at midnight.
There appears to be nobody from the South Africa government to help these stranded South Africans or advise them on what alternative arrangements they should make.
Hamer sent the following message to SAPeople: "URGENT: We are about 100 south africans on terminal 3 Heathrow Airport, we do not have boarding passes for our connecting flights to CPT – JHB – DBN they say the airports closed while we were in the air. We have tried to call the hotlines without success. They say we must contact the South African embassy. But we cannot get through. Can anyone communicate this msg to the south Africa embassy in some way?"
SAPeople has passed on the information to DA Shadow Minister of International Relations and Cooperation, Darren Bergman, who is trying his best to help several South Africans stranded abroad to get home in time.
At this stage it appears that South African airspace will be closing earlier than was originally indicated.
Hamer said those stranded at Heathrow are mainly work-related Seamen working on cruise ships, as well as seasonal workers in the United States.
His home back in South Africa is currently getting prepared for his quarantine. Hamer says he has been extremely careful, following anti-coronavirus guidelines and carrying and using a sanitiser at all times.
A friend of Hamer's is currently at Gatwick Airport and has been given a boarding pass for a flight to South Africa this evening on a different airline, which is due to arrive two hours after Hamer's flight, at 10am on Friday. However, this seems unlikely to take off since the cut-off time to land in SA is midnight tonight.
The flight Hamer and the others at Terminal 3 were intending to travel on, was scheduled for 18h15 tonight, Thursday evening, UK time.
UPDATE: There are another 40 to 50 South Africans – mainly seafarers – stuck in Terminal 5 at Heathrow, whose flight was destined for Durban. One of them, Steve Mylroie, said on social media: "We didn't have a choice. The companies gave us tickets and said go. Naturally we all wanted to be with our families during these trying times."
UPDATE 16h00 SA Time: The stranded South Africans at Heathrow have been told there are no more flights, and those than can are now exiting Transit and going through Immigration. Jared told SAPeople: "We're going through Immigration now – as long as you can provide an address (in the UK). My company is going to book a hotel for me, so I should be good."
UPDATE 17H30 SA Time: Jared says the Immigration is taking quite a long time, but he thinks they will get through. He's also spoken to a cruise ship recruiter who has now informed all the cruise lines about the South Africans stranded at Heathrow, many of whom may not be able to afford hotels. The cruise lines will perhaps take care of that. And the cruise line partners, such as Spar, have also been notified and know about the issue, says Jared.
UPDATE 20H30 SA Time: The SA High Commissioner in London has contacted Jared and says "they're working tirelessly to fix the situation; they care, and they want to make sure that everyone gets home safe." Those South Africans at Heathrow can now get a 3-month temporary visa while the SA High Commissioner works to get them a flight home as soon as possible – read more here. Unfortunately the High Commission is unable to assist with accommodation.
UPDATE 01h00 SA Time: Jared has finally found a hotel for the night. Many are closed in London because the UK is under lockdown. Meanwhile, at Heathrow Airport a large group of South Africans are still stranded because the cruise liner company they work for has not offered to cover their accommodation, like Jared's has. Although so many kind South African expats in the UK have offered up rooms in their homes to those stuck at Heathrow, the group are supporting each other and staying together under one roof – Heathrow's!
UPDATE Fri morning: Please see last night's update here.
Important Info for any South African stranded at Heathrow:
We will add updates to this page (see above) as and when we get them. If you prefer you can send your email to admin@sapeople.com – just write Heathrow in the subject – and we'll let you know if there are any important updates.
Cottage in Hampshire for Lockdown
Message from Lindsay – "We have a cottage that is fully self-contained and is currently empty due to the current situation. We unfortunately would have to charge minimal running costs for heating etc, but if 4 people from 1 family can make it to Hampshire, we would be happy for them to stay there for the next 3 weeks. It can take up to 6 people, but in the current climate with social distancing etc, I wouldn't want more than 4 people in there. Happy to be contacted through SAPeople if anybody is interested. Lindsay."
Hotel Points if you have nowhere to sleep
Paula Daniels, Independent Travel Manager from Flight Centre Travel Group has kindly offered to donate her personal hotel points if you have nowhere to sleep – "limited, I don't have a lot… but happy to help". Contact SAPeople.
A Room in London
The Ferreira Family say: "We don't know if we can do this but we are South Africans living in London who want to help those who are stuck. We will be able to help people who need somewhere to stay, we have an extra room in our flat that someone or a couple can use. We need to stand together in these times. We can also do a pickup if necessary."
Message for Any South Africans Stuck at Heathrow & Elsewhere:
UK-based Saffa Hayley Reichert has offered to liaise and help anyone who needs it. Hayley has been heavily involved with the SA expat community and has contributed on several occasions to SAPeople.
Hayley, who lives not too far from Heathrow, says: "Any South Africans stranded abroad trying to get home to SA are more than welcome to contact me on Facebook or WhatsApp +447771622570 or mobile +447402929754 or email reihay03@gmail.com"
She has requested a list of emergency contact details for all foreign missions and an emergency grant for those who need it. "Won't hold my breathe on the latter but trying at least," she says.
"To those of you caught up at Heathrow – please keep me posted – you're in a 1st world country with a huge expat contingency who know how to come together to support their own. Happy to try help with any needs that aren't being met by authorities.
"To all of you – as you're aware this is a global pandemic and I urge you to all take a deeeeeep breathe. Prepare yourselves to be stuck for a long while. Mental health for all of you is super important so please please get in touch with me. I've assisted thousands of South Africans with various issues globally and more than happy to help keep you sane. I'll see if I can organise a group video call for all of you possibly over the weekend.
"If anyone has medical needs eg. Prescription meds please also let me know.
Concentrate on the things you can control – your thoughts and emotions especially. It may be hard but try let go of the things beyond your control. If all else fails, turn up the music and dance – happy endorphins!"
If anyone from Dirco or the SA Embassy in London can urgently help these South Africans – please contact admin@sapeople.com