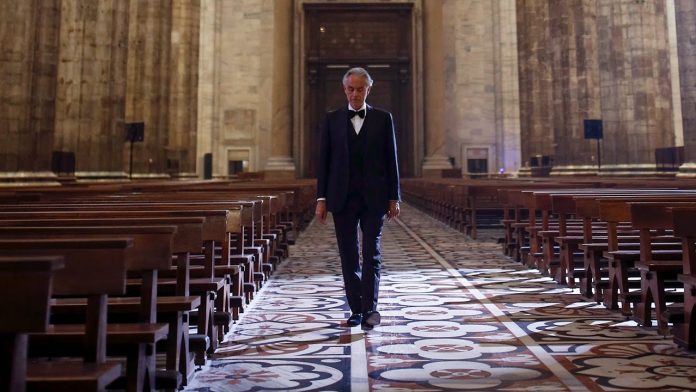 Almost half a million people around the world tuned in to watch Italian music maestro's solo Easter Sunday performance at the magnificent Duomo cathedral in Milan. If you missed it, join over a million people who have since tuned in to listen – watch below.
Bocelli said he was honoured by the invite to perform alone for Italy and the world during Lockdown. "I believe in the strength of praying together," he said. "I believe in the Christian Easter, a universal symbol of rebirth that everyone – whether they are believers or not – truly needs right now."
The Andrea Bocelli Foundation (ABF) has started a Covid-19 fundraiser to help hospitals purchase the instrumentation and equipment necessary to protect their medical staff. It is possible to donate here.
WATCH VIDEO: Andrea Andrea Bocelli: Music For Hope – Live From Duomo di Milano
WATCH ANDREA BOCELLI AND DAUGHTER VIRGINIA PERFORM HALLELUJAH FOR CHRISTMAS CONCERT 2020
UPDATE 21h41 Easter Sunday: Andre Bocelli's video has now been watched by over 2.1 million people worldwide.
UPDATE 21h45 Easter Sunday: Bocelli's video at the Duomo Cathedral in Milan, Italy, has now been watched by over 2.7 million people! That's over half a million more in less than five minutes!
UPDATE 22h05 Easter Sunday: Andrea Bocelli's video has now been viewed by almost 5.7 million YouTube viewers – more than 3 million in the last 20 minutes! (Okay, we're going to stop updating now, but it looks like this video could break records…)
WATCH ANDREA BOCELLI AND DAUGHTER VIRGINIA PERFORM HALLELUJAH FOR CHRISTMAS CONCERT 2020