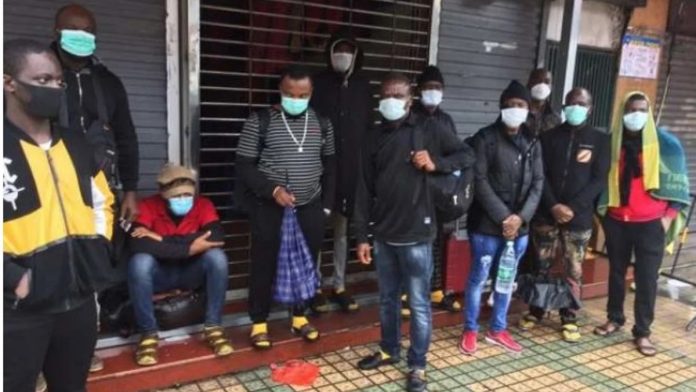 Following reports alleging that black African nationals, in particular, are being discriminated against in China as an anti-foreigner sentiment sweeps parts of the country, blaming them for causing the second outbreak of the Covid-19 pandemic in the country, South Africa's DIRCO Minister Naledi Pandor has said she believes Chinese authorities will attend to this "awful" matter "urgently and with diligence and honesty".
She said the allegations had been "painful" to hear.
Several reports and video footage (see interview below) allege that officials in China have blamed African nationals in Guangzhou – about 300,000 in total – for the recent new coronavirus outbreak.
According to DA MP Noko Masipa some black African nationals have been "forcefully evicted from their rented homes without notice. Some have been left with no option but to sleep on the streets as a result of this brutal treatment".
Masipa said: "The DA strongly condemns the Afrophobic discrimination and unfair treatment of African nationals by Chinese authorities."
Some Africans have apparently been forcefully given covid-19 tests rather than in a "fair and non-violent" way; and landlords have evicted them because of anger from neighbours.
Minister Pandor said: "As you know South Africa abhors racism, prejudice and discrimination… We firmly believe in equality. And so we have made our feelings known through the appropriate channels – the embassy here as well as through the African Union which has been in communication with a representative from the People's Republic of China in Addis Ababa."
She said President Cyril Ramaphosa has referred to the reports in his communications with China's President Xi Jinping.
The Minister said: "All of us have been assured by the foreign minister of China, Minister Wang Yi that the reports, the allegations that have been made offend the principals and values of China, and that they will see to it that Guangzhou's municipal government corrects all of the negative allegations and actions that have been reported."
Pandor admitted: "It's been really painful to watch Africans reporting as to how they are treated. I believe China has begun to respond.
"I am hopeful that they are responding positively, and that the actions that have been alleged are been stopped.
"I just think it was a most awful thing to hear about the People's Republic of China, but I believe given our friendship and their friendship to Africa that they will attend to this matter urgently and with diligence and honesty."
WATCH VIDEO: A South African living in Guangzhou speaks to SABC on discrimination of Africans in China
Minister Naledi Pandor on South Africa's response to allegations of mistreatment of African migrants in China. #COVID19 #CoronavirusPandemic 16/04/2020 pic.twitter.com/U4v3Y5nUDu

— DIRCO South Africa (@DIRCO_ZA) April 16, 2020