Here are the details for the final repatriation flight from Europe for South Africans stuck abroad. Please pass on to any South Africans you know in the region (including the UK and Ireland) who may want to make their way to Germany to fly home. South Africans in Egypt are also advised to urgently contact the SA Embassy there to arrange their journey home.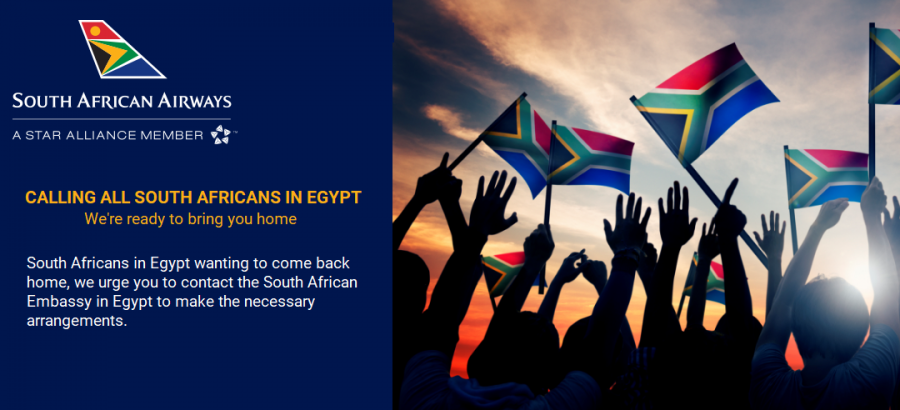 Details of final repatriation flight from Germany for South Africans stranded in Europe
The flight will be from Frankfurt on Friday evening, 24 April, to Johannesburg (landing the morning of 25 April). The flight is being chartered by South African Airways (SAA).
If you would like to be on this plane heading home, please urgently contact your local Embassy. Please furnish each passenger's ID and passport number and ask that your details be sent to Berlin (tekam@dirco.gov.za) to request a place on the flight. 
The following details have been shared on several Embassy pages. The info below is from the SA Embassy at The Hague in the Netherlands (see here), posted at around 14h00 on Tuesday 21 April:
The details of the final repatriation flight for South Africans in Europe are as follows:
1. The same conditions will apply as for the previous flights from FRANKFURT to SA.
2. SA nationals who have not been cleared and registered cannot board.
3. Flight particulars:
Flight number: SA2261, Frankfurt (Frankfurt International Airport, Terminal 1, Hall B) – Johannesburg Departure Time in Frankfurt: 18h25 Arrival in Johannesburg 05h05 (25 April 2020) SAA Checking counters in Frankfurt, Terminal 1, Hall B: 670-671
4. All SA nationals must sign the consent forms for mandatory quarantine.
5.. SA Nationals who are unable to pay, must contact Embassy staff on given contact details.
6. Payments for the tickets (R 12,000.00 per person) or EUR 612 can be made as follows:
a. Payment can be made in cash (Euro) prior departure at the airport.
b Payment can be made via EFT to the following bank account (SA nationals making payments via EFT must submit proof of payment during check-in):
See payment details here.
7. It is recommended that passengers check-in 4 hours prior to departure.
8. Luggage restrictions: 1 x 7kg hand luggage and 1 x 23 kg check in luggage.
Any South Africans wanting to catch this flight must make their own way to Frankfurt… but please do not do so until you have confirmation of your place on the flight. (Check your spam folder etc.)
Only those South Africans in dire straits are encouraged to book for this flight.
All South Africans on the flights will need to undertake an obligatory 14-day quarantine in Joburg on arrival in SA.
South Africans in Egypt:
Please contact the SA Embassy in Egypt to make the necessary arrangements to get home.
Please see the fundraiser organised by volunteers to help a desperate South African dad, and other South Africans in Mauritius to get home.