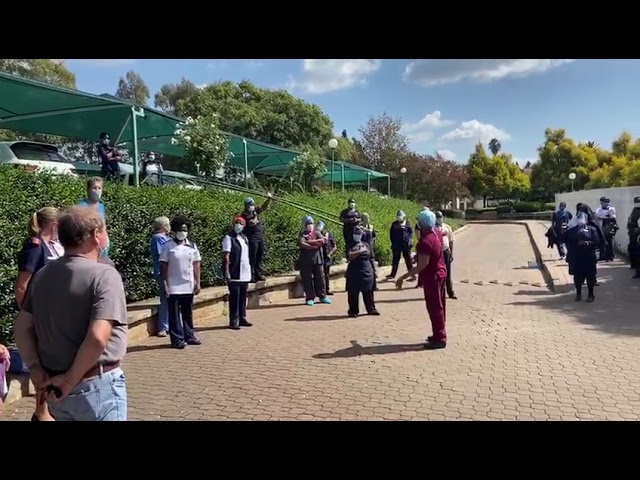 Keeping spirits high in Johannesburg during the Covid-19 outbreak – the healthcare workers at Netcare Linksfield Hospital in Orange Grove gathered together (but keeping social distance!) this morning – Friday 24 April 2020 – to sing South Africa's National Anthem, Nkosi Sikelel' iAfrika.
The footage was filmed by Dr Gabriel Doucas in what has become a Friday tradition at the hospital, for all the health care workers to sing together… the colleagues sharing their sense of unity and determination.
According to the Gauteng Health Department, in figures released this week – Orange Grove is one of the 'hot spots' for coronavirus cases in Johannesburg.
The Department reported that Region E – which includes Orange Grove, Sandton, Alexandra and Houghton – has the highest number of cases at 227.
Watch below as those staff working on the frontline of the war against Covid-19, putting their own lives at risk to save and protect South Africans, came together this morning to sing their country's national anthem… and in so doing lift not only their own spirits, but also all those watching them.
Netcare Linksfield Hospital Staff Sing South Africa's National Anthem
Thank you to all the healthcare heroes out there!