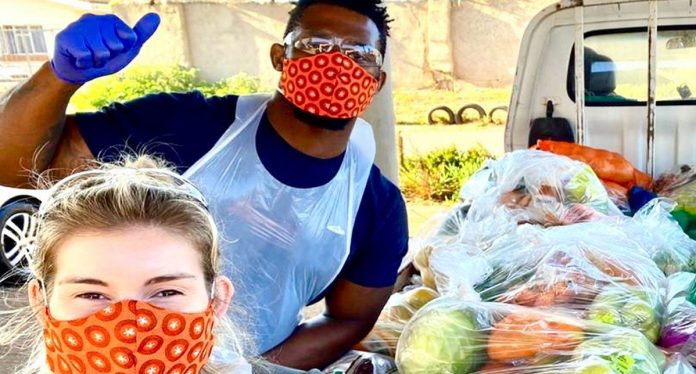 Springbok rugby captain Siya Kolisi is making international headlines again, although this time the man who helped feed the spirit and soul of SA when he led his team to victory in the 2019 Rugby World Cup, is literally helping to feed the stomachs of fellow South Africans during the coronavirus pandemic.
Siya told CNN: "There's nothing worse than hunger. There's nothing worse than listening to your stomach before you go to bed and you just hear grumbling. You have nothing to eat, you've got no other choice."
He would know. He remembers the sound of hunger well from when he grew up in the township Zwide, just outside Port Elizabeth. He also remembers sleeping on cushions on the lounge floor, sharing a room with about 10 people… so he understands the social distance struggle and the urgency for food.
Together with his wife Rachel, Siya is taking action to help. The couple has brought forward the launch of The Kolisi Foundation in order to deliver food parcels to the people in Zwide and around South Africa, and to supply Personal Protective Equipment (PPE) to those working on the frontline.
According to their Facebook page, the power couple wants to "change the narrative of inequality for people in vulnerable and disadvantaged communities by providing assistance and opportunities through the Kolisi Foundation partnerships".
They say "we are dedicated to alleviating extreme poverty, bringing hope to individual hearts and providing opportunities to those with undiscovered talent".
This week they are focused on attending to the coronavirus crisis – and, together with their partners Imbumba Foundation and Nelson Mandela Foundation, have assisted the Makhado Village with a borehole to address the water shortage the community is facing.
They've also provided 100 food parcels to a community in Khayelitsha, Cape Town; and distributed food packages to 500 families in Matsila Village, a community in Makhado, Limpopo though the #Each1Feed1 initiative.
The #Each1Feed1 initiative intends to support families for a minimum of three months to combat food insecurity during this time. Donations can be made on their website www.kolisifoundation.org
"We would like to encourage individuals and organisations to come on board and help by assisting your communities – we are all the hands and feet of those who are vulnerable, especially in a time such as this," say the Kolisis.
WATCH VIDEO: The Kolisi Foundation – #Each1Feed1
Kolisi Foundation – #Each1Feed1 campaign

As short video on the #Each1Feed1 campaign."We believe in working together as a community during tough times. It's really hard now as regulations forbid people from visiting each other so you can't even ask a neighbour for something." – Siya Kolisiwww.kolisifoundation.org#KolisiFoundation #OnebyOne

Posted by Kolisi Foundation on Monday, April 20, 2020