A Swiss man living in South Africa who fashions himself as a kind of lion whisperer and says
his mission is "to  bring animals into people's hearts" is coming under attack for his behavior with lions and his posts on social media, especially after a video surfaced a few days ago of him hitting one of his lions. Lion campaigner Paul Tully has written an open letter to Dean Schneider, saying that he is promoting the very thing that many others are trying to stop. "What you are doing is wrong."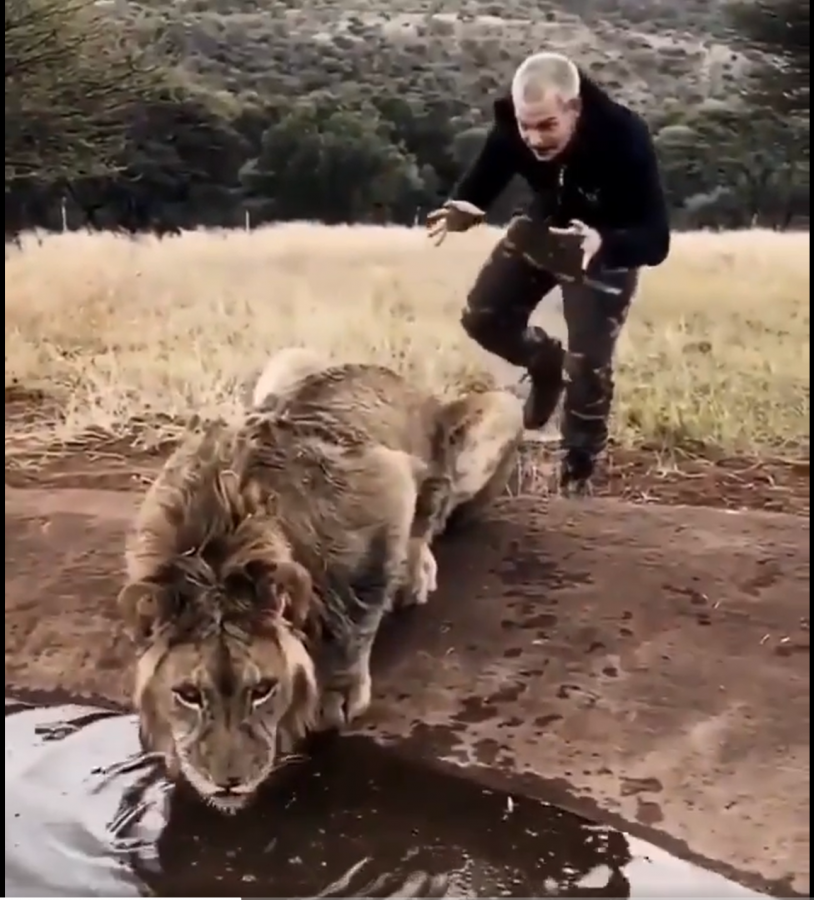 On Facebook it says: "The 24-year-old Switzerland based Entrepreneur Dean Schneider wants to create a place where abused animals can find the way back into life. This is why he founded Hakuna Mipaka. And yes: The foundation is already much more than a project for him – it's Dean's life!" Many of the posts on social media show Schneider, often without his shirt on, playing with the lions and a hyena.
One of the most recent posts that got a lot of publicity abroad shows Schneider, leaning against a lion's stomach, hitting the cat after it claws him. In another video, Schneider is seen sneaking up behind a lion drinking water and – while comedy music is playing in the background – scares it. (See video below.)
Love❤️

Video by: dean.schneider #IG#FriendsForever pic.twitter.com/UhQ94f95Yw

— ⚜️Alicia⚜️NODM⚜️ (@aliciagarciaga6) April 26, 2020
A vocal campaigner for the outlawing of cub-petting and lion-walking and canned hunting, Paul Tully of Captured in Africa, has written an open letter to Schneider. He begins: "Kindly read this open response in the hope that you find wisdom."
"What you are doing is wrong. Does that make you 'evil' or 'bad'? Not necessarily. However, you need to take a big step back to truly understand where other people are coming from and where you sit in the realm of our world's issues.
"1) You hit an animal and you explained it away just like any abuser would. (See video below)
"A husband who abuses his wife may do so quietly, it may even see the wife seemingly love her husband. Yet the husband the moment his wife 'crosses the line' will punish and control his wife to make her obey and be "controlled".
you are promoting the very thing many people are trying to end
"I imagine if you saw a man hitting a woman, you would feel angered yes? …There is no difference between humans inflicting such brutal controlling measures on each other, than that with humans and animals. This is the first thing you need to consider and understand. Your actions are not natural, they are a way to control and enforce.
"2) You speak of conservation and yet you are not involved in conservation.
"I have seen your work and some of it, particularly with children, is admirable. But you are not working in conservation. You own a group of lions, you share videos of you interacting with those lions and that is it. This is not conservation and it is not educational.
"In my years of campaigning against the lion breeding, cub petting and canned hunting industries in South Africa, it becomes clear that, as with all worldly concerns, we must present ourselves in a way that we wish other people to also do. If we want people to pick up their litter after them, we pick up litter; if we want to see less plastic use, we promote using ecological items; if we want people to stop domestic abuse, we promote against it; if we want to promote an end to lion cub petting in South Africa… then YOU my friend must consider with all seriousness, your social impact in what you promote and sadly at this moment in time, you are promoting the very thing many people are trying to end.
"Imagine how many innocent and naive tourists and volunteers see your videos and wish to copy you? Now think about how many lion parks there are in South Africa (200+) who are all willing to help that naivety of tourists and give them what they want… to play with lion cubs just like Mr Dean Schneider.
"I would like to invite you to accept some responsibility in this regard, to contemplate how you wish to be portrayed and how you wish to promote, what you promote and its effects and ramifications.
I hope in your heart of hearts that you may head this open call
"You will know yourself that South Africa currently has approximately 10,000 captive lions, all being abused for petting lion parks, the lion bone trade and canned hunting industry. If you played even a small part in the promotion of cub petting, resulting in more lions being bred, more lions being killed and more innocent tourists and volunteers being scammed out of their money by the likes of Lion & Safari Park, or Ukutulu, or Predators Pride… just a few of the cub petting facilities in South Africa… would you not wish to think to yourself "wait a minute, what I'm promoting is wrong, I want nothing to do with potentially being a part of that".
"I hope in your heart of hearts that you may head this open call. A call for unity in our approach to ending cub petting in South Africa. A call to you to have a truly great impact for education and conservation. A call to you to simply understand these issues.
"Whether you like it or not, by striking any lion, you are an abuser. Whether you like it or not, you are part of the problem of the promotion of lion interactions in South Africa. You must seek to understand your role like never before, to understand and develop your potential and to not be part of the misguided attempts at educating all the wrong things, but to educate all the right things.
"I hope you consider the above in the hope of positive progress for lions in South Africa."