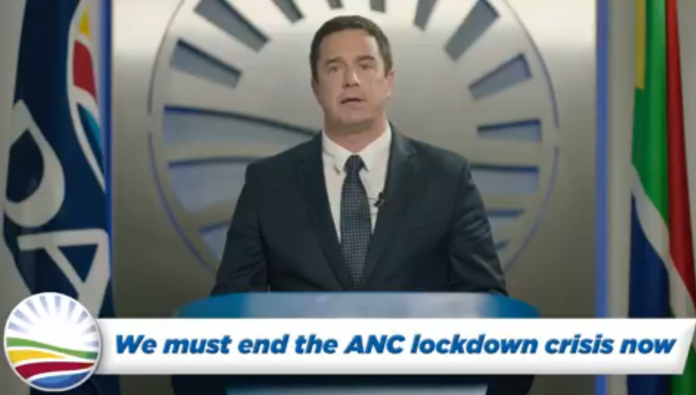 In a hard-hitting speech where he said the government's continued, irrational and unexplained lockdown was destructive and going to devastate many more lives than were necessary, Democratic Alliance leader John Steenhuisen said citizens were being treated like common criminals.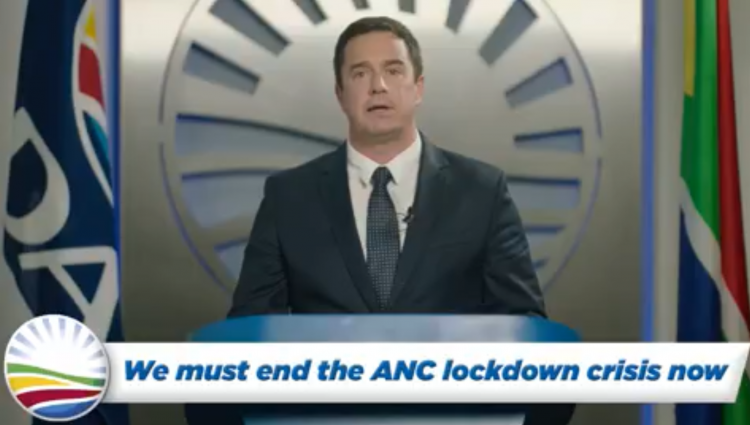 "Much of the hardship we're going through is unnecessary," Steenhuisen said in an online speech today, demanding that the government release the data pertaining to COVID-19 and show the nation why the continued closure of many businesses and ban on certain purchases was still necessary and what purpose it served.
He said there was a small group of cabinet ministers who were controlling the future of the country without explaining their actions, such as banning cigarette and alcohol sales and e-commerce. They needed to be reined in, he said.
Most of all, the government wasn't explaining why a continued lockdown was necessary, except for reasons of fear or possibly even some other agenda.
The country was told an initial three weeks was needed for lockdown, then an extra two weeks, which Steenhuisen said the DA had agreed with, although it had wanted an end date. The country needed to know when business can start again. Those five weeks were meant to prepare the hospitals and the healthcare workers for the spike in infections that was coming.
"We know this wave is coming, lockdown or not," said Steenhuisen. "We also know our economy could only withstand a very limited freeze. This is why lockdown originally had an end date."
South Africa has had one of the longest lockdowns, he said, and was now entering its seventh week, while Wuhan, China, had eight weeks and Italy nine weeks. He said people deserved to be treated with respect, no like common criminals, as was happening under the lockdown.
"We are are not Germany, the US or Japan," he said. South Africa did not have the kind of economy and infrastructure to withstand this kind of blow.
Like the government's plan, the DA wanted a phased easing of the lockdown, but Steenhuisen said that a flattening of the curve should be met with an opening of businesses. He said that when Level 4 was announced it was meant to be more lenient but in some cases was worse than Level 5, by introducing a curfew patrolled by 75,000 soldiers and in some cases by reducing shopping hours.
"We have seen people abused and humiliated in the streets and on their properties by members of the police and army, and we've seen people die at the hands of the army. We've seen people arrested for nothing more than feeding the poor and hungry of our nation."
Steenhuisen said it was no wonder that people were objecting publicly and even resorting to civil disobedience, and he said many more would do the same in future if the government did not end the lockdown.
While the government's own health expert, Safim Abdool Karim, had said two weeks ago already that the lockdown had achieved its purpose, the government still did not act. The head of SARS Edward Kieswetter, meanwhile, has said South Africa will lose R285 billion in taxes this year, a fifth of its gross. Thousands of businesses have closed, and many more will close, Steenhisen said. The national treasury has predicted there will be 3 million job losses if lockdown ends now, and that would add to the already 10 million jobless, Steenhuisen said.
The DA also called on the government to release more comprehensive figures of the COVID pandemic in the country, not just the daily infection/death tolls. Each district and city should have a list of comorbidities and tracing and tracking, so that a proper picture could be drawn up of which areas were most at risk and which areas could be opened up.