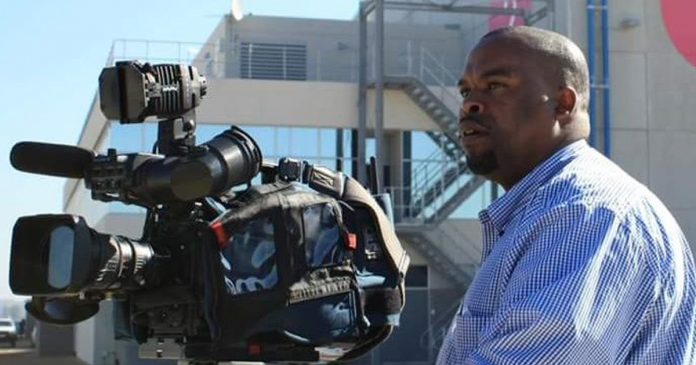 South Africans are today mourning the passing of eNCA's top cameraman, Lungile Tom, who died this morning (Wed 13 May) due to Covid-19 related illness. It's the second high-profile death this week, bringing the stories behind the statistics closer to home.
The ANC in Parliament said on Wednesday that it had learnt the news of Tom's passing with "shock and sadness" and paid tribute to the established cameraman who "contributed immensely in the broadcasting industry to bring news to the people of South Africa".
"Lungile was passionate and dedicated to his work. We would often see him with his colleagues in and around the Parliamentary precinct capturing and timeously reporting the work of Parliament," says Chief Whip Pemmy Majodina. "He will always be remembered for his work ethic and friendly personality."
eMedia Investments said in a statement that Tom was admitted to hospital on Sunday night with COVID-19 related symptoms. He was tested and admitted to intensive care. His test results were positive, and he passed away this morning.
eMedia Chief Operating Officer Antonio Lee said Tom had worked at CNBC Africa before joining eNCA in December 2013.
"Lungile was known for his larger than life personality and his dedication to his craft. His buoyant laughter will be sorely missed. Our thoughts are with his wife, Nandipha, and his children." 
In adherence to government regulations, the affected office floor has been disinfected and closed; and the company has instituted a tracing and tracking process, it said.
eMedia said that employees who had contact with Tom have been advised to stay home. They will be tested and go into self-isolation. The company said it plans to honour Tom's memory.
Dr Clarence Mini suffered a 'painful journey'
Yesterday South Africa was saddened to hear of the passing of Dr Clarence Mini, chairperson of the Council for Medical Schemes (CMS), who also died due to Covid-19 complications. It's not known how he contracted the disease, but his colleagues said it had been a "painful journey" and he had been in hospital for over a month.
Siviwe Gwarube – DA Shadow Minister of Health – said in a press statement that Dr Mini's passing is a loss to the South African health industry. His role as chairperson of CMS was critical in the crafting of the country's Universal Health Care path.
"During all my interactions with Dr Mini in Parliament he demonstrated compassion, kindness and a deep understanding of South Africa's health system and its challenges," said Gwarube.
"Covid-19 continues to show that it affects all indiscriminately. It is, therefore, important that South Africans continue to practice impeccable personal hygiene; social distancing; regular mask-wearing and staying at home where it is possible."
Listen below to the heartbreaking interview with the Council for Medical Schemes, on the passing of Dr Clarence Mini:
South Africa has now lost 207 people to the coronavirus pandemic, while over 11,350 people in the country have tested positive to the virus. Worldwide, over 4.3-million people have been diagnosed with Covid-19 according to Worldometers.
Minister of Health Zweli Mkhize said on Tuesday that a total of 369 697 tests have been conducted in SA to date.