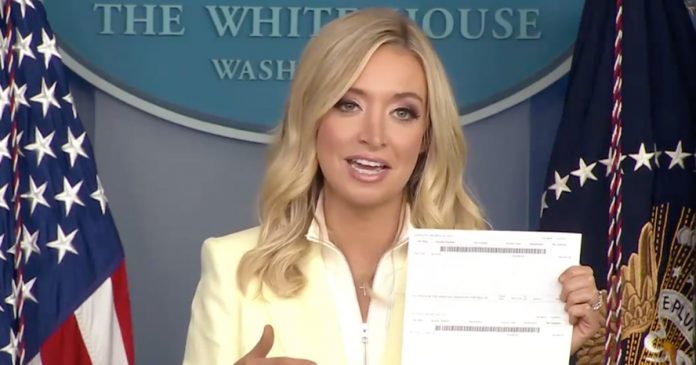 US President Donald Trump is donating his salary for this quarter to the US Health Department for COVID-19 research. White House press secretary, Kayleigh McEnany, announced the news at a press conference on Friday.
McEnany said: "The President, as you are all well aware, donates his salary to various initiatives… across the Federal Government, and this quarter he will be donating his salary to HHS – Health and Human Services – to develop new therapies for treating and preventing Covid-19, so that we can safely re-open."
She held up a piece of paper saying: "Here is the cheque amounted to $100,000 that will go directly from President Trump and his pay cheque that he does not take, but rather donates it to various noble initiatives including, in honour of Covid this time, and those who have passed and the studies underway, he'll be donating it to HHS."
According to CNN, other departments that have benefited from the president donating his salary include Homeland Security, Veterans Affairs and the Surgeon General's Office.
WATCH VIDEO: Donald Trump's salary for this quarter to be donated to US Health Department (watch from about 34'10").
LIVE: President @realDonaldTrump holds a press briefing https://t.co/CIeEOpMXmU

— The White House (@WhiteHouse) May 22, 2020
The First Lady has also been making the news:
First lady Melania Trump thanked students for helping to keep the country safe and acknowledged recent changes they've had to make.

"Please know that the President and I are with you during these challenging times and will do everything we can do to support you." #CNNTownHall pic.twitter.com/XnkIqInEMw

— CNN (@CNN) May 22, 2020