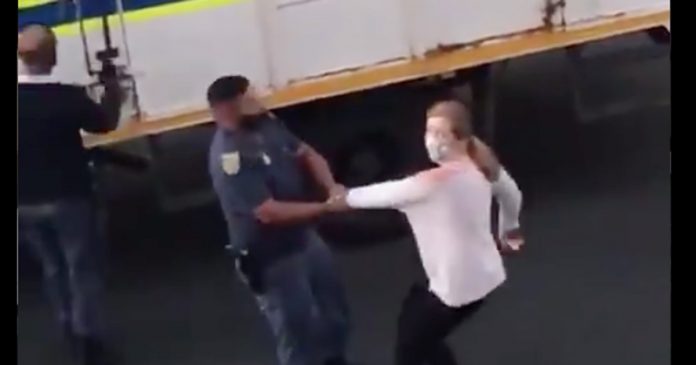 A woman who was forcefully arrested on Friday morning in a Cape Town suburb, has been released according to the South African Police Service (SAPS)… and the arresting officers have been issued with a stern warning.
A video capturing the arrest went viral in South Africa, and was posted on Twitter by Murray Williams who said it was received from a member of the public who wished to remain anonymous.
The incident apparently took place at 07h45 on Friday 22 May in Strand. An eye witness told Murray that the woman was handled "like a hardened criminal". Under current Lockdown Level 4 regulations, South Africans are allowed to exercise between 06h00 and 09h00, within a 5km radius of their home.
Investigation into police officer's conduct
In a statement on Friday afternoon, Western Cape SAPS confirmed that WC Provincial Commissioner Lt General Yolisa has ordered an investigation – by a senior WC police official – into the conduct of the police officials captured in the video.
"Upon being alerted to the video and the subsequent viewing of the clip, the police officials were interviewed and the basis for the arrest is yet to be determined.
No basis for her to be charged
"Preliminary findings indicate that after being taken to Strand police station, the woman in question was released as detectives could find no basis for her to be charged," says SAPS.
Police members were also cautioned by the Provincial Commissioner about "regard for the rights of other persons. Courtesy, fairness and treating all persons with dignity is part of police training and orientation".
According to the statement, police officers are regularly reminded via internal prescripts that prohibit "unbecoming conduct".
SAPS says: "Once the probe is finalised, the outcome will be made known."
WATCH VIDEO Cape Town woman arrested in Strand, South Africa
RECEIVED from a member of public, who wishes to remain anonymous:

This reportedly took place around 07h45, Friday May 22, 2020.

Location: Melkbaai Road, Strand, east of Cape Town.@SAPoliceService formally requested to advise on the arrest and charges. To follow when received. pic.twitter.com/YYgXrqRM8Z

— MURRAY WILLIAMS (@MurrayRSA) May 22, 2020
UPDATE 6:

We speak to the legal firm that acted fast today to free the woman forcibly arrested in the Strand.

It is revealed the incident was witnessed first-hand by a man with extensive police experience – who later described the arrest as unacceptable. pic.twitter.com/MOsbWWy9kH

— MURRAY WILLIAMS (@MurrayRSA) May 22, 2020