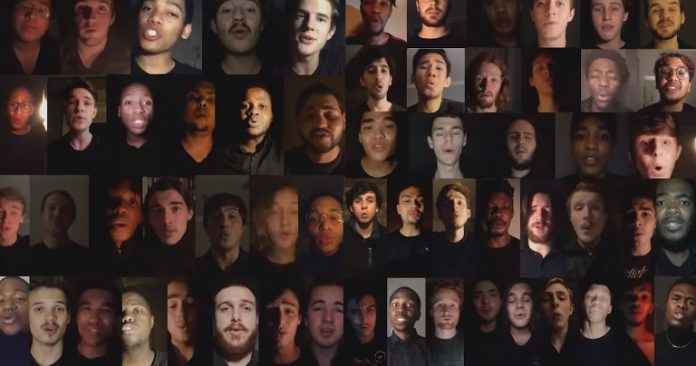 Over 60,000 people and counting have enjoyed this beautiful performance by the Stellenbosch University Choir – Die Donker (The Dark). As one YouTube user (Jason Tillett) says: "Afrikaans never sounded more beautiful! Ongelooflik ❤️" (The English translation is at the bottom of the article.) Update, 1 Feb '21: Over 339,000 have now viewed this video on YouTube.
The audio was recorded at Woordfees on Thursday 12 March 2020 (pre-Lockdown in South Africa) in the Endler, Stellenbosch; and the videos were recorded between 4  and11 May 2020 at the homes of choristers during lockdown.
The video includes two Afrikaans songs, arranged by André van der Merwe – Die Gang by Christopher Torr,  performed by Laurika Rauch, and Klein Tambotieboom by Die Heuwels Fantasties.
WATCH VIDEO: Stellenbosch University Choir – Die Donker
YouTube users have loved the video, even those who aren't South African! Nathalie H said: "Oh I LOVE this! I'm Dutch and we speak basically the same language as this song is in 😍 you guys kill it all the time! Like we say in our country: "ik ben sprakeloos" ❤️"
Another said: "Front row seats to the best choir in the world.😭😭😭 The sound engineers also did such an amazing job." Dr Gerhard Roux is credited as sound engineer, and Regardt Visser for video production.
Kate Mwariri said: "Because the dark always comes before The Light. Beautiful example of self distancing, yet coming together for something magical…"
And August Hesh added: "This the South Africa I want to live in ! Love Yall 🇿🇦❤"
English Translations:
DIE GANG (The Corridor):
In the dark corridor, I saw a light, but the flame was delicate and frail.
I yearned for springtime on my uncle's farm without electricity.
My aunt said, "My child, my child, love and moths are blind."
The flame is delicate and frail, and like a thief, it can disappear in the night.
Deep within the corridor, I yearned for something.
The wind was singing that spring would bring love.
I could hear the day withering – it was only the sun disappearing.
And as certain as the earth that turns, a cock would crow again.
One evening the night turned to day as the storm erupted with all its force.
And I hid in the corridor because I was afraid of the electricity.
KLEIN TAMBOTIEBOOM (a farm in the Limpopo Province of South Africa):
When the shadows come to fetch me, and when the good Lord does not look out for me,
when the ozone layer perishes
and falls into a chandelier of stars,
lay my heart to rest in Klein Tambotieboom and scatter my ashes across the Bushveld horizon.