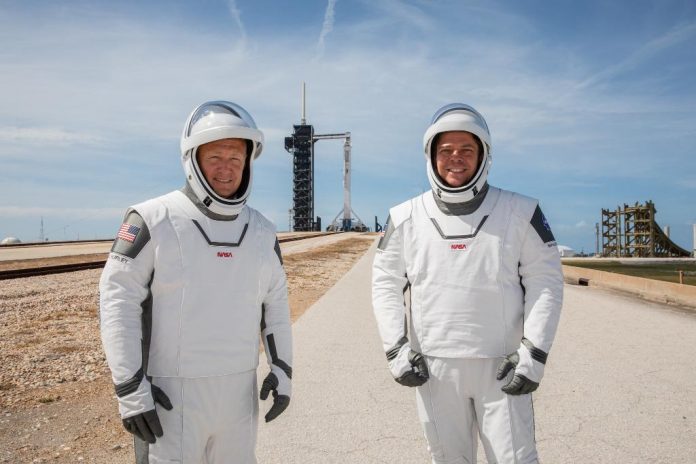 "Dragon crew launch from Kennedy Space Center today??‍??‍??," she tweeted. "Who knew? I did??"
The launch of the Crew Dragon will be the first manned-mission in almost 10 years from the USA; as well as the first time a privately-owned and operated spacecraft will be used.
NASA said: "We will return human spaceflight to American soil after nearly a decade. Tomorrow is not only a big day for our teams – it's a big day for our country."
Buzz Aldrin, the second man to walk on the moon, tweeted how much he was looking forward to today's "historic mission – it'll be a day all Americans and space fans everywhere will never forget!"
South Africans too. Space-X founder Musk is a former Pretoria High pupil who has been one of the country's most successful expats, founding game-changing companies like Space-X and electric motor car company Tesla.
Musk told CBS: "This is the culmination of a dream." With his entrepreneurial skills, and passion for space travel, Musk has led Space-X to pioneer the first re-usable rockets, with the Falcoln 9 able to land back on Earth safely… thus reducing costs drastically.
The two astronauts who will bravely venture forth this evening are best friends Bob Behnken and Doug Hurley. Both have visited the International Space Station twice before, before NASA's launches stopped in 2011.
The astronauts were given the chance to pull out, but both are adamant they'd like to go ahead. The only thing that may prevent the mission is the weather. CBS says there's a "60% chance the weather on the launch pad will cooperate for a moment in space history", and conditions are improving. It's important that the seas remain calm so that "in a launch crisis, the SpaceX capsule would ditch to safety in the Atlantic Ocean".
Watch the Space-X / NASA launch LIVE here (10.30pm South African time). The live stream has already begun. American singer Kelly Clarkson will be performing the US national anthem.
WATCH VIDEO: Elon Musk's dream is coming true with manned-spacecraft launch tonight
"This is the culmination of a dream," @SpaceX founder @elonmusk tells CBS News' Mark Strassmann ahead of Wednesday's planned launch of the Crew Dragon; it would be the first using a privately owned and operated spacecraft. https://t.co/uFs6yomfsD pic.twitter.com/UYCceKQ596

— CBS Evening News (@CBSEveningNews) May 26, 2020
Musk was born and raised in South Africa, but like some other young South Africans in the '80s, he dreamed of moving to America, a place that represented "freedom" for him (he told Vogue magazine in 2015). At the age of 17 he moved to Canada and lived with various relatives of his Canadian-born mom's before moving to the USA. And the rest is history.
Elon Musk's Proud Mom with Baby Elon:
So excited for the ⁦@SpaceX⁩ Dragon crew launch from Kennedy Space Center today??‍??‍??
Who knew? I did??
⁦@elonmusk⁩ #oneyearold pic.twitter.com/6gt3lKV65G

— Maye Musk (@mayemusk) May 27, 2020