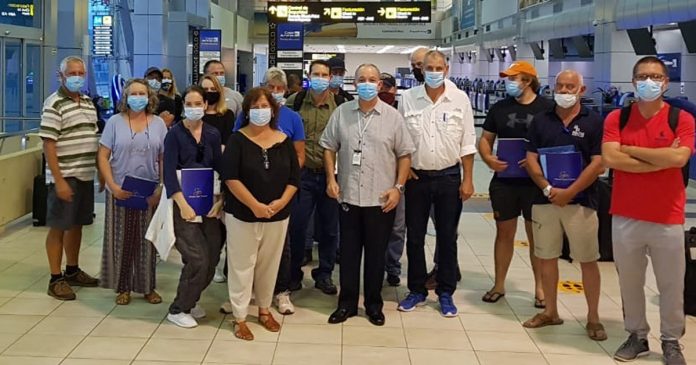 Most of the South Africans stuck in Panama, who issued an urgent plea on 8 June for help in getting home to SA, have made it back just in time, and are happily ensconced in quarantine… thanks in large part to the incredible support of embassy staff in Panama and Mexico, who went above and beyond their call of duty to support the desperate SA citizens.
The group had had only a small window of opportunity to leave Panama – when the country briefly relaxed its border closure – and get to Brazil where an SAA repatriation flight was scheduled. Thanks to Embassy staff, they pulled it off.
One of the group – André, who had been in Panama on business and pleasure when he got stuck – told SAPeople this week that "without the assistance and guidance they provided we would still be there." Panama has already firmly closed its border again and extended the closure until the end of next month.
Two of the embassy heroes are: Anthea Joubert, Secretary Political at the SA Embassy in Mexico; and Julio Mantovani, Honorary Consular in Panama.
"These two people were unbelievable in their efforts and it's impossible for me to describe in literature and words how unbelievable they were," André says.
"Available 24/7 and willing to do whatever it takes. They really have the biggest hearts I have ever experienced.
"Literally every person I spoke to in central America has had a personal call from Ms Anthea Joubert.
"And every person in Panama has had a phone call from Mr Julio Mantovani.
"This is unbelievable and unknown.
"But most importantly it's not given any public thanks or gratitude." (So this is a BIG shout out to them!)
According to André, these humble embassy staff would probably just say it's their job, "but I don't believe it's part of the job to take calls and messages at midnight on a Sunday."
Another team of people to whom André gives credit is the group of volunteers at Home Away From Home (HAWH) who have also worked 24/7 to help South Africans around the globe get home.
The South Africans from Panama are now in quarantine and "going strong". Twenty of the original 32 have made it to SA.
André says the trip all happened so fast, when they got the go-ahead to fly to Sao Paulo for the repatriation flight. He says the service received from Panama's Copa Airlines was "outstanding from start to finish".
The SAA flight from Brazil to SA was "pretty full" as it also had passengers for Mozambique.
"The trip here was good going. The SAA flight was very well organised and had no problems." (And a lovely WhatsApp voice note was played over the speaker from the SA Ambassador in Brazil who was very happy for them.)
There was a slight hiccup when they arrived in SA and had to wait for a shift change with the police to get a SAPS escort to the quarantine facility. But other than that, André has only good things to say – the police and nurses from the Health Department were very friendly and the quarantine facility is neat with clean rooms and friendly staff.
"We are now in Day 5 and up to now, I am very happy with the way we have been treated and received.
"Honestly, very pleasantly surprised and pleased with our government."
Despite the happy ending, André says this is an adventure he does not wish to repeat.
"My wife has already made it clear that I will not be permitted to leave the house for the next 10 years!" he jokes, adding… "I give it two weeks and she will chase me out the house ?"
Following the declaration of the State of Disaster by President Cyril Ramaphosa and the implementation of the national lockdown on 26 March 2020, the Department of International Relations and Cooperation (DIRCO) has facilitated the repatriation of over 10,000 South Africans stranded abroad (by air). Hundreds have also returned through land borders. Over the past few days, South Africans were repatriated from Ethiopia, the Seychelles, the Netherlands, Brazil, Namibia, India, Tanzania, Vietnam, Bangkok, Dubai and the United States of America (USA).