I left South Africa with my young child in October 2019 because of the worsening economy, minority group-killings and daily dangers such as high-jacking, robberies, theft and rape… writes an SA mom, who prefers to remain anonymous. It's a daunting thing to raise a child under these circumstances… and not knowing with certainty if your child will have any kind of future.
My father came along as this was his first trip abroad. He wanted to support us and check out opportunities in a different economy.
I was given the chance to go to a tropical island called Bocas del Toro (pictured above) near the border of Costa Rica, in Panamá, and I decided to do so for the full six months that is allowed visa-free to South Africans. Our return flights were scheduled for 3 April 2020.
Six months flashed by so fast!
Reports of coronavirus reached the news and I saw it on YouTube… but I ignored it because I thought it was Chinas' problem. Not for long…
During the week of 16-22 March the locals on our island were told not to return to work the following week.
It was just a precaution and nobody was told they had to stay home. I was still active every day going about my own routine. Until Thursday 26 March 2020. Then I was told to go home and stay there until further notice.
Grateful for the rest I welcomed the break in routine.
But everything went south after that day.
Information was slow to reach us in the beginning.
We had no idea how serious this would get… or that we would be stranded on an island with no way of leaving for 12 weeks!
Lockdown happened on 26 March, a week before our scheduled return flight to SA on April 3rd.
The honourable Mr Julio Mantovanni made contact with us personally and kept in touch
On 29 April the honourable Mr Julio Mantovanni (SA Honorary Consular in Panama) made contact with us personally and kept in touch during the entire time we were in lockdown.
I was extremely impressed and touched that a government official would take the time to check in with us when he obviously had a crisis on his hands.
On the 3rd of April almost all contact with people on the island stopped.
Police were everywhere. Literally stationed on our island at every bend in the road.
One of the police patrols was stationed 20 metres from our front door.
Day and night they were there.
We had an extremely strict lockdown.
Movement for adults was limited to Women on Monday, Wednesday & Friday; and Men on Tuesdays and Thursdays.
We were given a time slot according to the last digit of our passports.
My passport number ends with "2"… so I was only allowed to go out to buy essentials from 2-3pm on the allocated days for women.
My dad was allowed out on his 2 days in his allocated time slot of 11-12 am.
Children were not allowed to leave the buildings at all.
On weekends no movement was allowed.
It was how I imagine it must feel like in prison.
We were cooped up in a small apartment of about 40 square meters for 12 weeks… and we had no idea what was awaiting us.
"We were contacted by our guardian angel on earth: André"
On 22 May 2020, 8 weeks into lockdown, we were contacted by our guardian angel on earth: André (who most SAPeople readers will know from his reports from Panama).
He informed us that there was a small group of Saffas who wanted or needed to get home and asked if we wanted to join them.
We gave all the information they needed.
It was touch and go at that stage because there were no confirmed flights.
Tocumen Airport in Panamá City was closed completely.
The country was locked down in its different provinces and no one was allowed to cross the province borders.
To add to this we were stuck on an island with no boat movement allowed and the small airport shut tight!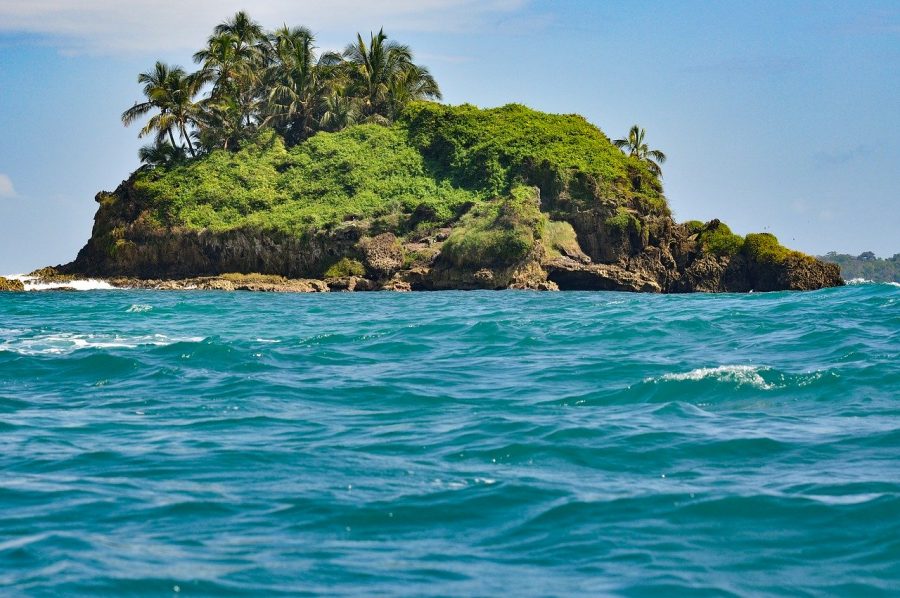 Funds were running out
After six weeks of lockdown our already low funds were running out fast. It was so expensive for us in dollar – R30 for 1 litre of milk and around R20 for 2 big hotdog rolls.
It was difficult to budget for food not knowing how long we would still have to wait.
We had to stay healthy and yet we could not buy anything unnecessary.
Survival kicked in.
We knew we just had to get through this.
A typical menu would be: Kelloggs cornflakes for breakfast with a bit of milk; 1 breadroll each for lunch… and if there were any leftovers it would go onto the roll… "if". For Dinner: Rice, chicken/fish, pineapple or tomato.
There was the odd switch of a potato or zucchini…and pasta instead of rice.
We got lollipops to help suppress hunger and to treat ourselves to something sweet.
Drinking yoghurt was a treat but also filling, we tried to buy 2-3 bottles a week.
We simply had nothing left
Family assisted us with what they could… as we simply had nothing left.
The local villagers were supported and supplied with food by the Panamanian government.
It was amazing to see the truck loads full of food that was delivered every 2 weeks to ensure their wellbeing. There was a local island village about 300 metres from where we were staying; and health officials made regular visits to ensure there were no covid cases.
But since we were not local… we were left to our own devices. Nobody asked any questions nor offered to help.
It was extremely hot and humid.
The building owners asked us to switch off the AC during the day to save on electricity costs. Temperatures inside the building reached the high 30s just due to humidity.
It was unbearable.
I had to keep lying down during the day to keep from fainting.
Some days we were blessed with cloudy weather, and then our spirits were high because the heat was more bearable.
There were days that hopelessness set in.
It was a roller coaster of keeping the faith, sticking to a routine, even just a little bit.
Wash your laundry with your hands to do something, fill up the water bottle, wash up a cup, wipe out the fridge… just do something.
Watch the news… you are not in this alone.
Keep the schoolwork going.
Speak to André: anything can change at any minute.
Week 11 there was a possibility of flights.
And everything went from checking messages for a possibility of going home to full force information-gathering, paperwork, documents etc.
We needed a special travel permit called "salvo conducto" in order to leave the island.
Due to a lack of order and knowledge between island officials it took us 2 weeks to find the correct information in order to obtain this document.
Once printed it was done incorrectly.
Upon the re-print we discovered the date was incorrect and we had to request a third print!
Running on absolute empty
I have to make something very clear. By the time an actual flight was possible, we had very little left of anything. There is absolutely no way we could afford to go home.
Our return tickets were with another airline and SA would not allow other aircraft to land during lockdown.
I kept a close eye on the Facebook group: Home Away from Home.
South Africans stranded all over the world were complaining about the same thing.
Poor Darren Bergman and his team worked themselves to bits trying to help everyone.
Our situation seemed completely impossible.
People we have never met offered to pay our return flights
But a team of people gathered around us and made it clear that this would indeed be possible due to the help and support of good samaritans.
People we do not know and have never met before offered to pay for our return flights with Copa and SAA.
With our salvo conducto in hand, printed correctly: on June 9th we caught a boat that was scheduled to leave the island with special permission.
Another angel on earth
At the dock there were 2 sets of police officers who checked our passports; and then a third check was done by the police telephonically with the transport co-ordinator whom I will simply name as Toby.
Another Angel on earth.
After around 35 minutes of checks, our luggage was loaded and wrapped to be water tight due to it being the rainy season.
We left the island in a group of 2 boats.
as the wind blew on my face I felt free
I can remember that as the wind blew on my face I felt free.
And I thanked God silently for every metre that boat went further away from the island.
In my mind this island was equal to hell.
At the waiting dock on mainland we had to wait about 45 minutes for our taxi bus to arrive.
11 people cramped into a normal taxi bus (like we have in SA – the old shape).
Luggage towering on the rooftop and smaller bags stuffed everywhere underneath seats.
The road from there was worse than the old mountain roads in Cape Town.
Anyone who is familiar with motion sickness will know exactly what I mean!
The jungle grows so dense due to the heat and humidity that you simply cannot see or try to imagine which way the road will bend next.
At this point I would like to mention that the jungles are still wild. Howler monkeys can be heard as you drive past, males calling to rival groups-warning them to stay away.
The trees grow extremely tall and the forests are dense.
Nature is on display in all her glory and it is the only thing I will miss from the South American continent.
My dad had to stay behind due to special circumstances and our roads had to separate for now. It was so traumatic for me I had a panic attack en route from the island.
I could not stand leaving him behind, but I had no choice.
The stress and uncertainty of the past three months had taken its toll on my body.
After saying good-bye we made our way to Panamá City.
According to Panamanian officials we had to be in the city three days prior to the flight.
My salvo conducto was only valid for that 1 day… so I had to go a day prior or stand the chance of not going at all.
Third angel – Sonja – we landed at her doorstep like refugees
This is were I met my third angel. A South African expat. I will simply call her Sonja.
She took us into her home without knowing us at all.  We landed at her doorstep like refugees and she welcomed us with open arms.
That first night in her home, safely tucked away next to my little one, I thought for the first time: "What an honour to be a South African."
Our people look out for each other, they stick together, across all the divides on ground level: we really are united.
The next three days were a haze of yet more documents and paper checks.
And more angels on earth I can name is Anthea, Zelna, Rian, Ivor, Nicky, Malieka, Carolien and a group of other people I do not even know.
It is worth mentioning that Mrs Anthea Joubert from the South African embassy in Mexico worked tirelessly day in and night out to get our group back home.
She not only contacted each one of us personally but kept track of everyone's movements, situation and whereabouts. She knew exactly who still needed what and faced which circumstances.
Information seemed to change every hour.
André had his hands full making sure that all details reached everyone as cellphone signal disappeared often.
One such hurdle was Yellow fever vaccinations.
In order to enter Brazil we had to have these vaccinations 10 days prior to the flight.
But when we found out, it was already 7 days before the flight.
Panama was shut tight and only 1 or 2 hospitals administer these vaccines.
Conversations went on for 3 days between Panama, Brazil and South African officials.
Four days before our flight it was decided that we did not need it as we would not be leaving the terminal on our layover.
Two days later however this changed and South Africa decided that we would not be allowed into the country if we did not have the vaccine.
So we had to scurry around to get permission to leave our buildings to go get vaccinations done.
It took a lot of organising from a lot of people… but at last this hurdle was also overcome.
We left for Tocumen airport on Saturday 14th of June.
Mr Julio Mantovanni was already waiting for us at the airport to greet us and to ensure everything went smoothly.
What a remarkable man.
Even though the entire airport was closed, between himself and Ms Anthea Joubert they managed to pull this off.
Moving forward we boarded our Copa flight at around 22:30 pm.
As all the checks was taking place and we were being pushed back there was a very distinct smell of fuel inside the cabin.
I was silently praying that this special flight would not be our last.
Twenty minutes later we were asked to take our belongings and return to the gate as there was something wrong with the plane that they could not fix right then and there.
So everyone packed up.
Once back at the gate we had to wait another 40 minutes and were told to change to a gate at the other side of the building.
We looked like a herd of cattle dragging our feet through that empty building well past midnight.
Within a quick 30 minutes the new plane was prepped and we could board.
We took off at Tocumen airport with Copa airlines on this very specially arranged flight.
An 8-hour flight to Sau Paulo Brazil in order to join already waiting South Africans.
Once at Sao Paulo we had a layover of 36 hours.
We had known about this layover so with backpacks prepared we chose a comfy spot for our small group to sleep that night.
The airport hotel was fully booked, but yet again, good samaritans and Andrés tenacity ensured that we had a bed to sleep in that night.
Four people in our group were not so fortunate and could only check into rooms at 7am the next morning to catch up on some much needed rest and a hot shower.
The airport building was freezing cold and if you had sweet blood the mosquitos were visiting – the very same mosquitos we needed the vaccine against.
SAA's Captain Dilaney and his crew were remarkable!
We knew we were back amongst South Africans the moment we boarded the SAA flight in Sao Paulo.
Captain Dilaney and his crew were remarkable! Warm smiles all around. I cannot say thank you enough!
From Sao Paulo we had an 8-hour flight to Buenos Aires.
It was meant to be a 1-hour stopover to pick up yet more passengers… but this doubled due a lack of fuel at the airport… by this time the fuel tanker was empty; we still needed 60 tons of fuel!
Needless to say we willingly waited very patiently.
Now for the next leg of our journey: the 8-hour flight from Buenos Aires to Johannesburg, finally!
We landed in Joburg on Tuesday 16 June.
They unpacked our luggage in super neat rows – it touched my heart
My compliments to the ground staff at OR Tambo International Airport.
They unpacked our luggage on the tarmac in super neat rows even though it was 8 degrees on the ground.
This touched my heart so much.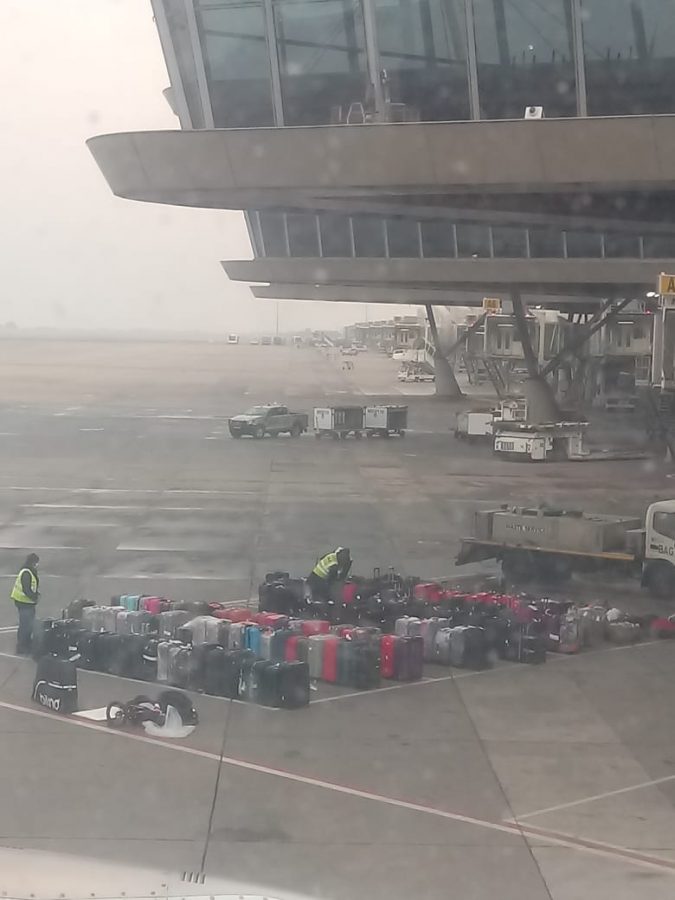 We were helped so kindly by everyone.
There were taxi buses waiting to transport us to the quarantine facilities.
Everything was organised.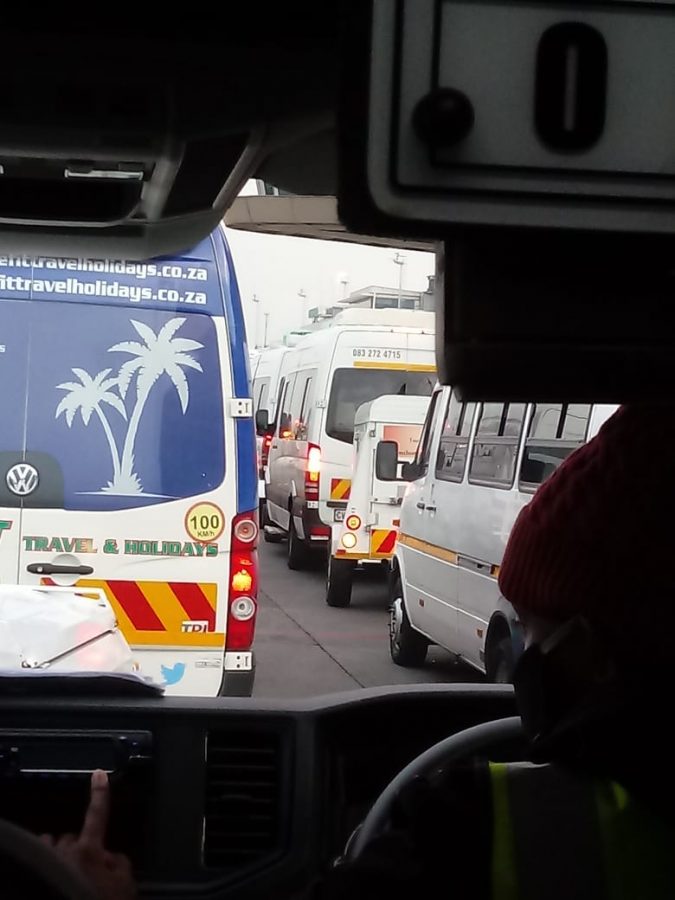 I was so scared to go into quarantine with my child. Not knowing where we would end up or what awaited us.
Yet again, I can only compliment government officials on a job super well done.
We are here now. The staff are super friendly and helpful.
The nurses come to check our temperatures every day and they always ask how we are doing.
We receive three cooked meals a day and it's really delicious.
South Africa really is the queen of Hospitality… even in this terrible time.
South Africa is the Queen of Hospitality… and I have hope for our beautiful country
Going through this journey the past 3 months I have hope for our beautiful country.
We need to put away all the political arguments and hate instigations.
On ground level our people care for each other, across all divides, deeply.
We need to look out for each other and ensure we build a better future, learning from this covid epidemic.
This epidemic teaches us that there is no divide in humanity, except the human mindset.
The corona virus does not ask questions before it infects a person… why do we ask questions before we decide if we accept someone?
Even though we as a country face many difficulties, I am extremely happy to be back home.
Thank you VERY much to every individual who made this possible.
Thank you Home Away from Home for looking after us every step of the way.
Glory to God my Father whom I believe in… for keeping us safe, fed and looked after every step of the way, and for turning the impossible into possible!
– By Anonymous AA –
MORE: South Africans stranded in Panama make it home just in time, thanks to amazing SA Embassy Staff