The Democratic Alliance has said it would refer a number of social media posts that seemingly glorify farm murders and attacks to the South African Human Rights Commission to investigate for hate speech.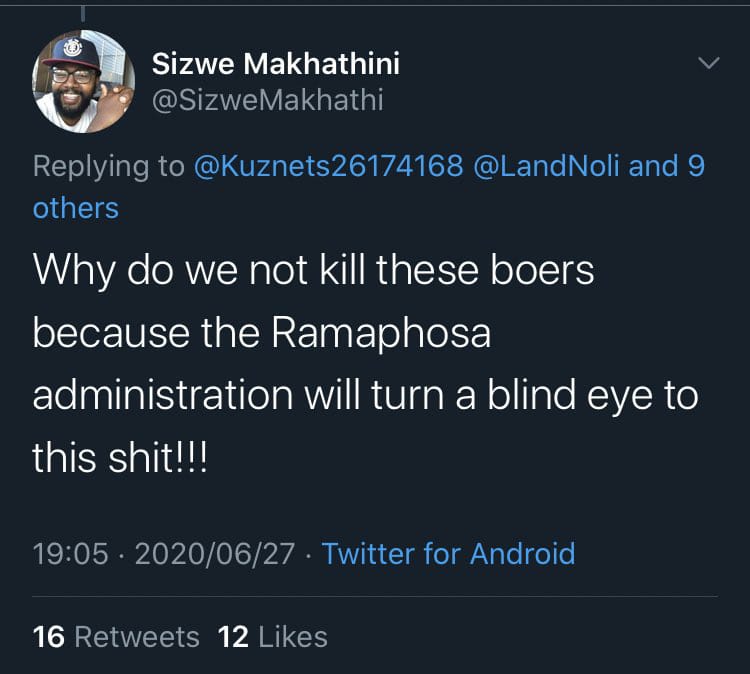 Diane Kohler Barnard, Shadow Minister of State Security, said the DA had made an undertaking to report what it believed to be hate speech, or hate crimes, to the relevant authorities for investigation. This included the reporting, and charging, of those on social media or any other platform who glorified the torture and murder that has become the hallmark of rural attacks.
The DA identified these "heinous" recent posts on social media and said it found them abhorrent, "and those who post them must be held to account for their vitriolic and hateful utterances":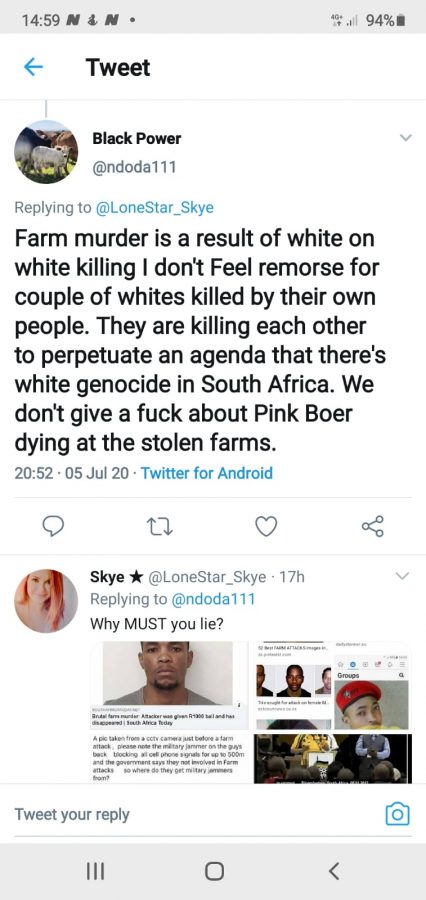 According to the DA, research indicated that there was a direct correlation between hate speech and an immediate increase in rural attacks, which were frequently accompanied by the most terrible torture. "Indeed, there is a marked increase in these instances during which the men, women or children of all races are attacked, immediately after such utterances are publicised."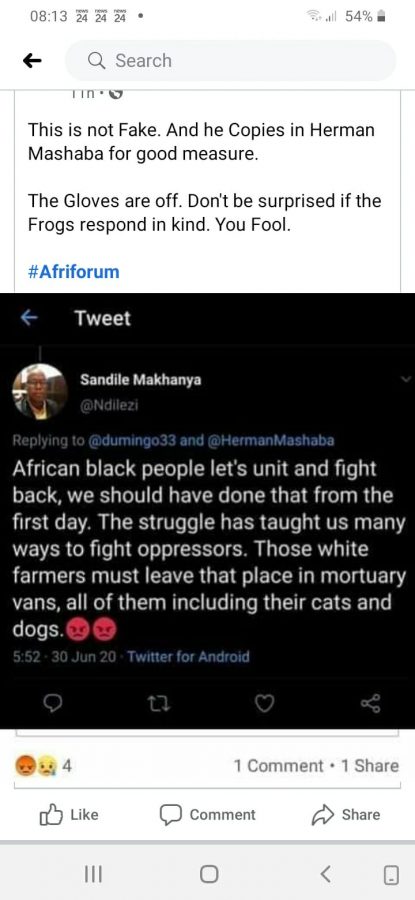 Hate crimes, Kohler Barnard said, are based on two factors: 1) the act is considered a crime under existing South African criminal law, and 2) the act is motivated in whole or in part by prejudice or hatred regarding an aspect of the victims' identity. "Hate crimes are not simply crimes committed against vulnerable groups, they are in fact crimes committed against individuals because of prejudice that the perpetrator holds against an entire group of people, but directed at an available victim."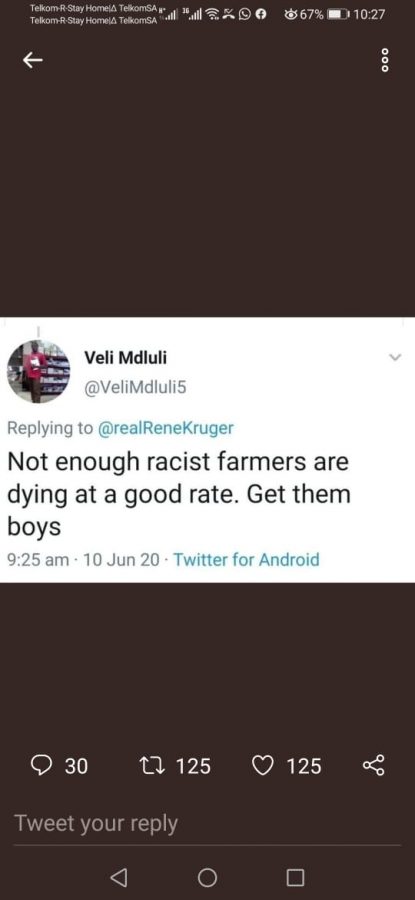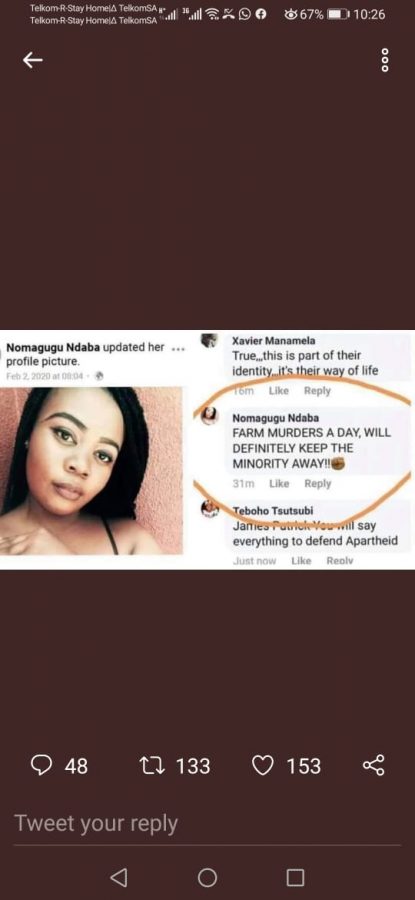 Kohler Barnard said that a 2001 inquiry by the ANC came to the conclusion that most farm attacks were robberies, with no political motive or racial hatred shown. "It seems either that the outcome of the inquiry was itself a political statement, or that a new inquiry is needed as a matter of urgency. This is because today there are frequent reports that after the most terrible torture, the perpetrators simply leave and take nothing."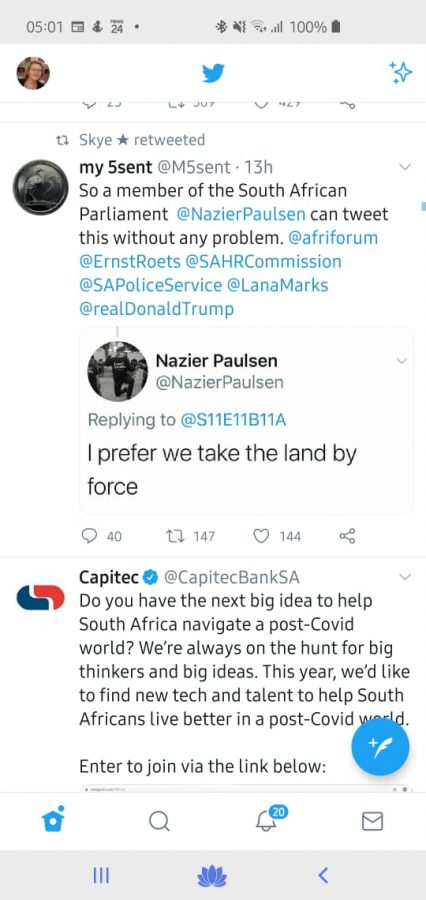 "It is unbelievable that those who glory in the idea of the rape and murder of the wives and children of farmers and farmworkers are seldom taken to court. This foulness has at times been romanticised and encouraged by politicians, and those who follow have faced no consequences. The DA will ensure that they do. For the police to record 'theft of a wallet' after a farmer has been tortured for hours, must stop. This is not a robbery – it is a hate crime.
"Scapegoating farmers for the ANC's failures in job creation, education, housing and in addressing hunger, is a convenient political tool which is costing lives. Farmers, farmworkers and their loved ones are responsible for feeding our nation and ensuring food security. The senseless murder and torture of these communities need to stop and those who glorify these acts must be held to account."