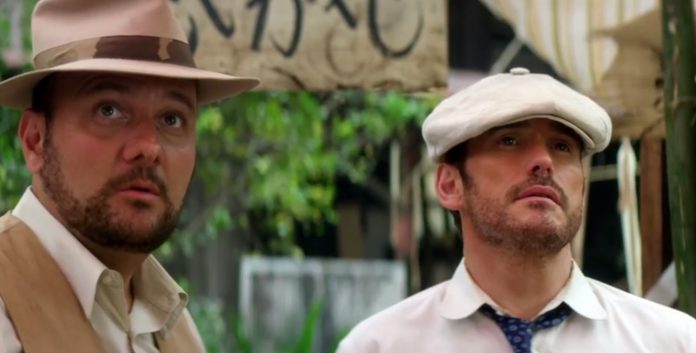 Former Capetonian Stelio Savante, is an actor/producer who has been living in the USA for over 30 years where he has now accumulated over 125 film and television roles, and close to 100 theatre roles in his career. But it is Savante's three new projects – releasing very soon – that have been making headlines in DEADLINE and other entertainment outlets and blogs.
Savante (born April 24, 1970) is a South African-born New York actor. In 2007 he became the first male South African-born Screen Actors Guild Award nominee for his recurring role on Ugly Betty and also won the best actor at the American Movie Awards in 2015 for his lead role in The Two Thieves.
He can currently be seen starring opposite Academy Award Nominee, Matt Dillon in
Netflix's
 RUNNING FOR GRACE, a Hawaiian drama. He also guest stars on THE CHOSEN, which is presently the most downloaded series in the world, with over 42 million views on THE CHOSEN APP.
He serves as a producer on the upcoming film BROTHER'S KEEPER which stars Academy Award Nominee Laurence Fishburne and Milo Gibson (Mel Gibson's son) and follows the true story of West Texas' '09 Abilene High School football team — underdogs who rally against the odds to form a family and win their state championship.  The film will be released in America's autumn, according to
Deadline
.
And then there's INFIDEL, a Middle Eastern political thriller, filmed in Jordan. In INFIDEL, Savante portrays a South African journalist. It is his third collaboration opposite The Passion Of The Christ actor, Jim Caviezel. Infidel is directed by TIFF winner Cyrus Nowrasteh, also stars Claudia Karvan, and it opens in a 1500 screen nationwide release in the USA on Sept 11th courtesy of Universal, says
Deadline
.
MARFA
 is a dystopian sci-fi that was filmed in Texas, and is directed by Andy Stapp. Doing double duty as both a lead actor and producer, Savante stars opposite Tony Todd and even brought friend and fellow South African Neil Sandilands along for the ride in the form of a supporting role.
Source:
Savante, who also voiced the popular character 'Ajax' in 
Call Of Duty: Black Ops 4
, is also starring opposite Academy Award Nominee Frank Langella & Bobby Cannavale in the comedy 
LAPHAM
RISING
,
 based on the best-selling novel with the same title.
Savante most recently returned to South Africa in 2018, after the passing of his father.