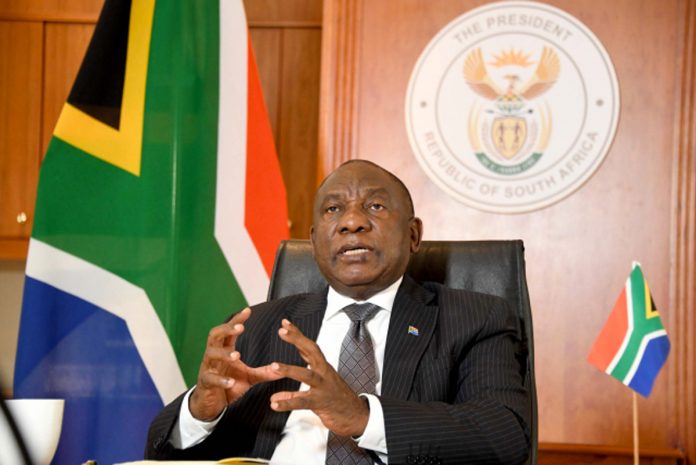 Level three restrictions will stay in place said a sombre President Cyril Ramaphosa in his address to the South African public, live on television, on Sunday evening. The President also announced that the sale, dispensing and distribution of alcohol is suspended with immediate effect (which will free up hospital beds for the increasing number of Covid-19 cases). A curfew will also be implemented from Monday 13 July in SA from 9pm each night to 4am… as an additional measure to reduce pressure on hospitals as most accidents occur at night.
The President said, with over a quarter of a million South Africans having tested positive for Coronavirus, "the storm is upon us". He said there is no way the country can avoid the coronavirus storm… "but we can limit the damage that it can cause to our lives."
Some of the measures – apart from the alcohol ban and curfew – will also include the mandatory wearing of masks, and legal obligation of businesses to ensure those entering their workplaces are wearing masks.
South Africans are advised to maintain a two-metre distance from one another, especially as new evidence is showing that particle may remain in the air. Taxis undertaking long trips will have to adhere to a 70% occupancy (while local trips will be permitted to increase capacity to 100% – although rules for masks and open windows must be followed).
The President pointed out how concerning it is that a quarter of the 3,971 who have died so far, passed away in the last week.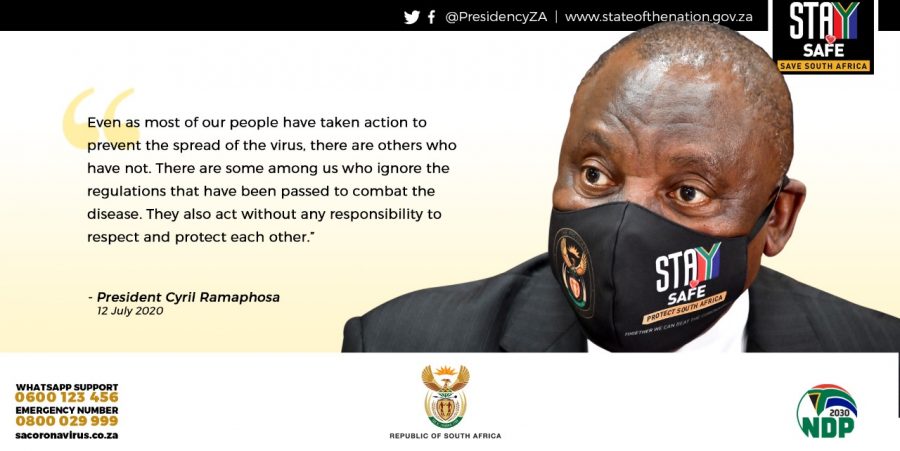 SA has been experiencing an average lately of 12,000 new cases per day. Gauteng is fast approaching 100,000.
"There is no way that we can avoid the coronavirus storm. But we can limit the damage that it can cause to our lives," said Ramaphosa.
The President said that the fatality rate of 1.5% in South Africa remains one of lowest in the world – where the average is 4.4%. He said we partly owe this "relatively low number of deaths to the experience and dedication of health professionals".
Ramaphosa also scolded those who have been irresponsible – partying, going on drinking sprees and not wearing masks in crowded spaces; and said that their behaviour causes a loss of lives.
"In the midst of such a pandemic, getting into a taxi without a face mask, gathering to meet friends, attending parties or even visiting family, can too easily spread the virus and cost lives," he said.
He reminded those attending funerals that they should not exceed 50 guests. At the moment he said, some funerals have had over 1,000 in attendance. "This is how the virus is spread – through carelessness and through recklessness," said the South African President.
Some experts have predicted that 40-50,000 could die in SA by the end of the year from the Covid-19 virus. The President said it's therefore necessary to follow stricter measures to prevent this prediction from coming true.
SA has completed more than 2 million coronavirus tests to date, and over 20 million screenings.
Over 127,000 people have recovered from Covid in South Africa.
The President commended health workers on the front line, including those medical students who are volunteering at hospitals.
Social gatherings and family visits remain prohibited.
The SA government is working on increasing the supply of oxygen and ventilators, he said.
The State of Disaster has been extended to 15 August 2020.
READ: DA Leader John Steenhuisen's reaction to President Ramaphosa's speech
If you missed it – watch President Ramaphosa's address to the nation, 12 July 2020