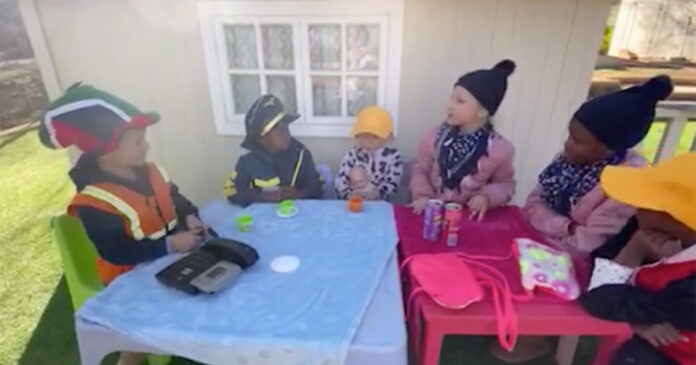 Watch below as six South African children discuss in fluent Setswana what they'll be doing post lockdown, which – according to them – is going to be soon! It's the cutest conversation between close friends, whose ages range from 5 to 10, that you'll ever see.
And you may recognise the kids from the fabulous 'KFC Take-Away' video they made last year, when the Proudly South African family and friends gave SA goosebumps, inspiring the nation on how we can all work and play together.
This time the children, who've grown up together on BonaBona Game Farm in the North West, were playing together and planning a trip to Cape Town when one of the moms, Rika Ernst, started filming them. The children are Katlego Dladla (10), Miné Ernst (9), Pieter Ernst (7), Teko Mokgotu (8), Onkarabetse Dladla (6), and Ilne Ernst (5).
For those who don't speak Setswana, Rika has kindly translated their conversation for SAPeople readers (see below the video).
WATCH VIDEO: South African kids planning post-lockdown holiday in Setswana
Rika says: "Miné (9) asked Ilne (5) if she was also going with (on holiday to Cape Town)… she replied she is going with, but definitely not her baby… the baby is really not sleeping well and crying all day long!! Onkarabetse (6) told her to give the baby instant porridge… Ilne (5) replied that another option is maybe to take her to the doctor to change her milk?  Miné (9) said they are going to eat slap chips, and Teko (8) said ice-cream and Simba chips… and they are going to relax on the beach on their towels! Katlego (10) said they are going to do shopping! And buy chappies! Pieter (7) asked for 'beskuit'… he wants to eat koffie and beskuit! And to build puzzles!
"Miné then said they are also going to catch some fish, and sell it, and then buy a big house? Then Pieter said no, they are not going to sell the fish… they are going to just eat the fish like it is… 'droog'?… and the rest all replied NO! They are not going to. So he said he will just open their mouths, force the fish inside and hit them on the head to bite the fish? And then at the end Teko (8) was showing them that although he is a policeman he also has army skills!"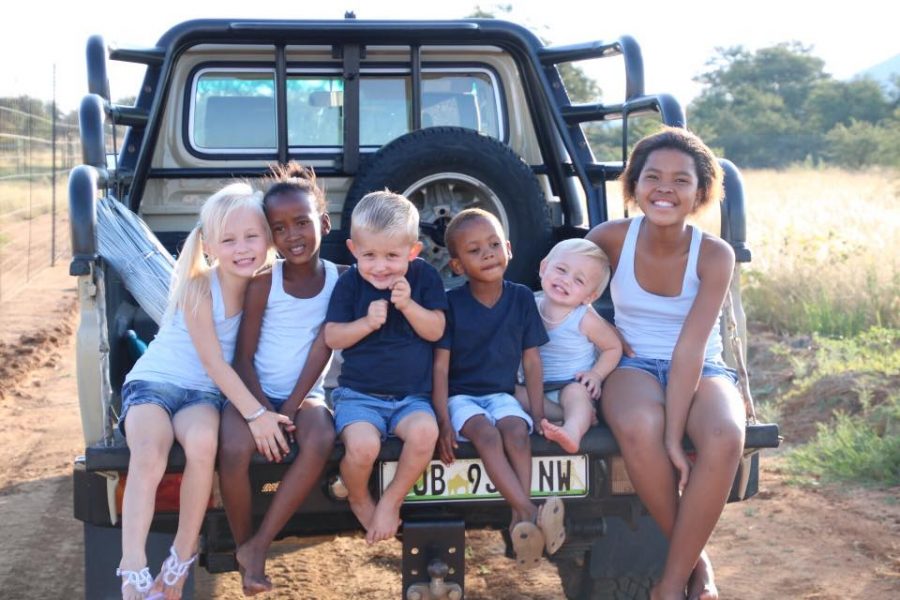 It was always important to Rika and her husband Pieter that their children grew up knowing an African language. She grew up on a farm in the Eastern Cape speaking Xhosa "so I knew what it meant for myself…"
Now living on BonaBona Game Farm in Buisfontein (between Klerksdorp and Wolmaranstad), Rika has been fortunate to have had two "very special ladies – Gadifele Lobisa Kgasu and Florah Mokhatsi Selebano – helping me to raise my kids".  Rika says: "They are part of the family, so I told them to ONLY speak Tswana with my kids… and then they also learnt from their tjommies, who are like a real brother and sisters to my kids!"